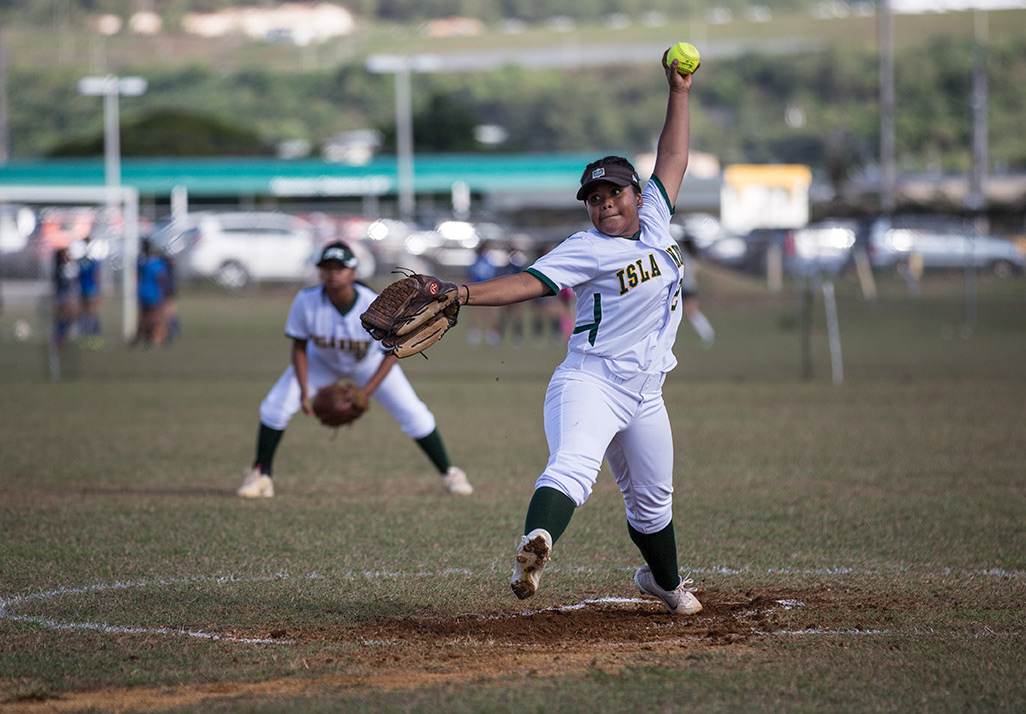 By Robert Balajadia
JFK Islander senior Pillar George has evolved into the IIAAG's most versatile softball player with her ability to dictate a game from the mound or in the batters box.
George sits in the drivers seat of a hungry JFK team, having the defending IIAAG Girls Softball Champions Islanders in prime position for a repeat title in 2018 after the team has dominated the league, sitting atop the standings at (8-0) with the playoffs right around the corner.
From just seven years of age, George was thrown into the sport with her older sister Audrey, another former JFK Islander champion, already committing to softball. With dreams of playing basketball, Pillar was convinced to trade her sneakers for cleats and she's never looked back.
"My very first coach Rick Pocaigue saw potential in me and convinced me to stay. My parents also bought me softball gear without telling me so I kind of had no choice, but that's that and I've been playing since. I love how I get to meet so much people and travel a lot of places just to place softball. It's been great," said the lefty George on her softball history.
Fast forward to her freshman year at JFK in 2015 where she finally got to share the high school field with then senior sister Audrey for an unforgettable run.
The underdog Islanders brought the sticks against Cougars in the 2015 title game with Pillar showing flashes of what was in store for her next three years, finishing the game with 2RBIs. Older sister Audrey closed the game out on the mound and the Islanders were crowned 2015 champs.
Despite being a defiant little sister, Pillar learned a great deal from her older sister and what it would take to eventually lead JFK to another title.
"Even though I gave her a hard time on the field, I learned so much from her. She was humble and played her hardest every game. She'd cheer for her teammates when they did good, but would also be able to approach someone about a something they did wrong. She never looked down on anyone and that's what I loved about her. I aspire to be that great a person and teammate," said Pillar on playing behind Audrey.
The Southern Dolphins recaptured the title in 2016 after having their five-year reign snapped in 2015, but the Pillar-led Islanders were ready to put a little magic in a wild 2017 run.
Islanders flip the script  (story link)
The Academy Cougars were the top cats of 2017 as they skated into the playoffs undefeated. With a double-elimination format in the 2017 playoffs, the JFK Islanders had fought their way to meet the unbeaten Cougars at the top. They had to do something twice that no team had been able to do once all season, beat Academy.
A hard fought game had dwindled down to the 7th inning with JFK facing a 5-4 deficit with Pillar at bat with no one on base and two outs away. George smacked a fly ball deep left with the Cougar outfielder getting under the high ball.
"I was so scared when I saw the ball flying, I really thought it was going to be an out. All I was thinking was how bad I let my team down," said George on a flashback of that moment.
But the ball fell right out of the Cougars glove which allowed George to dart to 2nd base off the error. George was brought in a batter later to tie the game as JFK rallied to defeat the Cougars 7-6 with George getting a strikeout to end the game to force the 'if' Game.
JFK dominated the 'if' game and were crowned champs of 2017.
"Everytime I look back at it, I get this feeling in my chest as if I'm still in that moment. We almost lost, but I just owe it to my team for always having each others backs that whole way through. I just have to stay humble and keep pushing through," said Pillar.
2018 mood
Like all seniors in high school sports, riding off into the sunset with a title is the dream and that's no different for George.
"It's my last year playing as an Islander so it would mean a lot to me to win one last trophy for my school," stated Pillar.
In order to do so, George understands that it's going to come down to how you play in the moments that matter most while throwing aside previous accomplishments. But she's ready to lead and she knows her teammates and her school will be right behind her.
"It all comes down to trust and knowing that your team has your back. We encourage each other and work together to reach our goal; The W. We have to take it one game at a time."

QUICK HITS
3rd place: Big ups to the Para Todu Rugby Club for finishing 3rd out of 16 teams in the Manila 10's Rugby Tournament today. Biba Guam Rugby!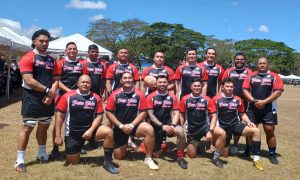 ——————————————
Guam MTB National Championship: Edward Oingerang and Jennifer Camacho are your 2023 MTB national champions. Oingerang finished the course in 1:13:24 while Camacho won her second straight title in 54:08.