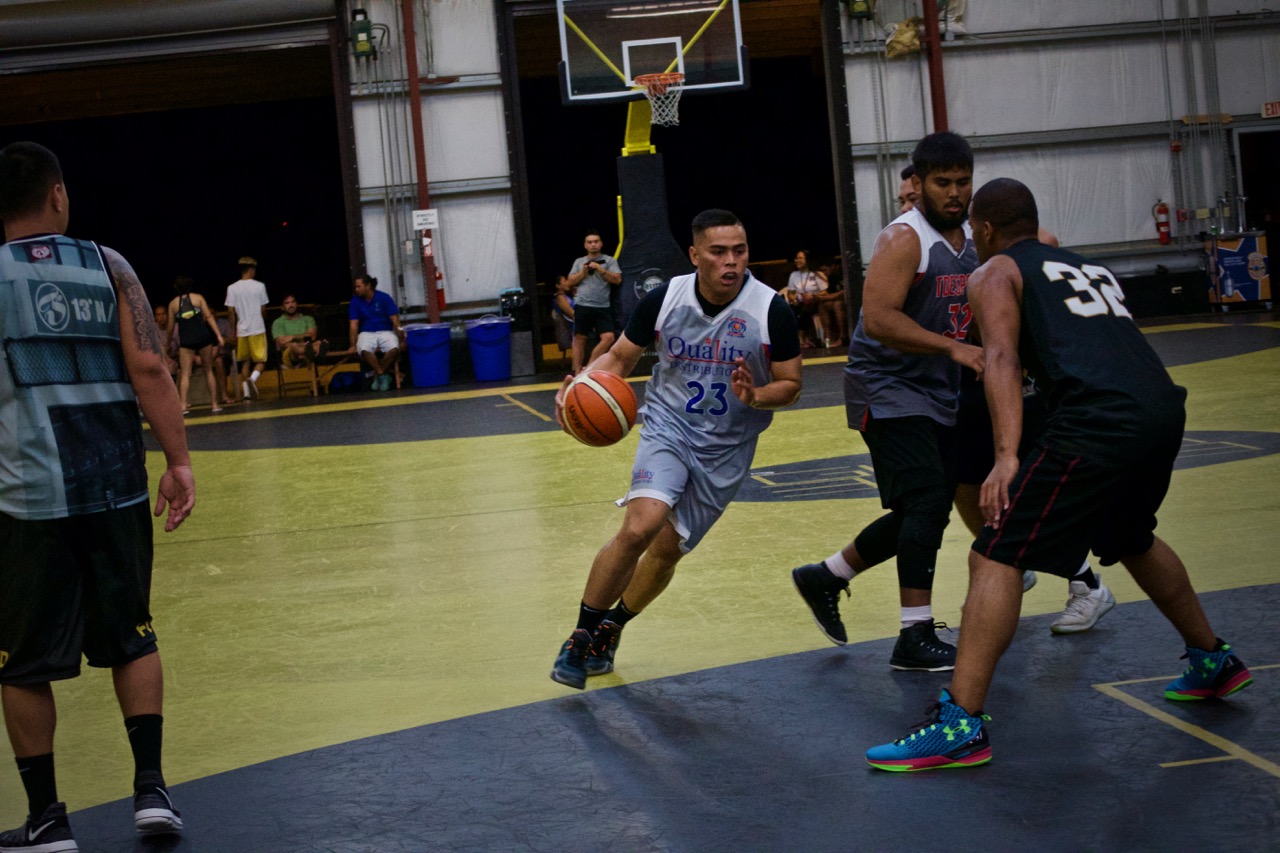 By Jay Leon Guerrero
Pool play continued Sunday evening in the Islandwide All-alumni Basketball League at the Guam Elite Center in Tiyan.
After a week of pool play, there are three teams that are undefeated in the competitive 13-team field. The Sanchez Sharks, JFK Islanders and the JMI/Paradise FD Phoenix are still undefeated in pool play.
Here the results from Sundays games:
ND Kings 57, ND Sixteen 41
FD Phoenix 60, AMC Sanchez Sharks 42
FD Elite 57, Oceanview Southern 47
JFK Islanders 67, Okkodo 41
JFK takes out young guns
The JFK Islanders improve to 2-0 after handing the young Okkodo Bulldogs a bad 67-41 defeat. The Bulldogs have three former MVPs on their roster but couldn't get into any rhythm against the Islanders.
Billy Belger and JP Cruz led the offense early for the Islanders as they quickly went ahead 18-6. The Islanders showed patience and used good ball movement directed by point guard Jin Han to surge ahead early.
"We still have some things to work out with the rotation but I'm excited for this league. I don't know how to say it, I guess I'm star stuck because I never thought I'd put on a JFK uniform again," said Cruz who had 23 points.
"All my years playing high school basketball we always came in second to FD (2002-2003), so I guess you can say that was our rival at the time," said Cruz.
Cruz said the goal was not to get redemption against FD in this league but to enjoy the opportunity and the experience of playing for JFK once again.
Billy Belger was on fire for the second straight game as the Bulldogs had no answer for his offensive prowess. Belger scored 25 points to lead all scorers as the Islanders emptied their bench with a comfortable 67-41 victory.
The Bulldogs, one of the younger teams in the tournament, tried to get some momentum in the second half but we're unable to answer the offensive power of JFK. Aaron Blaz, Karl Melencio and Jed Antonio were unable to jumpstart a much needed run for Okkodo.
According to Blaz, it's back to the drawing board for his team but they will learn from the loss and come back with a more positive attitude for the next game. "It was just one of those nights for us, we couldn't get anything going. We need to communicate better, leave this game in the past and start fresh next game," said Blaz. Jeffrey Mesias led the Bulldogs with nine points, Melencio added seven.
FD Elite vs Oceanview
The stars took the court for the final game of the evening with the 'Big 3′ composed of Will Stinnett, Dom Sablan and Vince Estella taking on Southern talents John Chaco, Roke Charfarous, and Eric Reyes.
This game was a seesaw battle until the final 10 minutes of regulation. FD's Estella scored six points during a crucial 10-0 run to help the Elitists pull away from Oceanview to celebrate the 57-47 victory.
"We made the necessary adjustments in the second half which helped us get the win. We communicated better in our zone defense (In the second half) because they were getting too many easy lay-ups in the first half," said Estella. Estella complimented Oceanview saying "they are a challenging team with threats inside and out".
Charfarous led all scorers 20 points; Chaco scored 10 points for Oceanview who fall to 1-1.
Stinnett scored 19 points, Estella had 15 points to help FD Elite improve to 2-1. The Elites' lone defeat was an opening day double overtime loss to the other FD team, the JMI/Paradise Phoenix.
Estella, like many other players, talked about the league and special excitement it brings. "We've been talking about making a league like this for years and finally it happened. Players take a lot of pride playing for their former high school, this league gives them the opportunity. It's nice seeing everyone hang out with their school and other schools as well; everyone is actually having a good time with this league," said Estella.
ND Kings defeat ND Sixteen
Tony Babauta led the ND Kings to victory scoring 19 points to help his squad improve to 1-1. Jess Guevara complemented teammate Babauta with 15 points for the Kings.
Isaiah Sablan scored 10 points, Nate Sablan chipped in eight points for the winless ND Sixteen team (0-2).
JMI Phoenix still unbeaten
The AMC Sharks, the younger Sanchez team, were looking for their first win after suffering a 46-45 loss against Oceanview. AMC scored the first basket of the game but the Phoenix answered with an 18-4 run.
Earv Jose and Seve Susuico hit from outside and inside for the Phoenix during the run. FD never looked back and improved to 3-0 for the season with a 60-42 victory.
Jose had 19 points, Susuico had 10 points for FD. Alfredo Royster and Kal-el Delos Santos scored 11 and 10 points, respectively, for the AMC Sharks. AMC falls to 0-2.
Games continue on Thursday at 7pm with Okkodo vs Inarajan followed by JMI/Paradise Phoenix vs Oceanview at 8pm. All games are at the Guam Elite Center.
PHOTO GALLERY BROUGHT TO YOU BY:

QUICK HITS
Guam MTB National Championship: Edward Oingerang and Jennifer Camacho are your 2023 MTB national champions. Oingerang finished the course in 1:13:24 while Camacho won her second straight title in 54:08.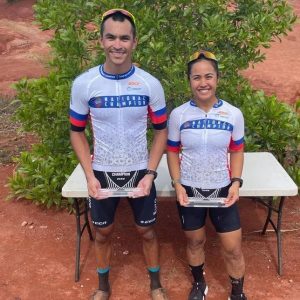 ——————————————
Kobe Miyashita, with St. John's coach Arvin Flores, was named the 2023 IIAAG Middle School Boys Volleyball MVP!