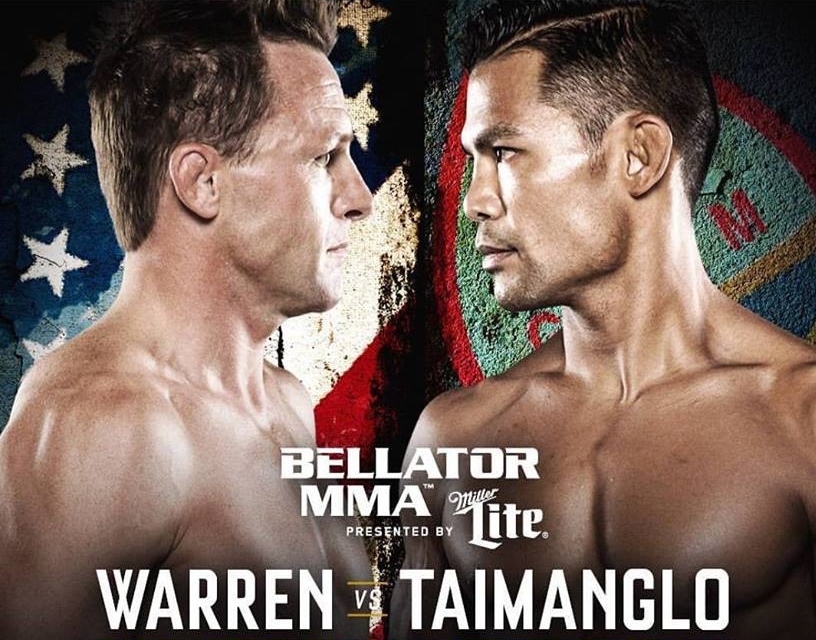 By Patrick Lujan
Baby Joe Taimanglo is fighting to stay relevant in Bellator's bantamweight division and a win over former champion Joe Warren will only solidify his placement atop the division's rankings.
Taimanglo-Warren will be the co-main event in Bellator 195 on March 2nd (March 3rd on Guam) in Thackerville, Oklahoma. The main fight is for the title between Darrion Caldwell and Leandro Higo – the two men last to beat Baby Joe in 2017.
But for now, the sight is on Warren (15-6), a 41-year-old former Greco-Roman wrestling world champion going into his 19th fight under the Bellator umbrella.
"I'm game to fight whoever," Baby Joe said. "I really don't care. Any big name that they give me, I'm willing to accept those fights and it's a better opportunity for me. If it's an opportunity for the belt i'ts great, if not then it's a chance to beat up whoever they put in front of me."
Though eight years younger than Warren, Taimanglo has put in more miles, fights and years than his older opponent. Baby Joe (23-8-1) has 11 more pro fights and has fought professionally five years longer.
"I feel tired," BJT said. "I've been doing it since I was 19. I still push through any kind of situations. I'm all natural and that's what separates me from being who I am and to be the next world champion.
"There's a good thing and bad thing about getting older. I'm able to learn a lot from my last fights and training. That's a good thing for me, but having the age coming across, you get tired and your body breaks down, doesn't heal as fast, but I'm always willing to go."
Baby Joe has always been a sports anomaly – the shortest (and usually smallest) guy on the team who happens to the strongest. (aka ga'ga')
After nearly five years with Bellator that saw him relocate from Guam to San Diego to concentrate on his fighting career, Taimanglo is relying on that old Chamoru work ethic to get him through this fight camp.
"I've always had a hard working ethic. These guys have a lot of financial help and people backing them up. Me, if I get hurt I get hurt. I have to heal it up the old fashion way. I just push through it."
With just two fights left on his current contract, BJT wants to give the title shot another go.
"My contract is almost up with them. I got in this sport not to be third or second, I came in to be world champion. I'm working hard and keeping my mouth shut and doing what a champion needs to do."
CURRENT WEIGHT
A cloud that has hovered over his head in the past is his ability to make weight. He says that's not a concern this time around.
"I'm really on track right now as far as my weight. I'm very happy with that. I have less than two weeks to make 135 or 136. It's tough though. I did sign up for this and I'm excited."
Taimanglo's weight has fluctuated between 148 lbs and 154 lbs but says his diet has been on point and the weight cut shouldn't be a problem. "I made weight last time easy and I'll make it easier this time."
CALDWELL/WARREN COMPARISON
Baby Joe shocked the world in July 2016 when he upset current champion Caldwell via guillotine choke as a -1500 underdog. Caldwell was undefeated then and was on the fast track to a title shot. Caldwell would redeem the loss to Taimanglo five months later with a unanimous decision win before taking the title from Eduardo Dantas last October. Warren lost his title to Dantas in 2014.
As for the style comparison between the 5'6″ Warren and 5'10" Caldwell, Baby Joe stated the obvious height difference.
"You have to adjust to more lanky people, the reach and the distance. Joe Warren is my size. It's going to show what I can do with someone my size. The body types are different. With the same height and distance as Joe Warren, it gives me an advantage to dictate the fight. It's looking like a bad situation for Joe Warren this upcoming fight."
5TH TIME AROUND
Going into his 11th Bellator fight, this will be his fifth time fighting at the WinStar World Casino and Resort in Oklahoma. "It's going to be on TV. You get to see everything on TV with all the angles, especially the lead up to the fight.When I see the replay, it gives me goose bumps. I do get chills when I see Frank (Camacho) and Jon (Tuck in UFC) when they go in there because they make the sacrifice to show up and fight.
"When you go in the cage and those lights are shining bright and you know that the other guy is not going to lay down and he's trying to put you out, that's scary right there. I'm scared as heck. I'm human. Every fight, people don't see that. I gag and go to the restroom. I'm so nervous. The guy prepared for me and is going to do everything in his willpower not to lose either. But when all the dust settles after the fight, it's a great reward to finish it."
Now 33 years old and miles of the sport starting to take its toll, Baby Joe looks back being grateful for all the support he's been given (especially from his mother Josephine) but also still has his eye on the prize with Joe Warren right in front.
"It's going to be an exciting fight. It's a great match-up between Joe Warren and me. In the end, I'm going to retire this guy. I'm going to put him out and show the world that Baby Joe is going to the next bantamweight Bellator champion."
LOCAL SUPPORT
76/Circle K will be holding a pre-fight promotion for BJT at their Dededo gas station on March 1st from 3-8 pm. Everyone spending $20 or more on gas will be receiving a free BJT promo item.
SPONSORS
Fuetsa, So Kel Guam, SPPC/76, Genesis Recovery, Mi Sazon Mexican Grill, Fuesta, Sen. Dennis Rodriquez, Route 1 Tees, Sign Write, Myrnas Beauty & Barber Shop, Gutierrez/Bordallo, Chode's Food Service, Sign Write, DJ Gabbyman, DJ Quen and Sam Ochoa.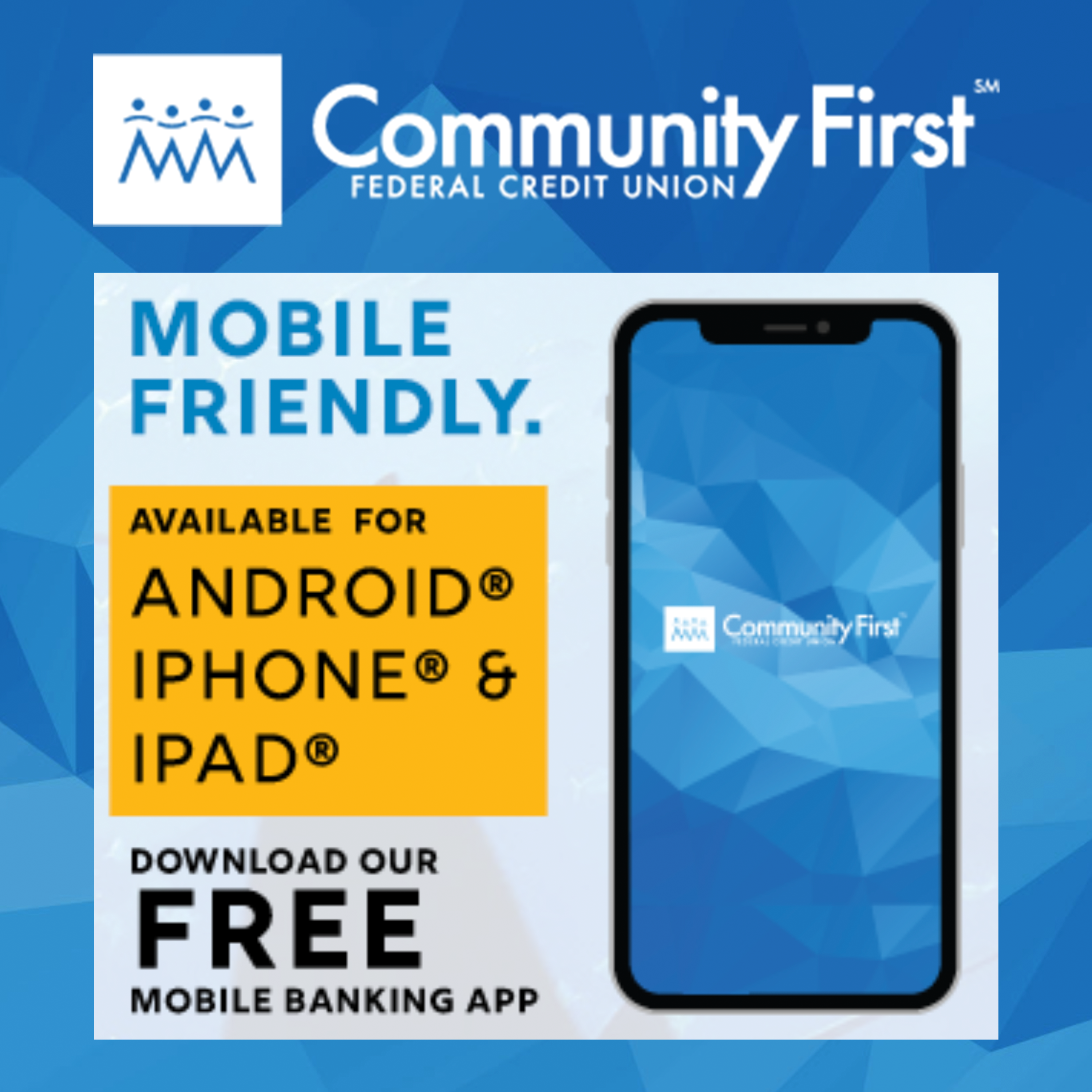 GPS Sports Calendar
SU

MO

TU

WE

TH

FR

SA
Events for December
1st
06:00 AM - 08:00 AM
Sagan Kotturan Chamoru
Events for December
2nd
04:15 PM - 08:00 PM
Events for December
3rd
05:30 AM - 08:00 PM
04:00 PM - 06:00 PM
04:15 PM - 08:00 PM
Events for December
4th
No Events
Events for December
5th
04:00 PM - 06:00 PM
04:15 PM - 08:00 PM
Events for December
6th
04:15 PM - 08:00 PM
Events for December
7th
06:00 AM - 08:00 AM
Chamorro Village
09:00 AM - 05:00 PM
Events for December
8th
No Events
Events for December
9th
No Events
Events for December
10th
04:00 PM - 06:00 PM
08:15 PM - 10:00 PM
UOG Calvo Field House
Events for December
11th
No Events
Events for December
12th
No Events
Events for December
13th
Events for December
14th
Events for December
15th
Events for December
16th
Events for December
17th
Events for December
18th
No Events
Events for December
19th
No Events
Events for December
20th
Events for December
21st
08:00 AM - 06:00 PM
22

23

24

25

26

27

28
Events for December
22nd
No Events
Events for December
23rd
No Events
Events for December
24th
No Events
Events for December
25th
No Events
Events for December
26th
No Events
Events for December
27th
No Events
Events for December
28th
No Events
29

30

31

1

2

3

4
Events for December
29th
No Events
Events for December
30th
No Events
Events for December
31st
No Events
Foody's 5 Fun Facts
Tiyan Titan Calib Naputi
DID U KNOW?
The FD Friars have retired running back Kein Artero's (#3), becoming the third Friar in three years to have his number retired. 2018 saw two numbers be retired from quarterback Daniel Phillips (#6) and De'Aundre Cruz (#24).
COMING SOON …
– Girls Basketball Semifinals on Wednesday
– NFL Week 15: Bills at Steelers
– Jon Tuck in Bellator Japan Dec. 29
– IIAAG/GDOE Split on Jan. 1st
– GSPN Preseason Basketball Tournament
QUICK HITS
Coach Terry Stotts will be inducted into the Indiana Basketball Hall of Fame. Stotts moved to Indiana for his junior and senior years of high school after five years on Guam.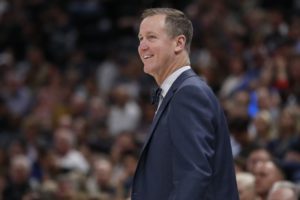 —————————————————-
Bubba Nickles makes a stop at the Guam marker of the World War II Memorial in Washington DC during a team trip to the capital with the reigning national softball champion UCLA Bruins.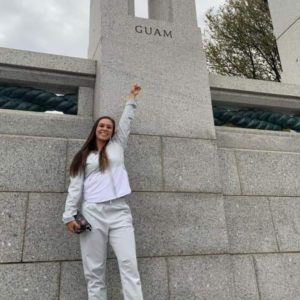 —————————————————-
GSPN celebrates 8 years! Chartered 11/11/11