By Jay Leon Guerrero
It was a good Saturday for the St. Paul Warriors. Both high school teams departed to different destinations to play in their annual tournaments with the girl's team playing in Chiang Mai, Thailand, and the boy's taking the court Taichung, Taiwan.
Both teams breezed by competition in the prelim rounds and won their respective championship games easily. For the girls, it caps off a successful season and their third championship winning the IIAAG championship, the Hardeman Showcase Basketball Tournament (Manila) and the ACSC Tournament (Thailand).
The boys defeated Grace Academy 62-41 to win their first ACSC championship since the tournaments inception in 2013. After four years of participating in the tournament against the best teams in the region, the Warriors boys finally got their championship.
Jahmar White and Jason Diaz led the Warrior offense in the championship game scoring 20 and 18 points, respectively. D'Angello Gallardo chipped in 12 points as the Warriors sat their starters in the final period.
The Warrior girl's season is now complete with three championships under head coach Paul Pineda. The boys still have unfinished business with the IIAAG Basketball playoffs approaching. The Warriors boys are currently undefeated in the IIAAG season and look to make it back-to-back championships. According to White, their performance in Thailand will help them with their confidence heading into the IIAAG playoffs scheduled for next week.
"The tournament was a lot of fun and the competition was great. I think this tournament is going to help us out because of the height we played against here in Taiwan. All the players were big," said White.
The Warriors are the top IIAAG team with an undefeated 15-0 record. White said the experience will help them with their team chemistry. "Trips like this are good for team chemistry. When we get along well off the court it carries on to the court in game," said White. White said the team tried to do some sight –seeing and touring but was hard because of the game schedule.
"We didn't do much site-seeing; it was pretty much strictly basketball down here. But I enjoyed the weather the most; it wasn't too cold or too hot", said White.
Girls dominate
The girls were a different story with the scenery in Thailand. Parents and students made the most of their time in Thailand with the tourist areas and shopping. But on the court, it was strictly business as the girls were set on accomplishing their goals.
"When our coaches first came onboard and promised us the Championship, we didn't think it was possible. But as they continued to work with us, our faith grew. We trusted them, we trusted our team, and most of all we trusted God. Winning three titles in one season is a blessing. I'm so grateful to be ending my senior year this way," said starting point guard Chloe Miranda.
Niah Siguenza was named the tournament MVP. Siguenza also made the all-tournament team accompanied by teammates Isla Quinata and Monica Geiger. The defensive player was awarded to none other than, well, the entire Warrior team. Defense is the motto of Pineda's system and the tournament decided to put the entire Warrior squad as the award recipient(s).
"Our coaches always tell us, 'never be satisfied'. As a team, we understand that and we push each other to be the best that we can be, on and off the court," said Miranda.
Senior and former IIAAG MVP Haley Senne also played her final game as a Warrior said: "It's a great opportunity to represent Guam, St. Paul, and God through the ACSC tournament. Winning titles are meaningful for each of us because we represent the warrior name. Winning titles reflects what St. Paul teaches us and our school taught us to glorify God in all we do and we glorify God through the game of basketball," said Senne.
Both teams make their journey home with their awards. The Warrior boys will continue their season this week under head coach Neo Pineda and assistant coach Julian Canovas.
PHOTO GALLERY BROUGHT TO YOU BY:

Foody's 5 Fun Facts
Sanchez QB Jayton Penaflor
DID U KNOW?
Kein Artero has a list of who's who of Artero uncles who've starred in Guam's gridiron: Andre Artero UOG Tritons & Hals Angels OL, Bubba Artero UOG Tritons & Hals Angels OL, Kenny Artero SSHS DB/Baseball Pitcher, Jesse Sablan FD & Hals Angels FB, Roland San Nicolas FD & Hals Angels OL, Chuck Ada SSHS & Hals Angels DB,  Ed "Rock" Artero SSHS & Hals Angels MLB, "Wild" Bill Ada FD & Hals Angels ML, Jared Ada FD & Hals Angels WR/Utility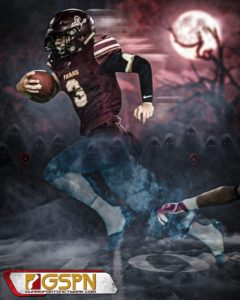 COMING SOON …
– 24th Marianas Fishing Derby
– NFL Week 3: Steelers at 49ers
– Jon Tuck's Bellator debut
QUICK HITS
UOG Athletics announced that head men's basketball coach Brent Tipton has stepped down due to personal reasons. UOG is now seeking for a replacement after Tipton's three years at the helm.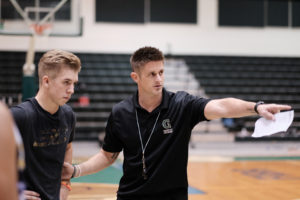 —————————————————-
Kyle Reyes brought the Boom to Russia and delivered a huge 1st round knockout in ACA 98.