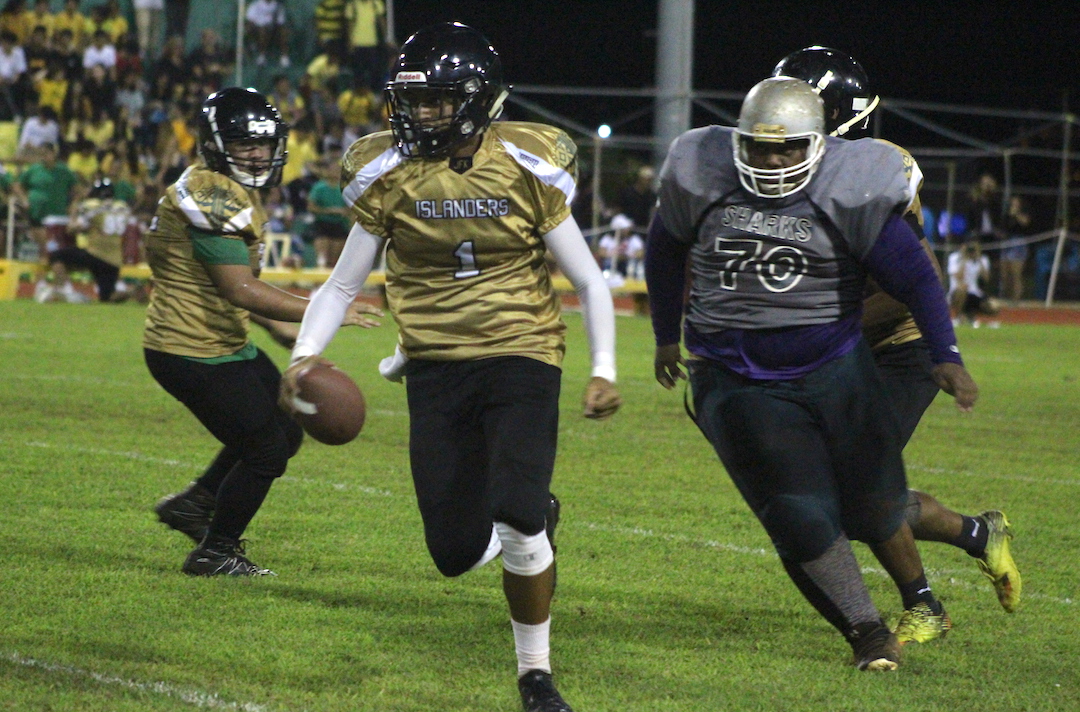 By Robert Balajadia
Even though their homecoming party got rained out, the JFK Islanders powered through a soggy Ramsey Field to beat the visiting Sanchez Sharks 15-0. The game underwent a 30-minute lightning delay in the 3rd quarter with JFK holding a 7-0 lead before resuming action.
Coming up big for the Islanders was return man Juan Sarmiento, who turned a good looking punt from Sharks Jayton Penaflor into a 60-yard return for a touchdown in the 2nd quarter. Sarmiento switched fields and then switched gears as he darted up the right sideline to give JFK their first points of the game.
"I saw that there was a hole on the right side and I just caught everyone off balance and turned up on that side," said Sarmiento on the punt.
Offense was hard to come by with the weather making it extra difficult for both sides to find solid footing.
"The weather affected us a lot, but both sides of the field had to play under the conditions so we just had to deal with it," added Juan.
Sanchez nearly had an answer for Sarmiento's score as running back Kamerin Toves broke free on a run up the middle to take Sanchez from their own 20 into Islander territory at the 40. The drive would end in a turnover on downs, the Sharks most productive drive on the evening.
After the halftime and homecoming festivities, lightning and heavy rain forced the delay into the 3rd quarter. The Sharks had just received the second half kick-off and fumbled the ball away on their first play. Lightning started to flash which forced a near 30-minute wait time.
The Islanders attempted to move the ball through the air, but Sharks safety Harold Gaerlan grabbed his third interception of the season by picking off JFK's Andrew Perez in the 3rd. The turnover didn't translate to much for the Sharks as their running game struggled to get going.
JFK added the final score of the game on a short run from Chase Spotanski, which was set up by a 20-yard pass from Perez to Nico Velez. Spotanski powered through the middle of the defense for the goal-line score and a Justin Camacho 2-point conversion put JFK up 15-0.