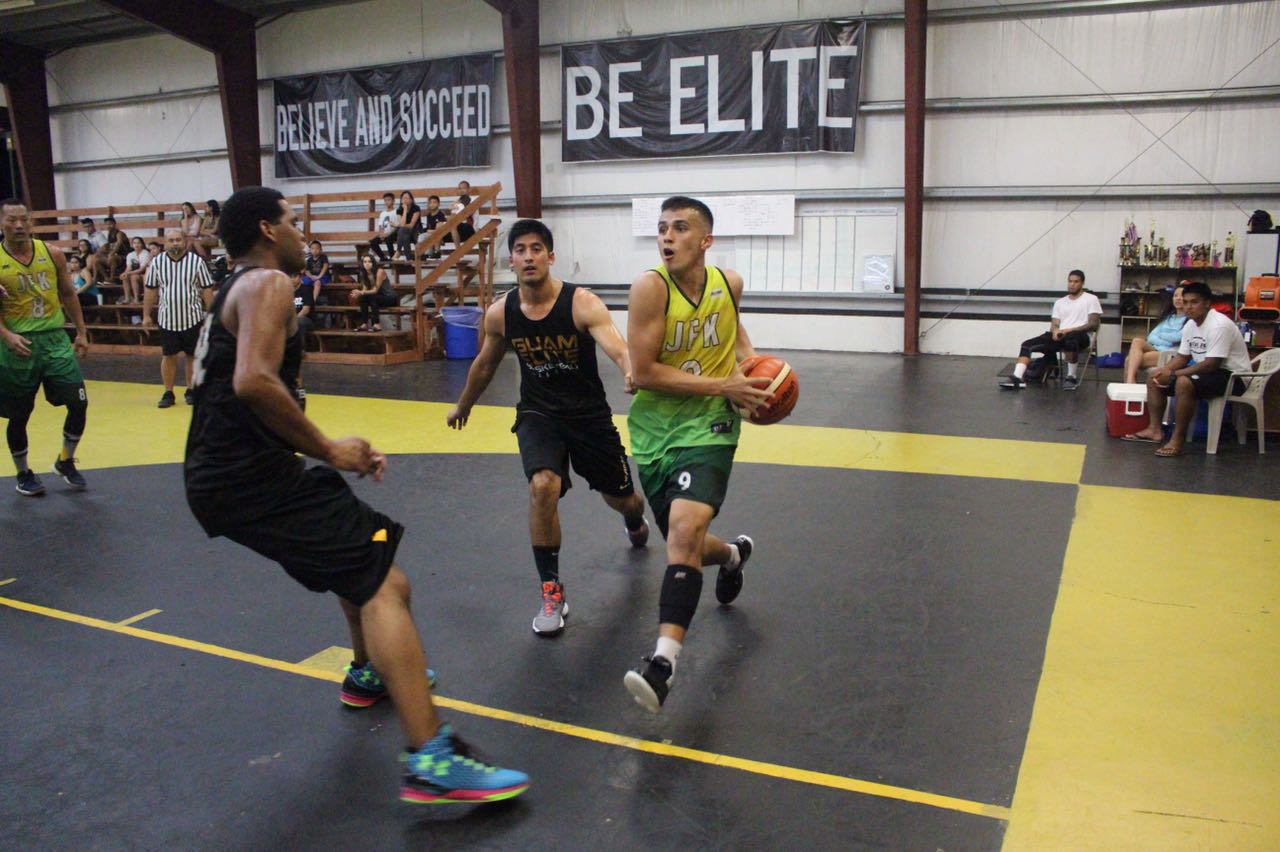 By Jay Leon Guerrero
For GSPN
The JFK Islanders took game one of the Islandwide Alumni Basketball tournament after defeating the FD Elite Friars 71-64 in the best-of-three finals series. The Islanders are still undefeated in the league and have yet to taste defeat.
JP Cruz led the offense for JFK scoring 24 points to take game one. "We did good tonight at hitting shots, they were playing good defense but we had good ball movement to find the open player," said Cruz.
The game was tied 30-30 at halftime in a seesaw battle. Will Stinnett managed to score from offensive rebounds to give FD a slight advantage to start the second half but the Islanders went on an 8-0 to capture momentum.
JFK's Billy Belger converted a lay-in after a steal from Jin Han to start the run. Merwin Martin followed up with a transition 3-pointer to cap the run to take a 40-35 advantage.
Fd answers with a short run of their Vince Estella making a short jumper and Tony Paulino draining a 3-pointer to retake the lead 45-43.
Dom Sablan dribbles around the Islander defenders to add to FD lead but the Islanders counter with Belger and Martin making back-to-back three-pointers to go up 50-48 with eight minutes left in regulation.
Martin hits an open three-pointer with three minutes left in regulation to go up 65-62 with less than two minutes remaining to give the Islanders the lead.
After a costly FD Elite turnover, Cruz runs the wing and nails a dagger 3-pointer with 70 seconds to put JFK up 68-62. FD struggles to find an open shot and was forced to foul with time winding down.
Belger secured the victory with 30 seconds left at the free throw line to give the Islanders the 71-64 victory.
Belger had 14 points for JFK, Martin was instrumental in the victory scoring all of his 11 points in the second half. Jeff Serrano had nine points and a game high 12 rebounds for the Islanders.
Stinnett had a game high 26 points and eight rebounds for FD Elite, Estella had a double-double with 13 points and 10 rebounds.
JFK can end their season undefeated and clinch the championship trophy in game two this Saturday at 8pm at the Elite Center. FD will look hand JFK their first loss of the season and force a game three with a victory.
"We are going to continue playing JFK basketball and take it one game at a time. (FD Elite) has a lot of firepower on their side and despite only having six players on their team they are still a team be reckoned with," said Cruz.
PHOTO GALLERY BROUGHT TO YOU BY:

Foody's Fun Facts
Favorites From Year 2
COMING SOON …
FRIDAY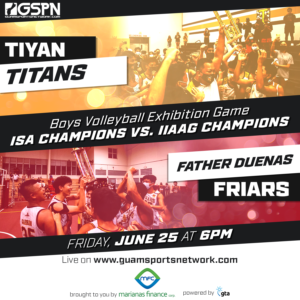 UFC Fight
July 25: Trevin Jones vs. Tony Kelley
QUICK HITS
The Guam Legislature recently paid homage to Michael Reidy, who passed away stateside in March. Reidy was instrumental in getting Guam into the Olympics in 1988 as well as a founding father of the island's paddling community.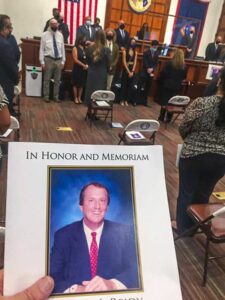 ——————————————————–
Nadine Del Carmen graduated from Santa Clara University on June 11. She was named captain of the Santa Clara women's tennis team in her senior year and she will be attending Georgetown University in the fall to pursue her masters and will be playing for the Hoyas women's tennis team.