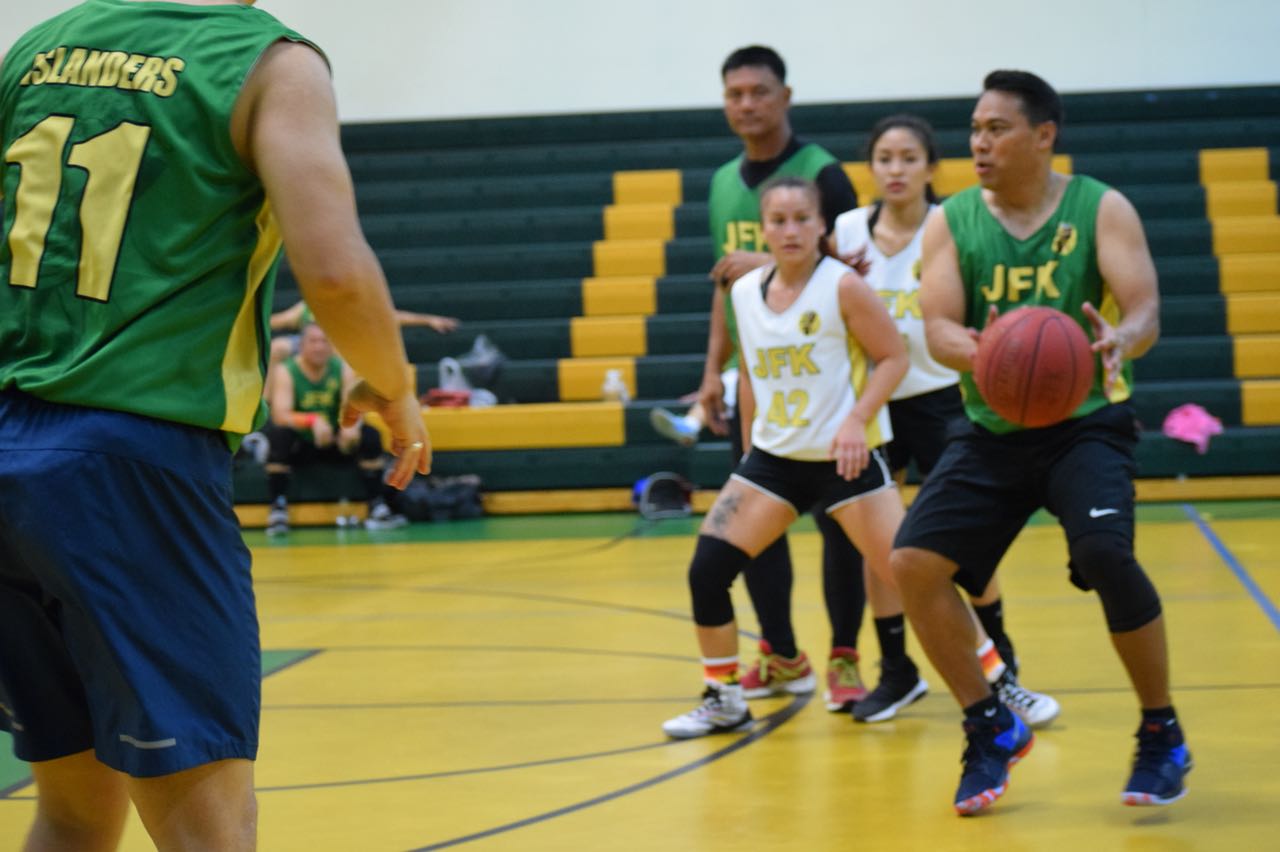 PRESS RELEASE – It was raining buckets as the 2018 John F. Kennedy Alumni Tournament got underway Saturday at the Tumon school. Sharpshooter JP Cruz dropped 19 treys in 2003-2005 matchup against the 2010-2013 GOLD team, powering through for a 128-44 victory.
Erwin Villa, who still holds the record for most threes in a high-school game, dropped 10 long-range buckets as the 1985-1990 GOLD team slipped past 2002-2003, 72-67.
2003-05 70, 2006-09 GREEN 58: Cruz led all scorers with 29 points, while teammate Jeff Saavedra contributed 12 for the win. Edwardson Panganiban led the 06-09 group with 18 points, while Merwin Martin added 9 in the loss.
1970-85 GREEN MACHINE 69, Lady Islanders 55: The Payumo brothers let loose, tag-teaming for 34 of the team's 69 points. Danny Payumo dropped 21, while older brother Leo added 13 in the win. The Lady Islanders' Lili Baranda dropped six treys, pouring in 27 of her team's 55 points.
1995-99 53, GREEN 46: Leevin Camacho led the winning team with 15 points, while Mike Cabral added 10 in the win. Islander legend Joseph Taitano paced Green with 20 points.
2003-05 128, 2010-13 GOLD: Cruz led all scorers with 58 points, while teammates Jesrael Cesar and Shipley Villanueva added 21 and 17, respectively. Jon Sablan finished with 10 points in the loss.
2014-17 GREEN 66, 2006-09 57: Kurtis Silva dropped 27 points in the win, while teammate Billy Belger added 24 in the win. Teks Erwin led 06-09 with 18 points in the loss.
1985-90 GOLD 73, 2000-02 67: Erwin Villa let it rain, hitting 30 points from beyond the arc for the win. Dave Santos matched the offensive onslaught with 30 of his own in the loss.
2010-2013 GREEN 52, 2014-17 GOLD 46: Rey Sablan finished the night with 20 for the 2010-2013 team. Charles Manalac pacced 2014-2017 with 17 points in the loss.
Games continue Sunday all day at JFK. The alumni tourney is the first for JFK with funds going towards purchasing a PA system for the press box.
"This is our first alumni tournament and we are pleased by the turnout," JFK athletic director and tournament coordinator Jay Antonio said. "Once an Islander, Always an Islander!"
PHOTO GALLERY BROUGHT TO YOU BY:

Athletes Birthdays by W5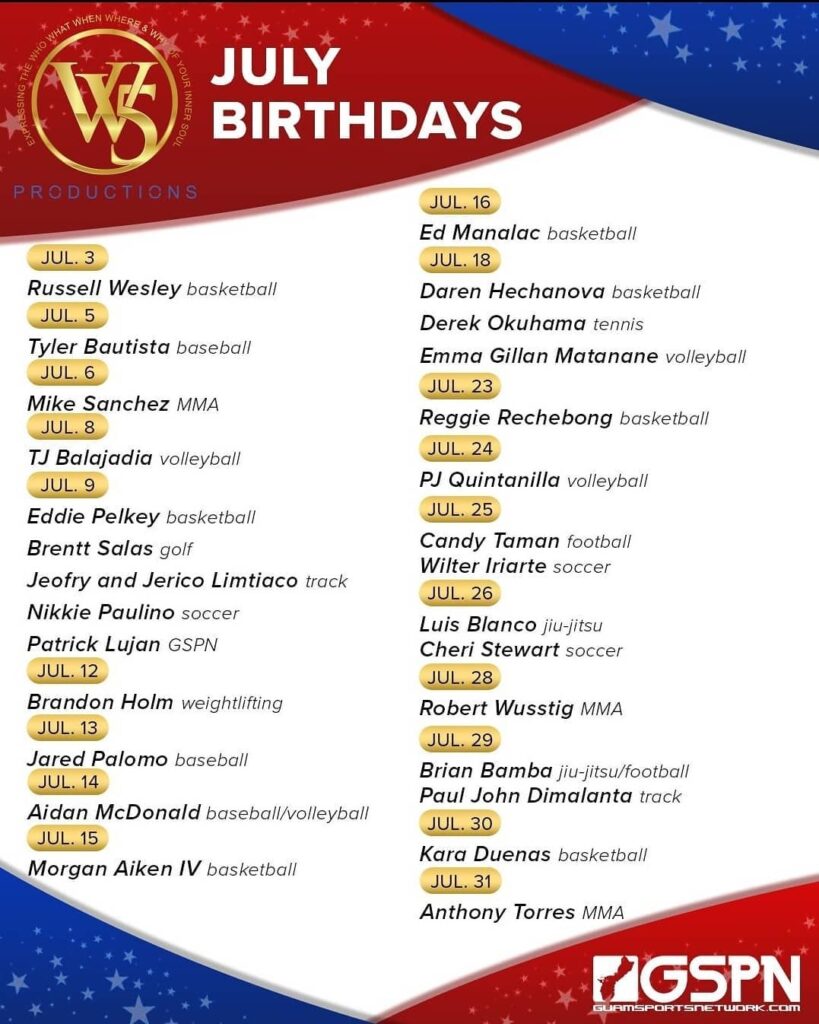 Foody's Fun Facts
Favorites From Year 2
COMING SOON …
2020 Tokyo Olympics
UFC Fight
Aug 1: Trevin Jones vs. Tony Kelley
QUICK HITS
——————————————————–
Guam's Joey Miranda met up with Chamorrita Softball Star Bubba Nickles and Olympic Teammates Dejah Mulipola and Aubree Munro out in Tokyo as we approach the Olympics!
Photo credit: GNOC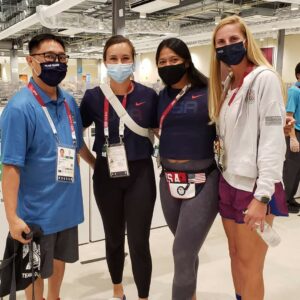 ——————————————————–
Former Guam resident Tre Taylor has committed to play cornerback for the Southwestern Junior College Jags.
Turner attended Harvest and FD before transferring to Hawaii where he played for Saint Louis, the 5th ranked team in the nation.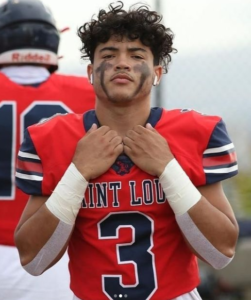 ——————————————————–
The big man Zach Banner getting to throw out the first pitch earlier today for the Pittsburgh Pirates!