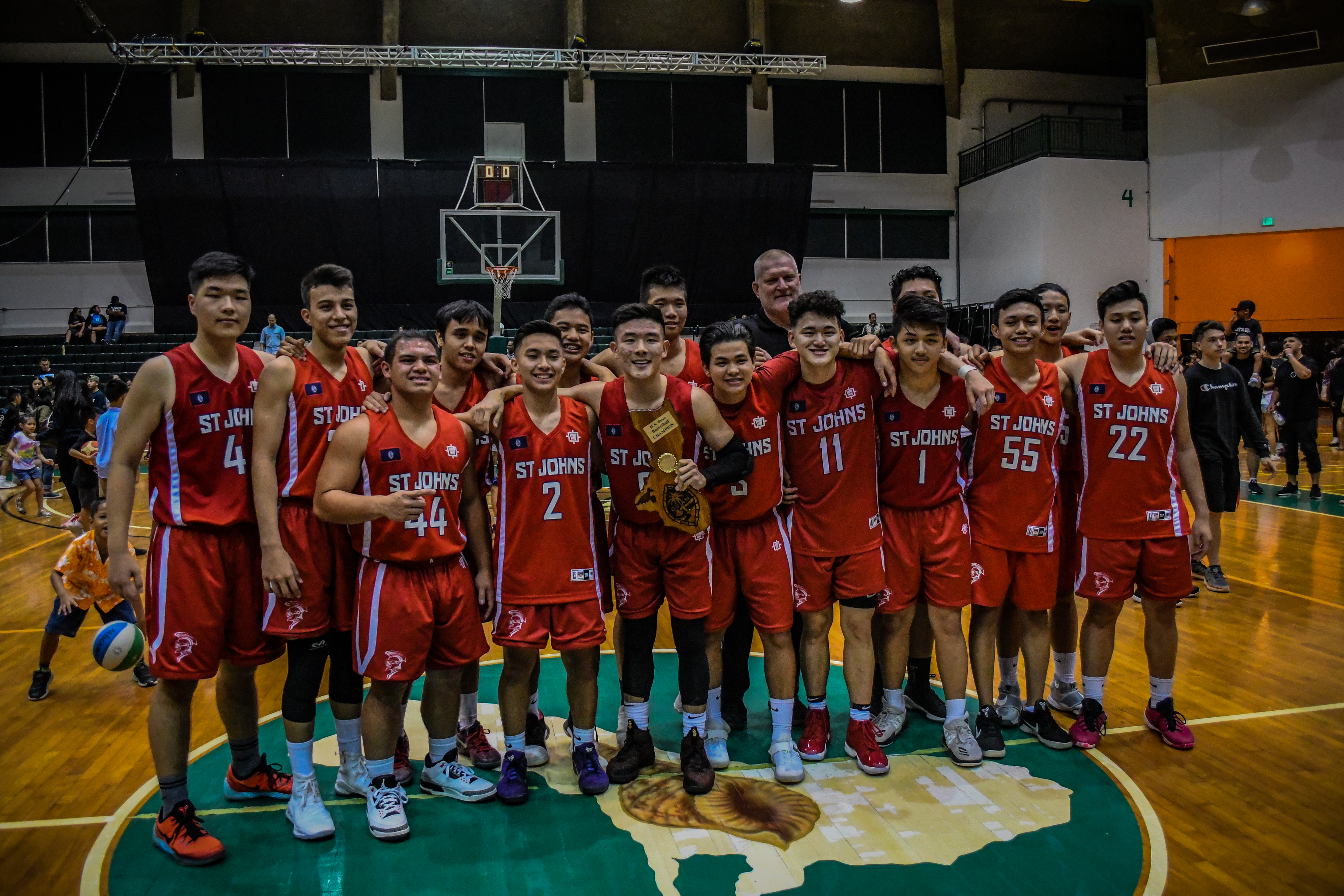 By Jay Leon Guerrero
Four years ago, a group of talented freshmen entered high school at St. John's with high expectations based on their skill level. For three seasons in the IIAAG Boys Basketball League, the "Fab Five" from St. John's watched other teams cut down the nets and it seemed that all that hype that surrounded them was unvalidated.
After failing to advance to the semifinals in the three previous seasons, the Knights had their last shot to leave their mark going up against the defending champion St. Paul Warriors. After 32 hard-fought minutes in front of a capacity crowd at the UOG Calvo Field House, the Knights finally stamped their legacy into the history books with a 69-66 victory over the Warriors.
The win snapped the Warriors 37-game win streak.
"Curry" drops 29 points
"This feeling is everything I ever imagined. We've watched other teams win championships and it hurt watching them win. Now, we get our chance to feel that feeling," said St. John's forward Takumi 'Curry' Simon.
Simon scored a game high 29 points and made 10-of-10 free throws.
Simon set the tone early, making four 3-pointers on four attempts to go ahead 28-13 after the first quarter. Tony Hsieh scored the first five points of the game for the Knights, but was forced to sit with foul trouble. The Warriors were missing open shots and easy layups and everything seemed to be falling for the Knights in the opening period.
The Warriors defeated the Knights twice in the regular season by the slimmest of margins and Simon said a good start was key. "In both our losses, we didn't have a good start so we felt that we need to come out to a good start to win the game."
Simon emphasized that head coach Fred Peters' message was to get into a good rhythm early.
Warriors fight back
The Warriors fought back in the second quarter and used defense to put up points. D'Angelo Gallardo and Jason Diaz both recorded steals and turned them into lay-ups as they chipped away at their deficit to trail 39-31 at halftime after trailing by as much as 31-13. Jericho Perez provided a much needed spark off the bench, scoring nine points by halftime for the Warriors.
With the Warriors focusing on the guards, Knight center Isaac Sim scored six points in the second quarter to keep St John's ahead. The Knights used good ball movement to find open shots to maintain their lead.
The Warriors cut the lead to 43-40 with Reo Aiken swishing a 3-pointer in the third quarter as St. Paul started its come back.
Gallardo continued to make drives to the basket but the Knights answer with both Michael Min and Simon making 3-pointers to stay ahead 49-44 with 2:48 left in the 3rd quarter.
The fourth quarter arrived and both crowds were roaring. The Warriors got an early run going with Jahmar White hitting a pair of jump shot on the right wing to trail by just four points as the rowdy Warrior crowd started to get going.
With the Knights sensing momentum swaying, Min and Simon slowed the tempo down and were able to draw fouls and make their free throws. The Knights found themselves up by 10 points, leading 68-58 with under two minutes remaining.
The Warriors lived up to their name and continued to fight hard in the final minute of regulation. The league's best back court duo of White and Gallardo score quick points to cut their deficit, trailing 68-62. Hsieh wascalled for an offensive foul, his fifth of the game; and was forced to watch from the bench with 17 seconds left.
The Warriors called a timeout and scored a quick bucket courtesy of Josh Gatchalian with the Knights slow coming out of a timeout. The Knights lead was just 68-64. The Warriors were forced to foul with 10 seconds remaining and Min made one-of-two from the line. The Warriors rushed down court and scored a quick bucket from Diaz but it was too late as time expired.
White had 19 points, six rebounds and three steals for the Warriors. Gallardo had 15 points; Diaz had 10 points and nine rebounds. The Warriors' sixth man, Jericho Perez scored 10 points.
Min played quarterback for the Knights and contributed 12 points, a game-high nine assists and four steals.
"It was key for us to have that good start because it set the tone for the game," said Min.
"Since the begining of the season we've improved on all aspects of the game; from rebounding, scoring and defense," said Min. "I'm so proud of Isaac (Sim), we needed him tonight and he stepped up big time for us," said Min.
Sim recorded the games only double-double, contributing a much needed 15 points and 10 rebounds for St. John's.
"I give all glory and honor to God, we've been chasing this dream for four years and I'm happy we finally accomplished our goal," said Sim.
Islanders win consolation game
The JFK Islanders defeated the FD Friars 65-63 in a wild consolation game.
The Islanders led 11-1 to start the contest with senior guard Alschea Grape recording two assists. The Friars bounced back and took the lead by halftime with seniors Will Camacho and Kyle Gaitan leading the offense to go up 28-23.
The Friars led 48-39 after three quarters with sophomore big man Matt Fegurgur scoring six points in the quarter. The Islanders come back in the fourth quarter and cut the lead to 52-50 with Chris Morikami converting a three point play and Jonah Hahn scoring in the paint.
Gaitan answers the call with a three point play of his own to surge back ahead 55-50. The Islanders kept grinding and JFK's Shane Terlaje ties the game at 59-59 with 1:42remaining. Terlaje continued the hot shooting and drained a running mid-range jumper to lead 61-59. Tomas Calvo answered with his own mid range jumper to keep the game deadlocked 61-61.
The Islanders missed on the ensuing shot but guard Cloyd Rosas stole the ball under his own basket and made the lay-in to go ahead 63-61 with less than a minute remaining in regulation. Tony Quinene from gets an open look from beyond the arc for the Friars but his 3-pointer rattles out. Grape rebounds and hits his free throws as the Islanders go up 65-61. Daryl Delos Santos from FD scores a driving lay-up but time runs out with the Islanders celebrating the close 65-63 victory.
Hahn led the Islanders with 14 points and 13 rebounds, Grape had 12 points and eights assists. Gaitan led all scorers with 16 points; DeAundre Cruz had nine points and 10 boards for FD.
PHOTO GALLERY BROUGHT TO YOU BY:
LIVE BROADCAST BELOW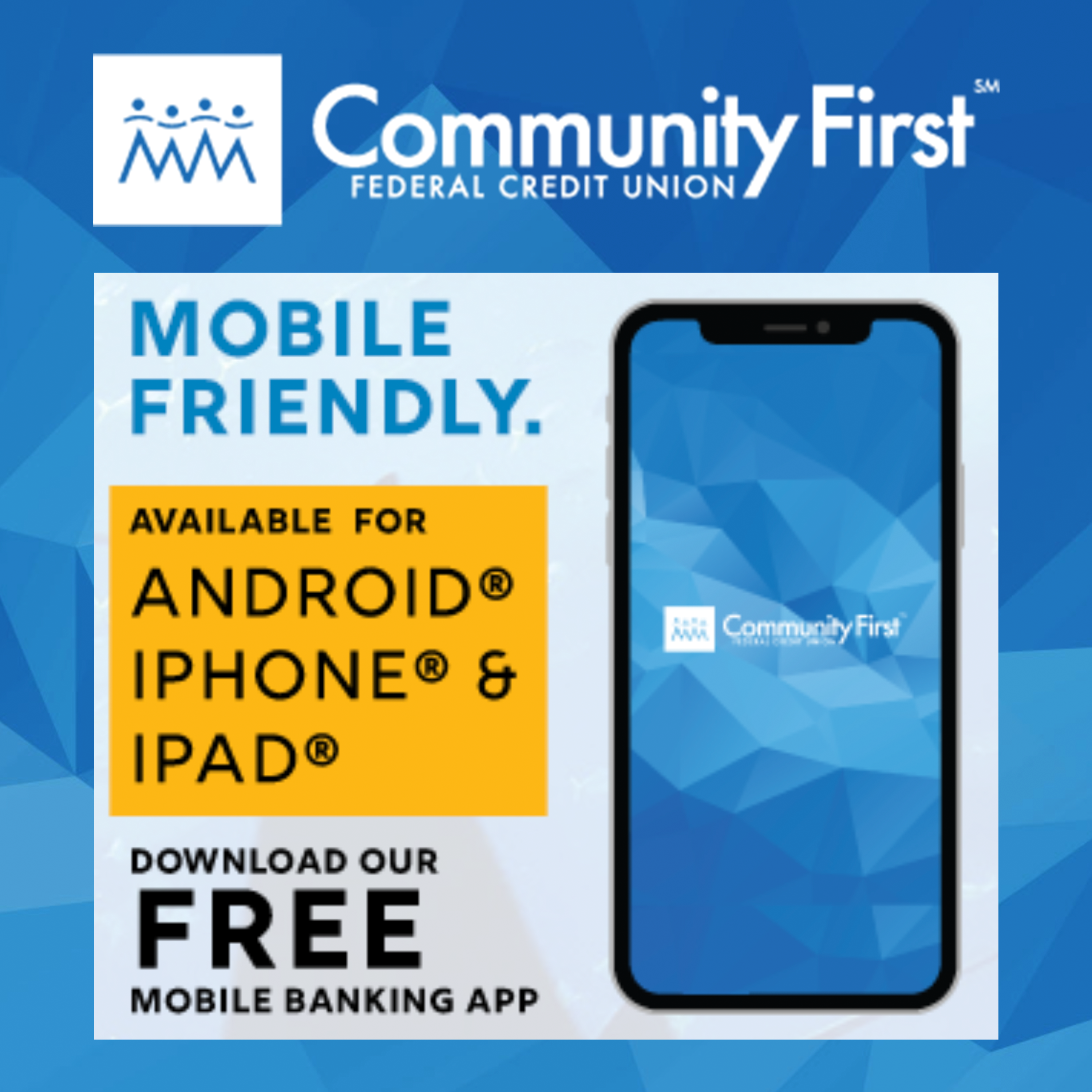 GPS Sports Calendar
SU

MO

TU

WE

TH

FR

SA
29

30

1

2

3

4

5
Events for December
1st
No Events
Events for December
2nd
No Events
Events for December
3rd
No Events
Events for December
4th
No Events
Events for December
5th
No Events
6

7

8

9

10

11

12
Events for December
6th
No Events
Events for December
7th
No Events
Events for December
8th
No Events
Events for December
9th
No Events
Events for December
10th
No Events
Events for December
11th
No Events
Events for December
12th
No Events
13

14

15

16

17

18

19
Events for December
13th
No Events
Events for December
14th
No Events
Events for December
15th
No Events
Events for December
16th
No Events
Events for December
17th
No Events
Events for December
18th
No Events
Events for December
19th
No Events
20

21

22

23

24

25

26
Events for December
20th
No Events
Events for December
21st
No Events
Events for December
22nd
No Events
Events for December
23rd
No Events
Events for December
24th
No Events
Events for December
25th
No Events
Events for December
26th
No Events
27

28

29

30

31

1

2
Events for December
27th
No Events
Events for December
28th
No Events
Events for December
29th
No Events
Events for December
30th
No Events
Events for December
31st
No Events
Foody's 5 Fun Facts
NFL Fan Edition: Sherwin Paet
DID U KNOW?
Frank 'The Crank' Camacho was a competitive youth golfer in Saipan with dreams of making it to the PGA.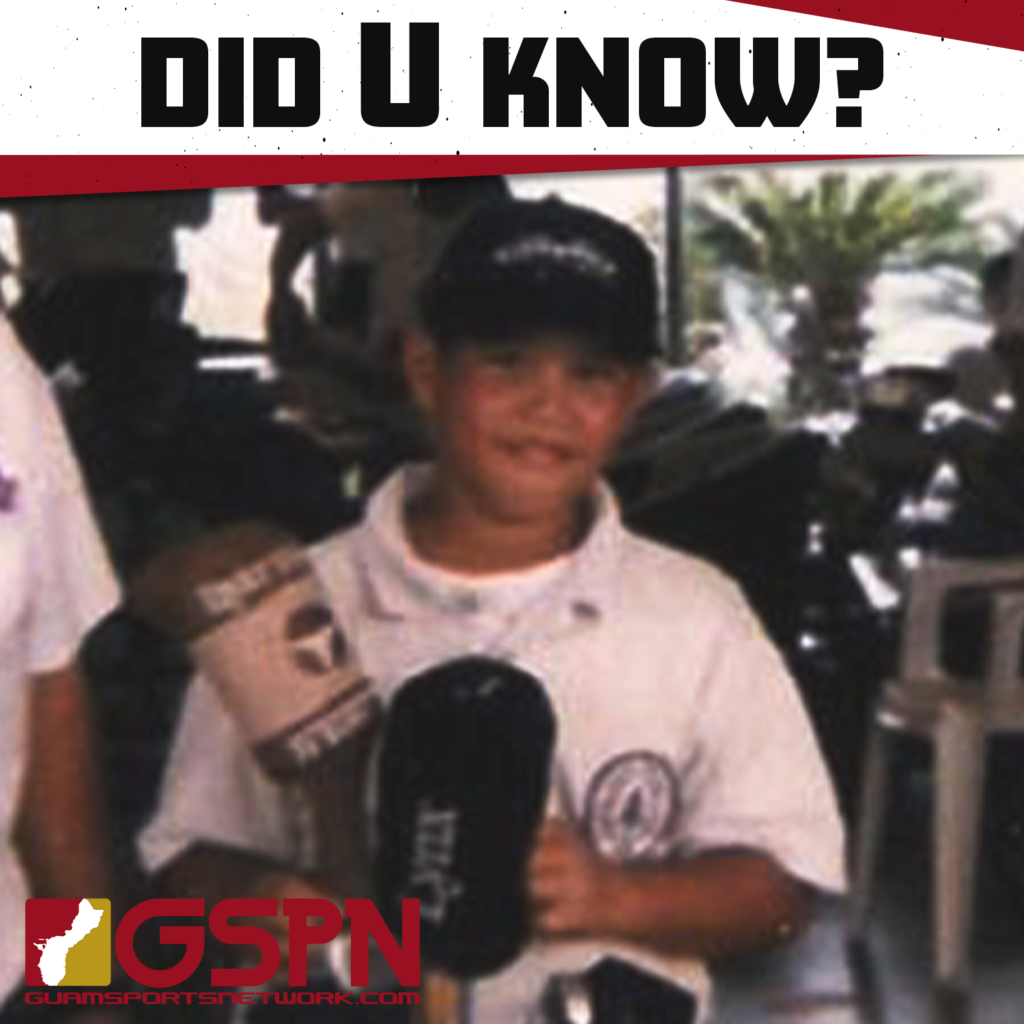 COMING SOON …
ALL SPORTING EVENTS HALTED DUE TO THE CORONAVIRUS ISSUE
QUICK HITS
Brazilian Jiu-jitsu gains another CHamoru black belt.
Johnny-James Lujan earned the honor in Colorado from Professor Tom Lynn, who is also a former US Olympian in taekwondo.
Lujan is the son of Johnny Lujan formerly of Mongmong and Janille Jamero Lujan formerly of Sinajana.