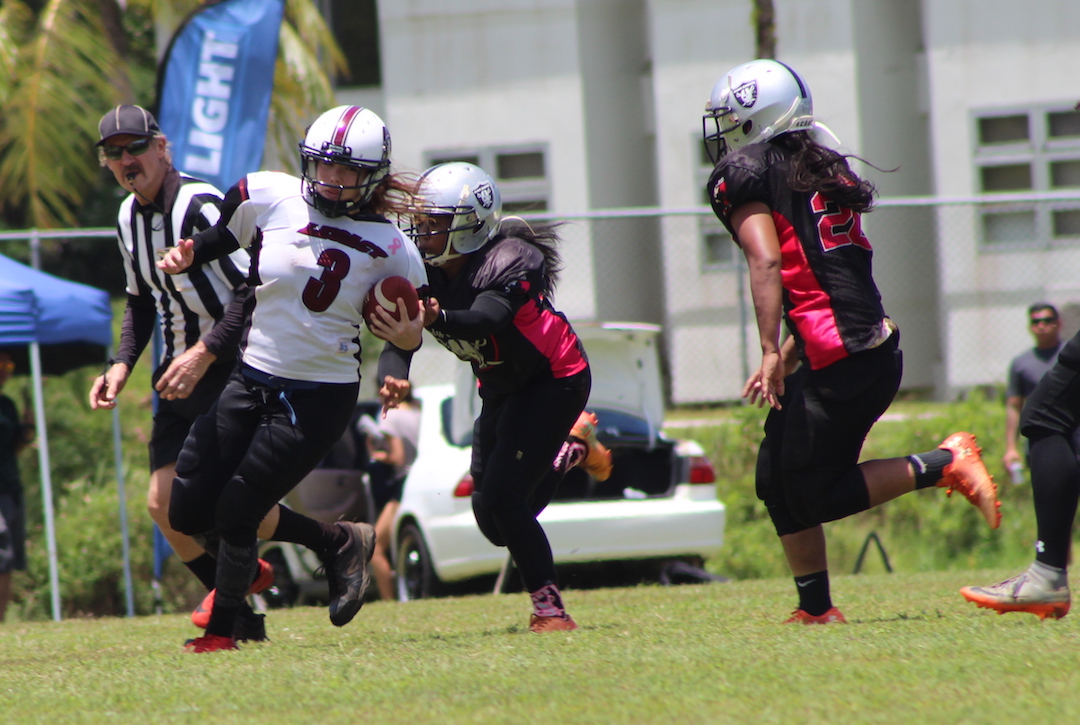 By Kai Akimoto
The GWTFL kicked off the first round of playoffs with the Lady Raiders and Team Legacy facing off at UOG field. Legacy would come out with the 18-6 win, remaining undefeated as they head into the playoffs with big performances by Jalana Garcia, who had both an offensive and defensive touchdown, and Paige Surber who played a big role in the Legacy defense.
"We have a lot of our usual players injured, so a lot of people have been stepping up, and today, they came out and proved themselves," said Surber.
The Raiders started off strong going to their ground game as they marched up the field to find themselves in the red zone following big runs by running back Tianna Perez in the 1st quarter. Although they were backed up against their own end zone, Legacy was able to come up with a big stop to force a turnover on downs at the 18-yard line.
The Raiders' defense was able to force a turnover on downs of their own to set up their offense with good field position. Starting their drive 40 yards out from the end zone, the Raiders offense would pound their way forward after multiple runs by running back Tianna Perez. After a short pass to Kim Tupaz to put themselves in the red zone, the Raiders would strike first as Perez would punch in a touchdown on an 8 yard run to put the Raiders on the board 6-0.
Legacy wouldn't waste any time to answer back as they would set up their offense in great field position on a 25-yard return by Olivia Flores Elliot. Legacy would capitalize on the good field position with Elliot taking the hand off from within the red zone, darting to the pylon for a Legacy touchdown. After a failed 2-point conversion, the score would lie at 6-6 at the half.
With their championship hopes on the line, Legacy needed to answer quick to break the stalemate. That answer would arrive in the form of Jalana Garcia. Garcia would take the ball on a pitch from the running back position and bounce it to the outside where should burst up field for the 50-yard touchdown score. The legacy were unable to get an extra 2 points on a failed conversion attempt, but were able to grab the 12-6 lead.
With the lead in their possession, the Legacy were back in a position they were more accustomed to, however, Garcia wasn't ready to take her foot off the pedal just yet. On the ensuing Raiders' possession, Garcia, at the linebacker position, would strip the ball from Raiders' Running back Tianna Perez and run the ball down the sideline for another 50 yard touchdown within the span of five minutes.
"It was mostly my teammates. They created the opportunities for me. It was just a matter of seeing the opening and taking the opportunity to help my team win," said Garcia on what allowed her to score in a 'must score situation'.
The Raiders' would continue to try and fight back, but the legacy offense would come up big with multiple tackles for losses by defensive end, Paige Surber.
Surber and the defense were playing in a situation that they hadn't seen all season; they were down one touchdown. Despite the situation, Surber said that the Legacy defense's main goal was to stay composed and focus on the next play.
"We were down and we were getting frustrated with ourselves, but we had to tell ourselves 'one play at a time'. Time was ticking, and we couldn't waste time getting at each other's throats. We had to stay positive," said Surber.
Legacy will move on to their 7th consecutive championship game after the 18-6 victory. Despite having put up big numbers throughout the season for Legacy, Garcia still has a lot of respect for the challenge that comes with being such a winning team.
"There's a lot of pressure to defend such a good reputation. Everyone wants to take out the top, and it really is anyone's game and it's just about who wants it more," said Garcia.
PHOTO GALLERY BROUGHT TO YOU BY:

QUICK HITS
Guam MTB National Championship: Edward Oingerang and Jennifer Camacho are your 2023 MTB national champions. Oingerang finished the course in 1:13:24 while Camacho won her second straight title in 54:08.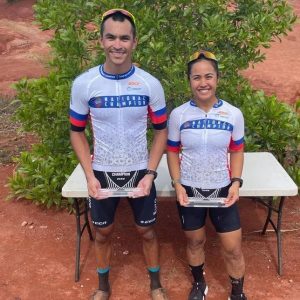 ——————————————
Kobe Miyashita, with St. John's coach Arvin Flores, was named the 2023 IIAAG Middle School Boys Volleyball MVP!