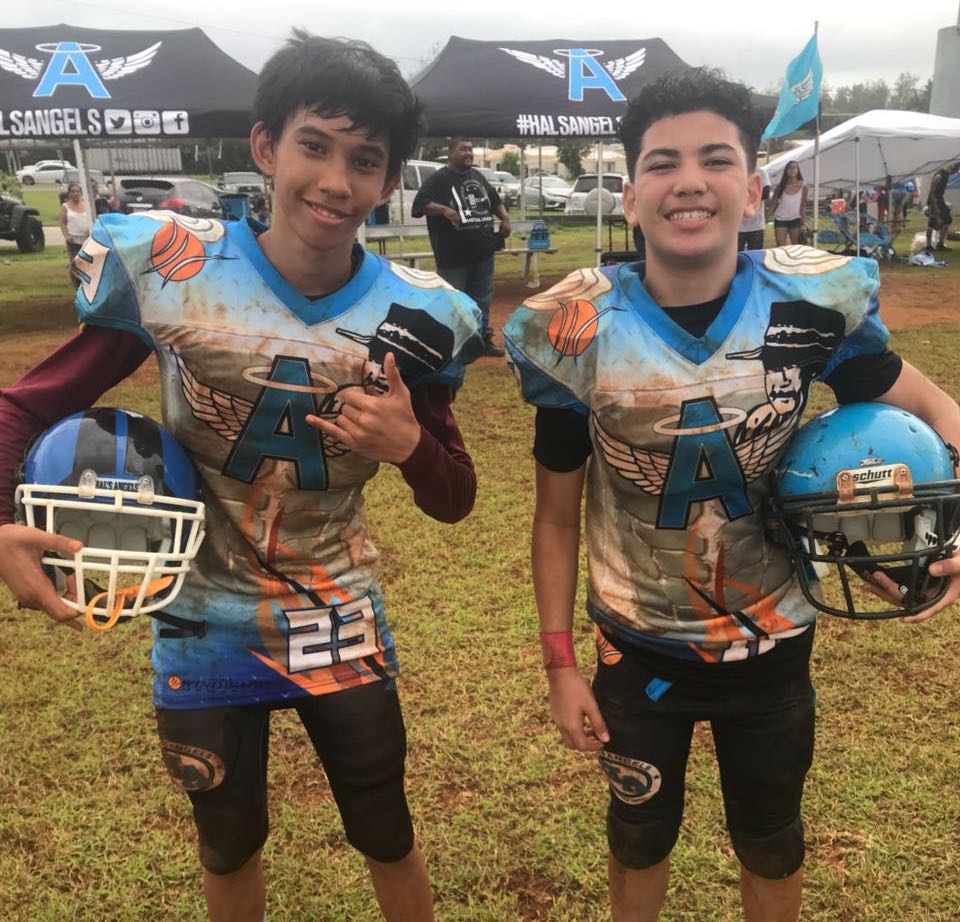 By Nick Akimoto
In a matchup between two historically successful football teams of the GNYFF, the Winward Hills Memorial Hal's Angels came out on top in their battle against the Raiders at Angel's field Saturday afternoon. The two Matua teams would hold each other scoreless throughout the game until the final minutes of the game, when the Angels would score the first and final points of the game to walk away with a victory.
Exchanging blows
The Angels received the ball to begin the game and immediately started to move down the field. The Raiders met the Angel's running backs at the line and limited them to short gains. The Raider defense held the Angel offense down until Angel quarterback, Darren Cepeda, threw a 60-yard touchdown to Marcus Camacho, but thankfully for the Raiders, the touchdown was called back. The Raiders and Angels continued to exchange possession of the ball until the whistles blew signaling the end of the first half.
The Raiders came out of half time with a head of steam as Raiders running backs, Kin John San Nicolas and Kyle Potter, began to pressure the Angels defense as they broke away for long runs down the field. The Angels eventually popped the ball loose, which allowed Angels lineman, Jordan Flores, to recover the ball to lead into the fourth quarter.
The Final drive
The Angels offense struggled to get the ball down the field, as penalties and tackles for loss put them back at their own 40-yard line, where they were forced to punt the ball away. The Raiders received the ball and intended to rely on their run game to get them into the end zone.
The Raider's backs powered up the field, pushing the Angel's defense back further and further until a hit popped the ball out of the Raider's runner hands. The ball bounced on the ground until it was recovered once again by Angel's lineman, Jordan Flores
"Coach told us that we had to get a fumble to win the game, and I saw the ball on the ground and jumped on it" stated Flores.
After the clutch forced fumble, the Angels began their drive off with a pass to wide receiver, Noah Medler, who ran out of bounds after getting the first down. The Angels lined up again, this time letting their quarterback scramble. Cepeda drew an unsportsmanlike conduct call to put him within 10 yards of the goal line. Cepeda lined up the offense and zipped the ball to Medler, who pushed his way into the end zone for the game winning touchdown.
Medler commented on the last drive saying, "In the huddle, we told each other that we had to finish off the job that the defense started by getting in the end zone, and the coverage that the defense gave us allowed me to shake free for the touchdown."
The Angels improve their record to 2-0 while the Raiders fall to 1-1

QUICK HITS
The Okkodo Bulldogs secured third place at the Far East Division I Girls' Basketball Tournament in Camp Humphreys, South Korea. Jasmine Samson and Haley Cabrera were named All-Tournament selections in recognition of their hard work on the court. Vaysia Blas won the 3-point shooting contest. The Bulldogs played nine games in three days with a squad of eight:
Erin Moldez
Jasmine Samson
Haley Cabrera
Sharm Tauiwei
Hanna Meinik
Jordyn Zacarias
Jordin Hernandez
Vaysia Blas