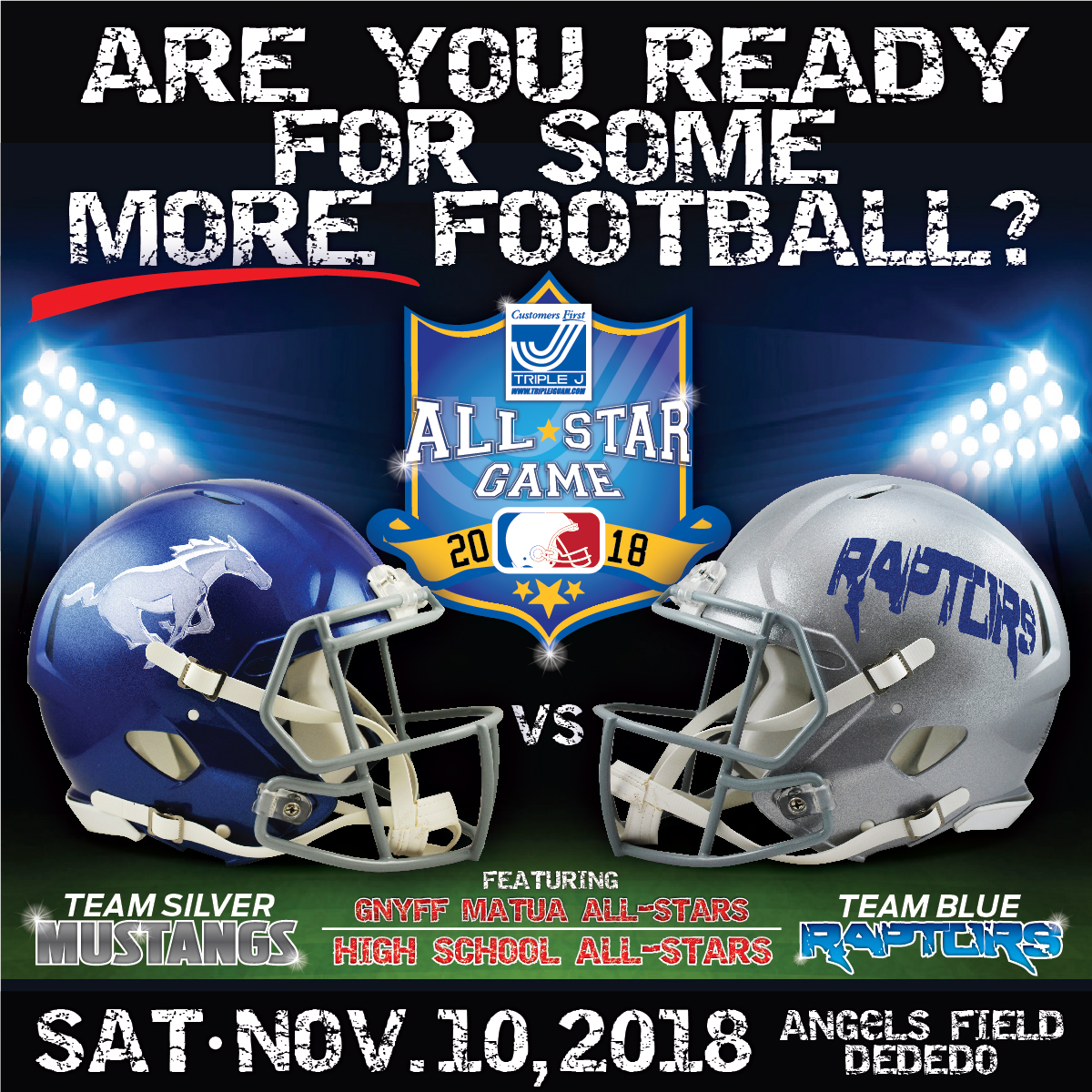 The 2018 Triple J Football All-Star Game is approaching!
Going down on November 10th at the Angel's Field, the fourth annual Football All-Star Game will take over Saturday with two exciting football games on tap!
At 4 pm, the GNYFF Matua Stars will take the field for the second straight year with the high school stars kicking off at 7 pm.
The Stars from each of the GNYFF teams have been selected and are presented below. Check out who will be representing the MUSTANGS and the RAPTORS on November 10!
MUSTANGS
Southern Cowboys
Jerrey (pronounced Jer-Ray)San Nicolas #6
Chance Esteves #1
Joseph Aguon #66
Devaun Naputi #00
Malik Coulter #56
Lanz Naputi #19
Mike Jesus #2
Devinn Cabrera #22
Outlaws
Josiah Quintanilla #57
Cisco Brown #2
Rodney Camacho #51
Luke Aguon #1
Sean Lacdoo #88
Jarren Leon Guerrero #32
Preston Hernandez #22
Jonah Guzman #16
Eagles
Tristen Hayes #40
Brian Hayes #67
Mykai Blas #1
Robert San Nicolas #2
Jake Cruz #3
Roderick Santos #7
Raiders
Azarias Quichocho #85
KinJohn San Nicolas #78
Jonahs Gumabon #69
Kyle Potter #27
Jaraze Sapeymai #11
Alex Fitiausi #5
Keoni Rabon #3
Albert Rokop #24
RAPTORS
Steelers
Adin Lumba #44
Pierce Pangelinan #00
Lance Aguon #10
Paco Toves #40
Gregory Martinez #90
Zaiden Cruz #33
Treydan Rosario #5
Kekoa Gamboa #25
Angels
Caleb Murphy #2
Darren Cepeda #5
Noah Medler #10
Gage Chinel #16
Ethan Sablan #21
Austin Aguon #32
Jonathan Sablan #33
James Paraiso #55
Packers
Eric Sablan #25
Cohen Blas #52
Justice Brub #3
Austin Apatang #27
Casey Febre #2
Drayvin Apatang #11
Alex Bow #53
Bradlee Zapatos #17
Broncos
Aidan Bamba #11
Jude Mendiola #3
Chawi Keresoma #10
Ameah Salas #14
Ipo Aguon Indalecio #15
Mana Aguon Indalecio #16
Jace Murakami #4
Francisco Mantanona #9

National Guard Athletes
Scott Eclavea
Scott Eclavea is a jiu-jitsu black belt and an accomplished MMA fighter. The Guard has given him an outlet in combatives to display his martial art skills, where he's become a head instructor for that program. Eclavea has served since coming out of high school and the Guard has only changed his life for the better.
COMING SOON …
LIVE FOOTBALL ON GSPN
Semifinals: #1 FD vs. #4 Southern (Friday 7 pm)
GSPN Preseason Basketball Tournament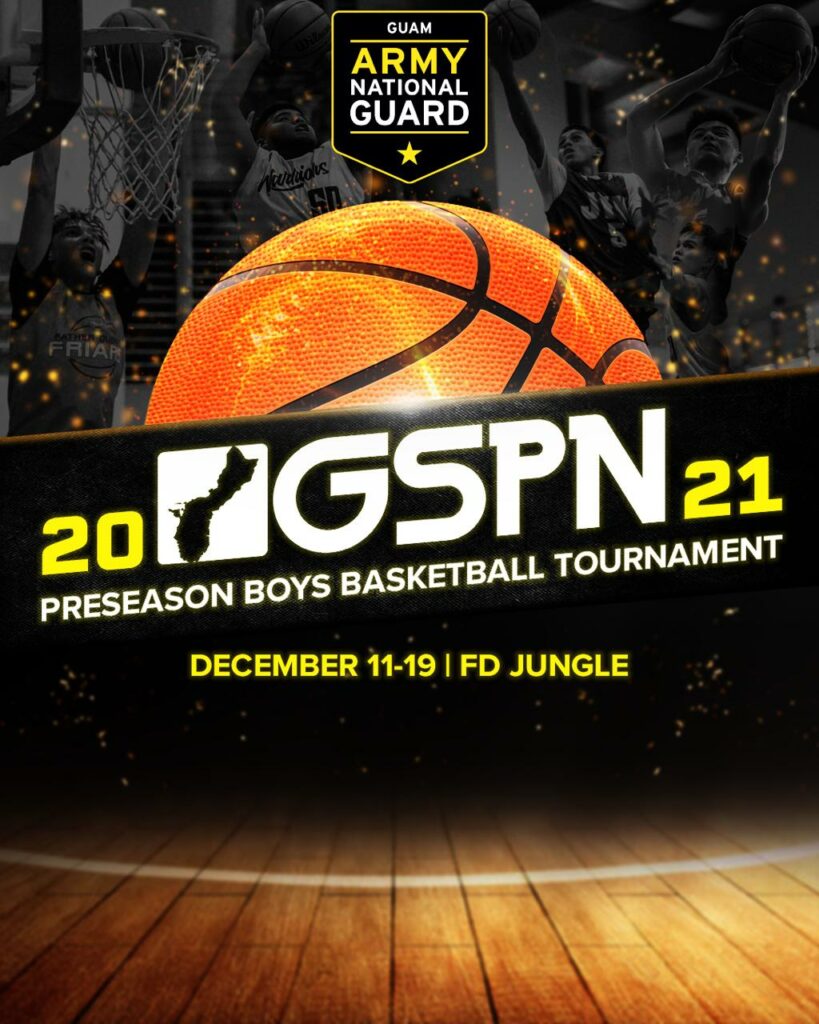 QUICK HITS
Robert Artero Maley recently captured the 182-lb. division of the Costa Mesa Classic, winning via pin in 4 out of 5 matches. Robert is a 4-year varsity wrestler at San Clemente HS (Tritons) and is currently ranked 15th in California's high school scene. He is the son of Jacque Artero Maley (AOLG 1991).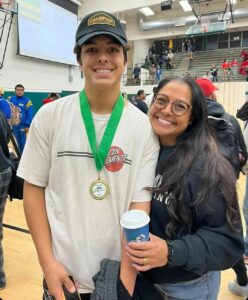 ——————————————–
Pat Taitano and Rich Abiador, teammates on the 1995 SPG volleyball team, have led their high school girls volleyball teams to the Washington State Championships in Yakima, Wa.
Taitano coaches Mt. Rainier High while Abiador leads North Creek High.
There for support is Dr. Mark Perez, a health professor at Central Washington University and a former UOG volleyball player.