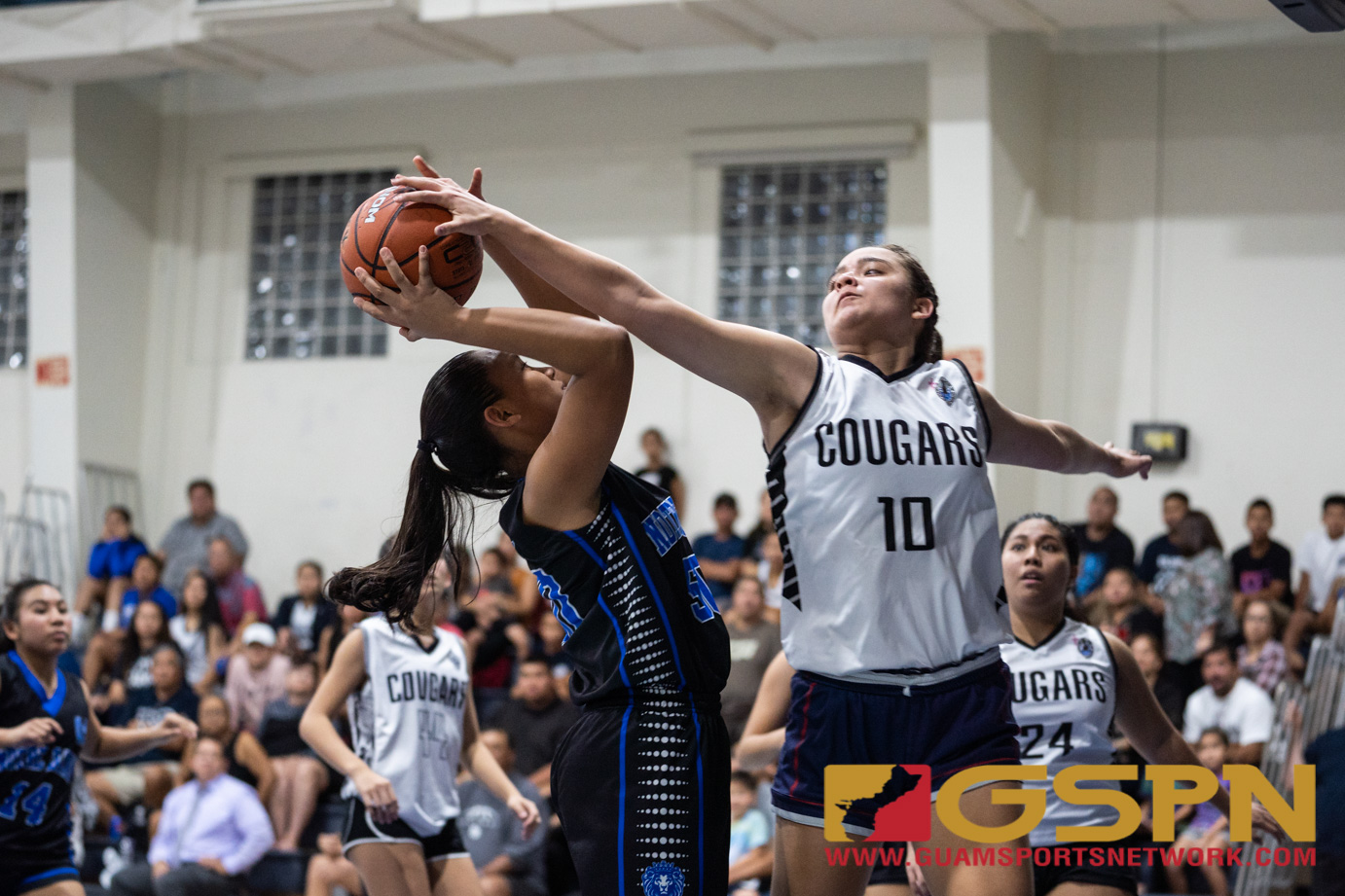 By Robert Balajadia
The reigning 2017 IIAAG Girls Basketball MVP in Academy Cougar Mia San Nicolas is already putting up big numbers in her senior campaign as she neared a triple-double Friday evening in a home win over the ND Royals 49-31. San Nicolas scored 19 points to go along with 15 rebounds and eight blocks.
Despite the Cougars roster being filled with new faces, Mia's game still proves to be as impactful as ever. San Nicolas scored seven of the Cougars first nine points of the 1st quarter, but defense and more of Mia in the 2nd allowed the Cougars to create separation.
"We've still got to work on some things, but eventually we'll be able to put it together and it'll run smoother," said San Nicolas.
Facing double, triple and at one point a quadruple team, San Nicolas still managed to own the low block. San Nicolas scored on a post banker for a 20-14 lead in the 2nd and then picked up an assist to teammate Oriana Sevilla for a 23-14 lead as part of a 9-0 Cougar run.
"I had to tell them to step on the pedal and use our speed to our advantage," said San Nicolas on how the Cougars managed to pull ahead in the 2nd quarter.
The Cougars raced out the gates in the 3rd period, going on an 11-3 run to get their biggest lead 43-22. Both teams emptied their benches in the 4th quarter with the Cougars having the game in hand.
Academy lost Maria Taitano in the 2nd quarter after Taitano went down clutching her knee after getting fouled on her way to the bucket. Taitano was seen exiting from the game on a wheelchair with her left knee under wraps.
Fellow Cougar Sevilla scored eight points for the Cougars while the Royals were led in scoring by Brianne Leon Guerrero with eight points and guard Nicolette Perez added seven.
"ND gave us a real test and they're our rivals so we had to play hard," added Mia.
The Cougars will have a long break until their next game, which isn't until November 6th while the Royals will lace up at home Saturday evening against the Southern Dolphins.
PHOTO GALLERY BROUGHT TO YOU BY:

QUICK HITS
Bishop Obispos beat Mt. Carmel for the IIAAG Middle School Girls Basketball championship 37-25.
—————————————-
The Benavente Roadrunners crushed the Agueda Pirates 17-1 to win the 76 PONY Middle School Baseball League. Rodney San Nicolas was a beat, striking out 13 batters in a complete game while going 4-for-4 at the plate, including a homer and 4 RBI.