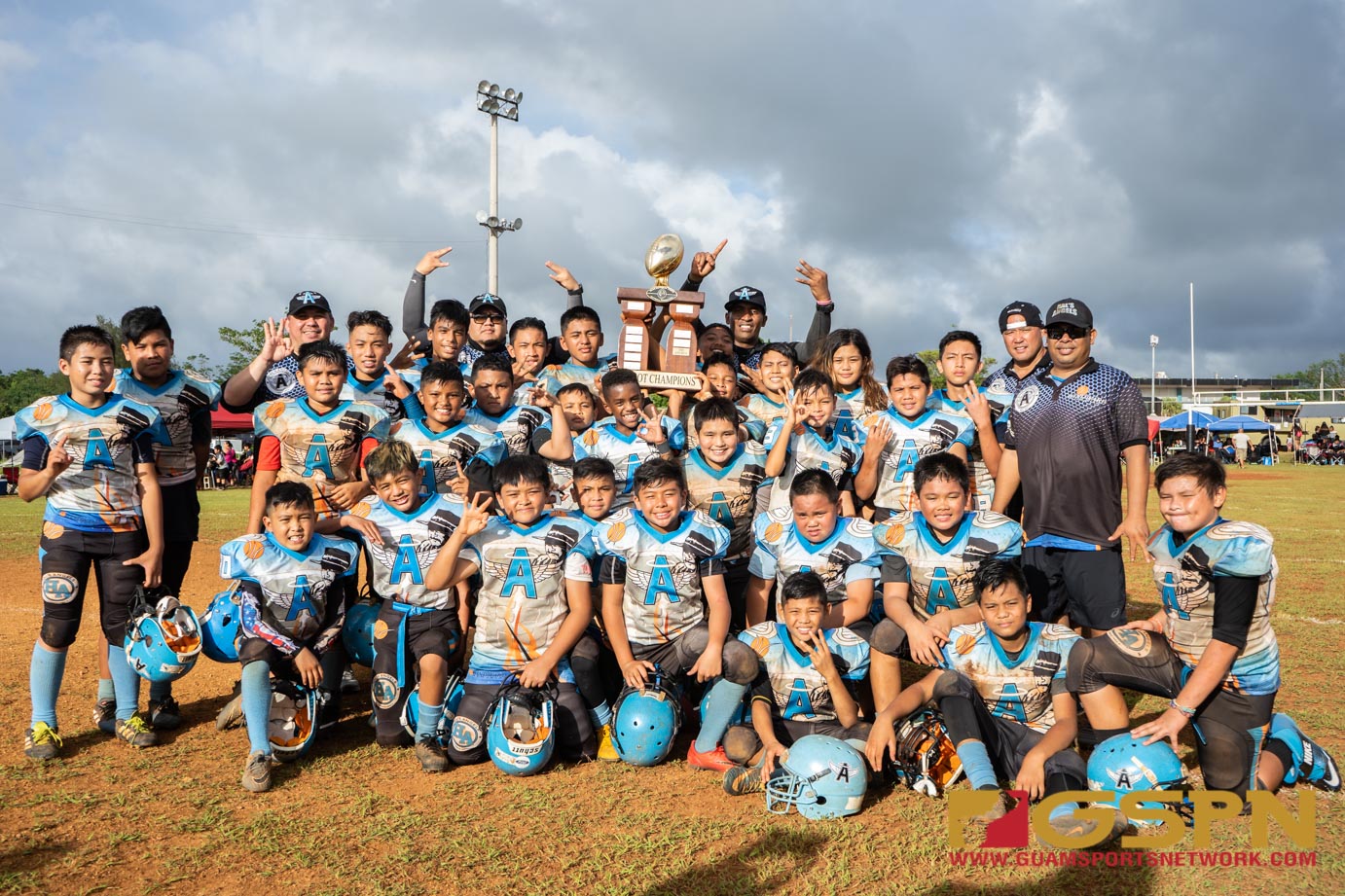 By Brandon Kinsella
On Sunday afternoon at Hal Shiroma Football Field, The Hal's Angels held on to defeat the Guam Raiders 14-8, solidifying a three-peat Championship in the Metgot Division. Angels power-back Vance Meno would have a strong performance, scoring his team's first touchdown and making significant contributions on the defensive end as well, which would earn him Player of the Game Honors.
Meno elaborated on what enables him to be successful on both sides of the ball.
"Hard work and training. Our coaches do a good job at conditioning us in practice and it has really helped us become successful during games."
The Angels were a dominant force all season, often entering mercy rule early in the games. But football fans were in for a treat as it was anyone's ballgame until the final seconds.
The Angels were at the ten-yard line with a chance to put the nail in the coffin and finish the season with yet another championship title. But the Raiders would not hand over the ballgame without a fight.
A huge tackle by Raiders defensive back Aiden Palacios would stop the Angels at the two-yard line, forcing fourth down. On the following play, Raiders Peter Mesa would have a crucial tackle at the one-yard line, giving his team possession with only 44 seconds left to go, down by six at 14-8.
The Raiders had no choice but to air it out, trying to keep their Championship hopes alive. Quarterback Daniel Paraiso did a good job at scrambling and avoiding pressure but could not connect with receivers as Angels coverage was airtight.
All scores by both teams would take place in the first half. Meno was the first to get on the scoreboard after an outside handoff to the left, rushing 12 yards for a score. Alex Sojo, who also plays quarterback for the Angels, kicked the two-point conversion, putting his team up 8-0 before the end of the first quarter.
Sojo setup the second score for the Angels a possession later on a QB rush to the outside, putting his team in the red zone. On the following play, Sojo would run once more scoring on a QB-keeper up the middle. The Angels failed to convert on the point after but led 14-0.
Sojo would also earn player of the game honors.
It took a while for the Raiders to develop an offensive rhythm and move the chains. A host of Angels defensive players seemed to swarm Raiders ball carriers before they could get any yards.
However, an exciting breakaway run by Raiders Running back Peter Mesa would keep his team within striking distance for the remainder of the ballgame. Mesa found daylight up the middle, splitting three defenders off of a spin move and breaking away for a 70-yard touchdown. The Raiders went for the two-point conversion on the point after and converted, shrinking the deficit to six points.
In the final seconds, the Angels defense prevailed, and they would become champions for the fifth time in GYFL History.
Head Coach Blu Shiroma described what his third championship in a row means to him and his team.
"It means a lot. Most of these kids have played with our football program since the mandikiki division, and the development really shows. We're proud of what they have been able to accomplish."
Shiroma also explained what allowed his team to keep their composure in the final minutes with the game on the line,
"Trust. We have lots of trust in our players and we can count on their experience. We as coaches have prepared them for any situation that might come their way."
As for young star Vance Meno, who has played Running back and Linebacker for the past three years, the future is bright as he enters the Matua division. Meno reflected on what this championship win means,
"It feels great to be able to finish my Metgot career with a three-peat. I'm glad I was able to contribute to all three championships and I'm excited for what comes next."
PHOTO GALLERY BROUGHT TO YOU BY:

Foody's 5 Fun Facts
Harvest Eagle Trinity Terlaje
DID U KNOW?
FD senior Matt Fegurgur first dunked a basketball in his freshman year when he was 6'4″. The now 6'9″ center looks to dominate high school hoops.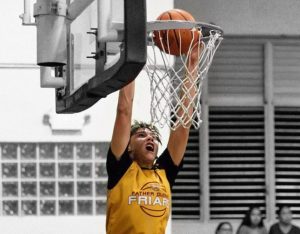 COMING SOON …
– FIBA Asia Cup: Guam vs. New Zealand, Feb 23
– Rizin 21: Aguon and Martinez
– Zach and Larry Return to Guam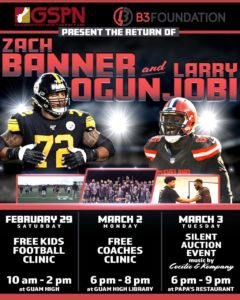 Brawl MMA March 13
QUICK HITS
190 runners took part in the 48th Hafa Marathon (half marathon).
Here are the top 5 finishers:
Ryan Matienzzo 1:13:17
Kris Lawrence 1:24:12
Taiga Sato 1:25:05
Chris Rasmussen 1:26:48
Carlos Leon Guerrero 1:28:46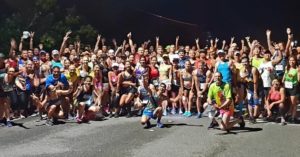 —————————————————-
Guam flags were waving in Clearwater, Florida in support of Bubba Nickles and Team USA in their Pre Olympics Softball Tour.