By Robert Balajadia
The 4th Annual Triple J All-Star High School Football Game is READY to go down this Saturday, November 10th at the Angel's Field. Kicking off the day will be the Matua All-Star Game at 4 pm followed by the High School All-Star Game at 6:30!
Meet the Mustangs
The Mustangs have 28 players who have been tasked to play multiple positions. Whether it be bouncing around the skill positions, shifting from the offensive to defensive line or even playing on both sides of the ball, coach Bruce Meno made sure load on up versatile players.
Given the last three All-Star games where the quarterback position has excelled, Meno has given his guy Nicholas Anderson plenty of tools to work with starting with the MVP, and 1st overall selectee, Kein Artero. Anderson will have his go-to guy in brother Brian, the touchdown machine from Guam High RaSean Jacobs and the big-play threat Gabriel Stanley at his disposal.
Pass catching halfbacks like Justin Camacho from JFK only add to the weaponry, and players like running back Kamerin Toves from the Sanchez Sharks, who is a returning ASG player, are just hoping to showcase their entire offensive repertoire.
"I'm looking forward to running more routes and catching more passes in this All-Star Game instead of running because I did that a lot in the regular season," said Toves.
The only thing missing for Toves is his twin brother Kameo, who plays full back for the Sharks. When asked if Kamerin was planning on letting his brother use his jersey to play the second half Kamerin simply laughed at the idea.
"I'm sure people would notice if I let him play," laughed Kamerin.
The Mustangs also loaded up on some of the games most stingy defensive backs as they're well aware how often the ball likes to fly in the All-Star game. With the defense being held down from two of three defensive MVP's in FD's Rylan Napoleon and GW's Jon Espino, defensive backs like Friars Noah Diaz and Nate Pinaula, as well as Panthers leading interception getter this season in Jayson Jackson, will have plenty of opportunities to make a play on the ball.
The All-Star rosters this year look vastly different than the previous three years and you may have noticed also due the influx of players from the Southern Dolphins on both the All-Star teams after having one of their best seasons in over a decade. The bigger inclusion of Dolphins in this All-Star Game has been a special moment for Dolphin seniors like Stanley.
"It shows that our hard work really paid off. Being able to see all the Southern boys on the field is going to be a lot of fun. It's special because now that the whole league knows what the Dolphin players are capable of, it really opens up opportunities for our underclassmen," said Stanley.
Defense is less stressed in the All-Star Game due to player safety. Even rugged defensive stars like Napoleon, Espino and JFK's Lawrence Tisalona know that they have to dial it down a bit, but they're fully embracing the All-Star Game spirit.
"I feel like we're not going to be taking this too seriously; We're here to have fun!," said Tisalona on his approach to his first game.
Tisalona is a first time All-Star, which will unfortunately be his last in being a senior. A 3rd place finish for JFK while being named an All-Star is rounding out to be quite a positive year for Lawrence and the Islanders.
"It's a great feeling and I feel like I deserved it this time. I'm excited to hit the field and put on that jersey," said Lawrence.
Overall, a handful of first time All-Stars are going to be fine just relishing in the moment of sporting an All-Star Game jersey while sharing the field with the best athletes Guam High School football has to offer.
"It's exciting and it's going to help all of us improve. We get the chance to see first hand how skilled a lot of other players in the league are," said Toves.
ASG INFO
Gates open at 3 pm at Angel's Field and admission is only $3 for adults and $1 for students! (Children under 5 years old get in free)
It's First come first serve on setting up tents/canopies on the sideline BEHIND/AROUND Team Canopies!
Halftime entertainment will be as followed
Matua ASG – GNYFF punt, pass, kick
High School ASG – GNYFF 40-yard dash

(Not shown: Aiden Quitugua)

QUICK HITS
Guam MTB National Championship: Edward Oingerang and Jennifer Camacho are your 2023 MTB national champions. Oingerang finished the course in 1:13:24 while Camacho won her second straight title in 54:08.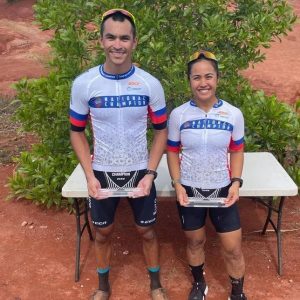 ——————————————
Kobe Miyashita, with St. John's coach Arvin Flores, was named the 2023 IIAAG Middle School Boys Volleyball MVP!