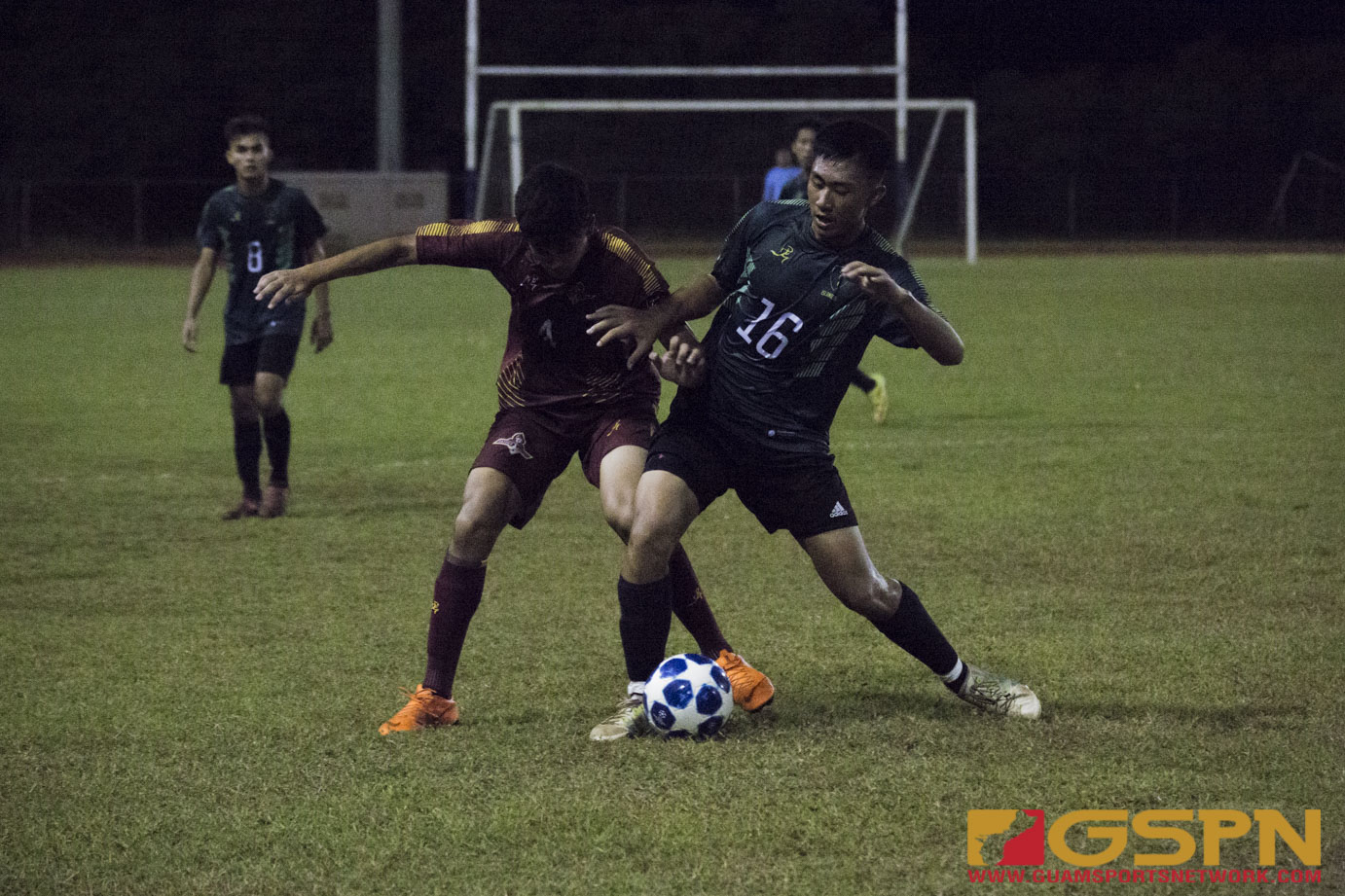 By Nicholas Akimoto
The JFK Islanders remain undefeated in IIAAG soccer after a 4-1 victory over the FD Friars. The Islanders offensive attack proved too much for the Friars as Tayler Bonner, Eddie Cho, Noah Mueller, and Justin Cruz were all able to find the back of the net throughout the match.
The Islanders played very stingily with the ball, as they managed to keep possession for most of the match. Their aggressive play was also shown through a total 17 shots throughout the game, with 9 shots being on target.
The Friars had to play with a man down as star goalkeeper, Shawn Sablan, went down with an injury in the early minutes of the game. Edward Cho took advantage as he sent a shot over Friars second string goalie, Kane Aricayos, to give the Islanders an early lead.
Looking to even up the score, Friars striker, Kyle Halehale, moved the ball through three Islander defenders, but Islanders goalkeeper, Allen Aranas, managed to keep it away from the net. The Islanders defense then cleared the ball down the field to complete another defensive stop.
Mueller got his goal after a deflection from Friar's keeper Sablan, gave him the perfect angle to kick in the Islander's second score of the night. The Islanders rode this momentum into the second half as Eddie Cho attacked the Friar's defense, causing them to spread out. Cho then passed the ball out to Justin Cruz, who touched the ball and hit his mark, pushing the Islander lead up to 3-0.
Bonner would be responsible for the last Islander score as he received a high tip pass from teammate Justin Cruz. Bonner then forced his way past the defense and finished off the play with a beautiful score through the net.
The Friars would eventually score off of a penalty kick. Kyle Halehale lined up and drove the ball right to the back of the net. This score, however, would be too late for the Friars, as the Islanders will improve to 3-0, as the Friars fall to 2-1.
PHOTO GALLERY BROUGHT TO YOU BY:

QUICK HITS
The Figo Islanders 40s women's softball team took gold in the Senior Softball World Championship in Las Vegas. Figo came out of the loser's bracket and beat the Arizona Belles 17-3 in the AA division championship game Sunday afternoon.
Other Guam teams that played in the 40s tournament were: Team SOTTA (women's) and Bud Light Guam, Friars 671 and Sindalun Guahan (men's).
Sindalu finished a respectable 4th out of 24 AAA division teams.