By Brandon Kinsella
In the battle of the unbeaten, the St. Paul Warriors prevailed, defeating the Guam High Panthers 60-42 on Tuesday night at the Guam High Gym. Senior Niah Siguenza was a force in the interior, amassing 12 points, 11 rebounds, and six blocks.
A well-rounded performance such as this is expected from one of the League's MVP candidates. Siguenza elaborated on what mindset is needed to make the right contributions on both sides of the ball:
"I try and find a way to contribute in whatever way that my team needs me to. If my offense isn't clicking, I start to focus on what I can do on the defensive end."
The Panthers were down by as much as 26 in the 3rd quarter but began to cut the deficit as the dynamic duo of Aniah Cruz and Taneea Henderson worked to get their team out of a deep hole. Henderson faced foul trouble early in the game and sat down in the 2nd quarter, but she immediately made contributions when her number was called back in.
With six minutes left in the 3rd quarter, Henderson was sent to the line and sunk her first two free throws. A possession later, Cruz followed through with a three-pointer from deep. After a good play on defense, the Panthers regained possession and Cruz was sent to the line after being fouled on a three-point attempt; she would convert on all three free throws. The duo continued to sync well and slowly clawed their way back into the game.
Excitement was felt by both teams after a series of events, which started after a steal by Guam High's Alexia Brown. Brown pushed the pace and attempted a layup but was blocked by Siguenza. However, Henderson cleaned up the offensive board and converted on an and-one put back, which thrilled Guam High fans as the lead continued to shrink. By then the lead was cut from 26 to 17 and it looked like the Panthers momentum would allow them to get back into the ballgame.
But the Warriors were able to maintain their composure after Guam High's run. Siguenza explained what allowed them to regroup,
"Coach told us to stay cautious and calm. Our starters were in foul trouble and we tried to make the right adjustments on defense to make sure we weren't giving them easy shots at the free throw line."
The Warriors were able to do just that. In the 4th Quarter, the Warriors made the right adjustments on defense and began to pull away behind a strong offensive performance from Sophomore Jan Quintinilla. Quintinilla attacked the open lane and converted on multiple layup attempts as Siguenza took care of business in the interior. Quintinilla finished with 19 points and seven rebounds.
The Warriors full court press was effective in the first half and is what allowed for such a comfortable lead heading into the second half. When the Panthers did make it past the press, they struggled in converting on shots in the paint. Siguenza had great timing and racked up blocks early in the game. Warriors Guard Isla Quinata was adept in jumping the passing lane and finished with five steals. The foul trouble by Guam High's skilled guard in Henderson kept her on the bench and made it difficult for the Panthers to break the press and stay in the game.
The defending champs haven't had that many close games this year, with the exception of a thrilling matchup against Okkodo. Siguenza gave insight to which teams she looks forward to competing against the most and what is the key element to beating those teams.
"We're looking forward to facing all the teams, but most especially ND and Academy. Playing against them is always a challenge and is always competitive. To win, our defense is going to have to come first and the offense will follow."
With this win, the defending champs improve their undefeated record to 6-0. And the Panthers fall to 5-1.
PHOTO GALLERY BROUGHT TO YOU BY:

2022 GSPN I MÅS METGOT COMPETITION
2022 GSPN I MÅS METGOT COMPETITION
2022 GSPN I MÅS METGOT COMPETITION
2022 GSPN I MÅS METGOT COMPETITION
2022 GSPN I MÅS METGOT COMPETITION
2022 GSPN I MÅS METGOT COMPETITION
COMING SOON …
GNYFF Championship Saturday
2nd Annual Greg D. Perez Fishing Tournament on Saturday
GML Playoffs
1st Quarter Sports
QUICK HITS
Team Onslaught represented Guam at the National X-Ball League paintball tournament in Sacramento, CA. The squad finished in 3rd place out of 12 teams in the Division 5 category.
Front L-R: Frankie Borja, Robert Delos Reyes
Back L-R: Marvin Reyes, Ericka Camacho, Gavin Santos, Nick Rivera, Nikki Tan, Adrian Mora, Ralph Sgambelluri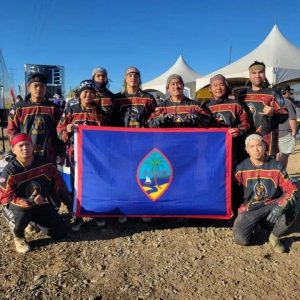 ———————————————–
Purebred Jiu-Jitsu Guam adds three more to their black belt stable. Daniel Cayanan, Cameron Mantanona and Peter Ungacta received their black belts on Saturday from Professor Stephen Roberto.