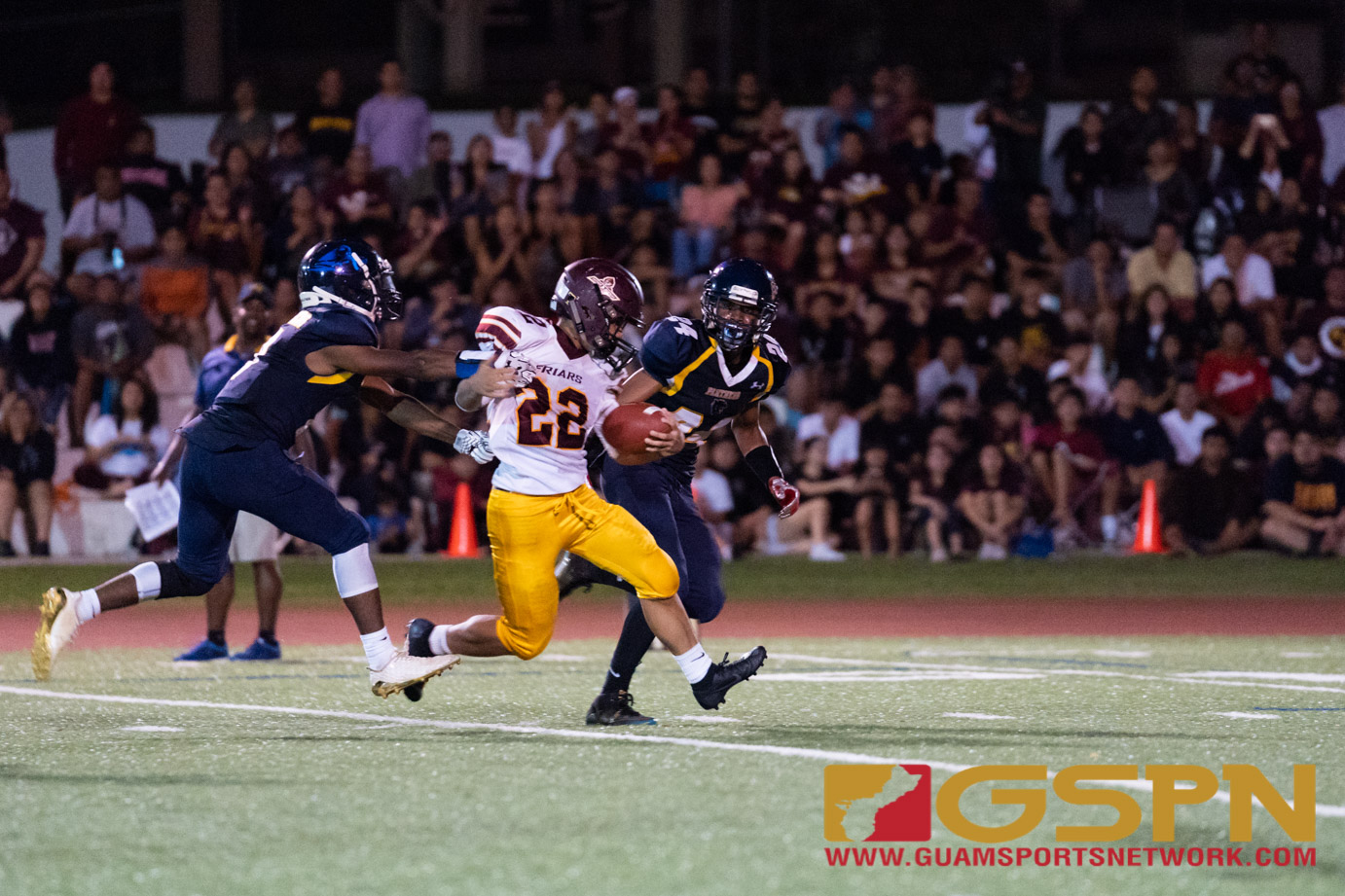 By Robert Balajadia
The IIAAG football battle between the FD Friars and home team Guam High Panthers provided touchdowns almost exclusively from the 'big play' variety. Despite the Panthers finding the end zone more times Friday evening than their previous three years facing FD combined, the new faces in the Friar offense would still prove too much as FD walked away victorious 42-19 to improve to 2-0.
Friars junior standout Kein Artero racked up 229 all-purpose yardage all in the 1st quarter before making an exit due to injury. Artero wasn't cleared by the medical staff to return to the action forcing him to spend the rest of the game watching on the sidelines after hitting the afterburners on his last touchdown.
With their biggest gun out of the game, the Friars turned to freshman running back Caiyle Gogue, who flourished in the later part of the game to total 166 yards off 22 carries and three touchdowns.
"I didn't just do this for myself, I did it for our late Principal in Tony Thompson, our brother Xavier Akima and all my (FD) brothers," said Gogue on his big night.
Gogue punched in the game's first score from five yards out in the opening period to cap off an 82-yard run from Artero, followed by 4th quarter scores of chunk yardage from 39 and 49 yards to help the Friars pull away from the gritty Panther squad.
"I was under a lot of pressure, but I couldn't let that stop me from working hard. [Kein] was very supportive on the sideline," said Gogue.
Panther Jeylyn Dowdell had an amazing night on both ends of the ball. Dowdell broke loose for 94 total rushing yards and one rushing touchdown, four catches for 79 yards and a receiving touchdown, to go along with nine tackles, two sacks and two forced fumbles on the defensive end.
Senior FD tight end Brandon Soriano had the biggest night of his high school football career with three catches for 88 yards and two touchdowns. Quarterback Nick Anderson shook off a rough start to finish 7-of-16 for 124 yards and two touchdown passes.
"I was getting down on myself but my coaches helped me pick myself up and believe," said Anderson on his in-game turnaround. "I still have so much to learn and I need to work on so many things, but it's reassuring that my team is going to be with me through it all."
Artero was just one key Friar to go down as linebacker Eugene Arriola also made an exit in the second half after breaking one of his fingers on a tackle. Even with key players out, the Friar focus never wavered.
"We needed to figure out a way to bounce back and someone had to step up, and people did step up. Players stepped up when we really needed them to and I'm proud of this team," added Anderson.
The Friar defense were also victims of yellow flags as they were pinned for a 115 yards of penalties.
Game recap
Slow starts have become a trend for the Friar offense as two of their first three drives ended in turnovers in just the 1st quarter. After failing to secure a punt near the 40-yard line after forcing a quick Panther three-and-out, the Friar offense needed a jump start as they settled for starting at the 20.
That spark came right from their backfield as Artero blasted past the Panther defense on a run to the outside, getting stopped just shy of a touchdown for an 82-yard rush. A false start penalty moved the Friars back five yards, which set up a run up the middle for Gogue's first career touchdown for a 7-0 Friar lead.
Gogue recovered the ensuing kick-off to set up the FD offense at the Panther 29. Two plays later, Friar quarterback Nick Anderson found a wide open Soriano for a 26-yard touchdown to go up 14-0 after another successful Sean Sablan extra point.
The Panthers would strike right back on their next drive as quarterback Travon Jacobs hit Dowdell with a swing pass that the speedy track sprinter in Jeylyn turned into an 81-yard touchdown up the left side of the field to get the Panthers within 14-7.
Right after Dowdell's score, Artero would make his last contribution to the game as he grabbed the Panther kick-off at the Friar 17-yard line before tearing through the Panther special teams for an 83-yard score, much like they tore up Artero's picture in some pre-game 'Twitter beef'.
FD led 21-7 after the 'big play' 1st quarter.
Gogue would get his second touchdown run from 29 yards negated due to a holding penalty as neither team found any offensive rhythm to go into the half with FD still leading 21-7.
The Panthers would get a brother-to-brother connection in the 3rd as Travon completed a pass to brother RaSean on a post route for a 23-yard touchdown to get within a single score 21-13.
Anderson would look for Soriano on the next series as they were hoping for a big pass play up the middle, but the wide-open Soriano let the ball slip out of his hands for a drop. On the very next play, Anderson would feed Soriano again, but this time Brandon secured the catch which he turned into a 40-yard touchdown as he evaded the Panther secondary for the final 25 yards of his catch and run.
"I just new I had to make it up after that drop," said Soriano on his approach pre-touchdown. "I'm just trying to make the team better as a whole so we can succeed in winning a championship."
FD freshman Roy Chargualaf intercepted Jacobs early in the 4th to set up a 39-yard touchdown from Gogue to further the lead 35-13.
Dowdell would give one last effort for the Panthers on a 65-yard touchdown run to get within 35-19, but Gogue would have the final say with his 49-yard score to final the contest 42-19.
PHOTO GALLERY BROUGHT TO YOU BY:

COMING SOON …
High school girls volleyball playoffs
Brawl 3: Oct 13
Guam's Strongest Man and Woman Competition October 29
QUICK HITS
The Figo Islanders 40s women's softball team took gold in the Senior Softball World Championship in Las Vegas. Figo came out of the loser's bracket and beat the Arizona Belles 17-3 in the AA division championship game Sunday afternoon.
Other Guam teams that played in the 40s tournament were: Team SOTTA (women's) and Bud Light Guam, Friars 671 and Sindalun Guahan (men's).
Sindalu finished a respectable 4th out of 24 AAA division teams.