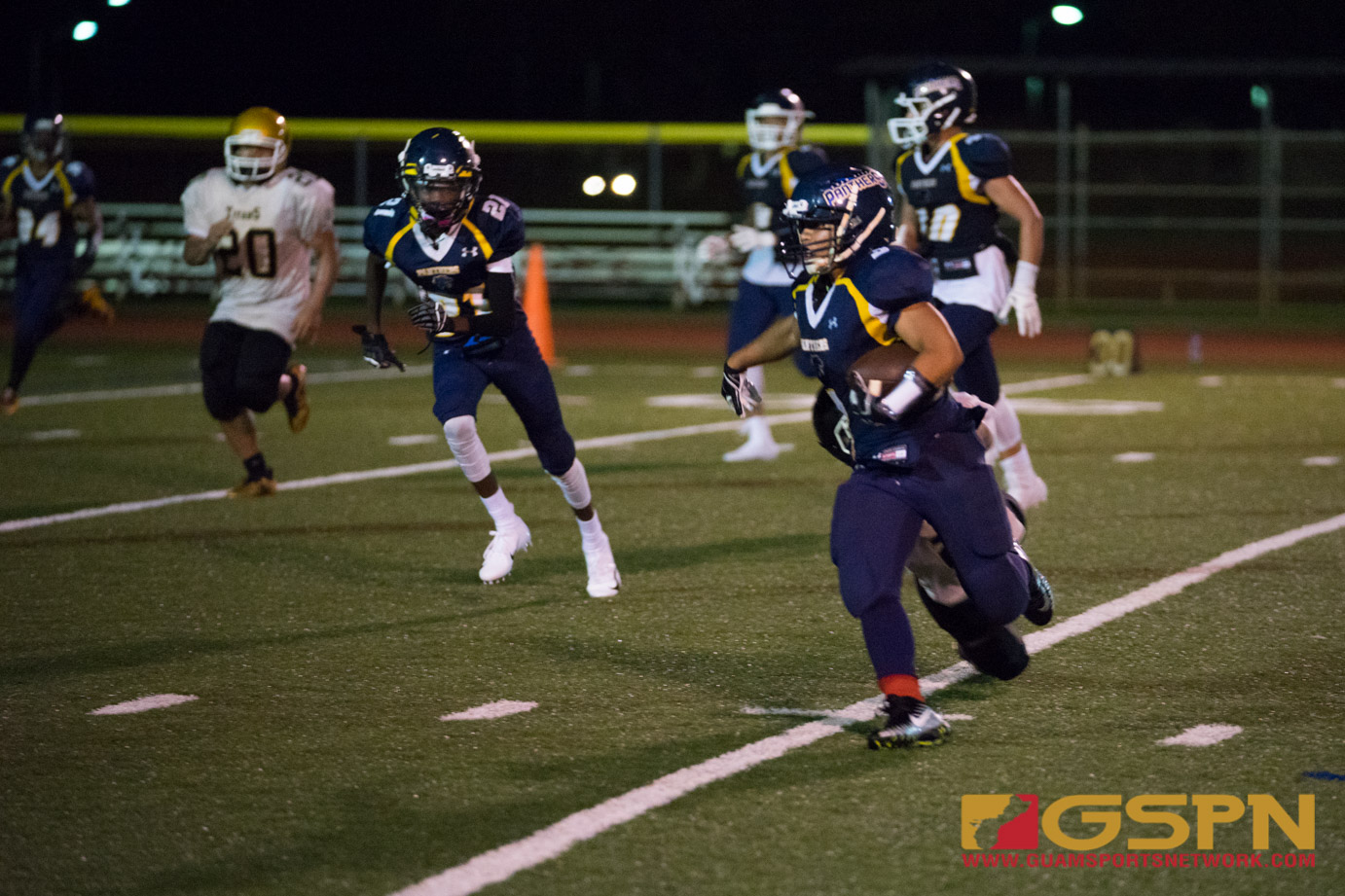 By Jay Leon Guerrero
The Guam High Panthers opened up their 2018 IIAAG Football season with a 52-0 victory over the Tiyan Titans. After suffering season ending injuries last season against the Titans, Guam High's Sincere Powell and Travon Jacobs led the offense for the Panthers in a blowout win on their home field.
Powell took the first handoff of the season and dashed down the left sidelines for a 70-yard touchdown run to open up the season.
"I injured my wrist last year against this team (Titans) so it feels good just to come out and play again," said Powell. Powell, a senior, had 157 total rushing yards and two touchdowns.
Starting quarterback Jacobs threw for 82 yards completing 5-of-7 passes. Jacobs, a sophomore, also suffered a season ending injury against the Titans and he too was anxious to get back on the field.
"I didn't have any jitters at all today. I came out with a little chip on my shoulder especially for this game because I got injured against them," said Jacobs.
Jacobs tossed a pass to older brother RaSean Jacobs for a 48-yard gain in the first half that set up a nine yard touchdown by RaSean a few plays later as the Panthers led 14-0.
"He's a senior so it's his last year, I want to make this season a special year to remember for both of us."
The Panthers' Jeylyn Dowdell was all over the field in their season opener with a football version of a hat trick. Dowdell recorded a safety, a punt return on a broken play and a two point conversion. Dowdell also held the snaps for Guam High's extra point kicker Brennan King, a female kicker.
King converted 2-of-3 extra point attempts for the Panthers as she recieved cheers from both sides of the crowd.
"She is my best friend on the field and for her to perform in her first game under pressure is amazing. We had a couple of bad snaps early but she didn't get iced and remained focused and kicked that ball between the uprights," said Dowdell.
Dowdell was happy with the win and looks forward to a successful season.
"First and foremost, I have to thank my family for their support and also thank our line for playing a good game. We haven't had an offensive line like this in a long time so they deserve a lot of credit for opening holes and making great blocks against a tough Tiyan team," said Dowdell.
The Tiyan team was short-handed in their season opener with a dozen players on the sidelines declared ineligible until next week. Second year head coach Danny Cepeda didn't want to forfeit due to a lack of players and he expects his squad to get better as the season progresses.
Titan running back Kio Kaminanga still managed to have a big game on the ground rushing for 62 yards on 13 carries. The Titans kept the ball on the ground, only attempting two pass attempts. Full back Davieon Siguenza rushed for 12 yards on four carries for Titans.
The Titans suffered huge losses to graduation with all stars Kobe Quimbao, Fred Lumagda, Tyler Pangelinan and Javier Lujan all gone. Despite the lack of experience players, coach Cepeda urged his team to keep fighting and continue to improve.
Other Panther players having big games were running back Julius Gaduang, RaSean Jacobs, Drew Mestas and Christian Hood.
Gaduang ran for 74 yards on five carries. RaSean Jacobs accounted for 70 yards on offense (22 rushing and 48 receiving) and a rushing touchdown. Jacobs also 3.5 tackles, two were for losses.
Mestas had the lone interception which was also a pick-6 for a touchdown in the fourth quarter. Hood had 6 tackles and a sack for the Panthers on defense.
The Panthers will play the FD Friars next week on their home field in a showdown of two powerhouse teams. The game will be a big test for the Panthers to see if they will be contenders for the IIAAG title this year. "FD is a really good team and we cannot make any mistakes against a good team like them," said Jacobs.
"On offense I'm going to have to find the blocks and hit the holes when it's there and on defense we are going to have to stop the run against them (FD)," said Powell. T
he showdown will take place on August 31st (Friday) at 7pm at Guam High. The Titans will play the JFK Islanders on Saturday night at 7pm at JFK.
PHOTO GALLERY BROUGHT TO YOU BY: