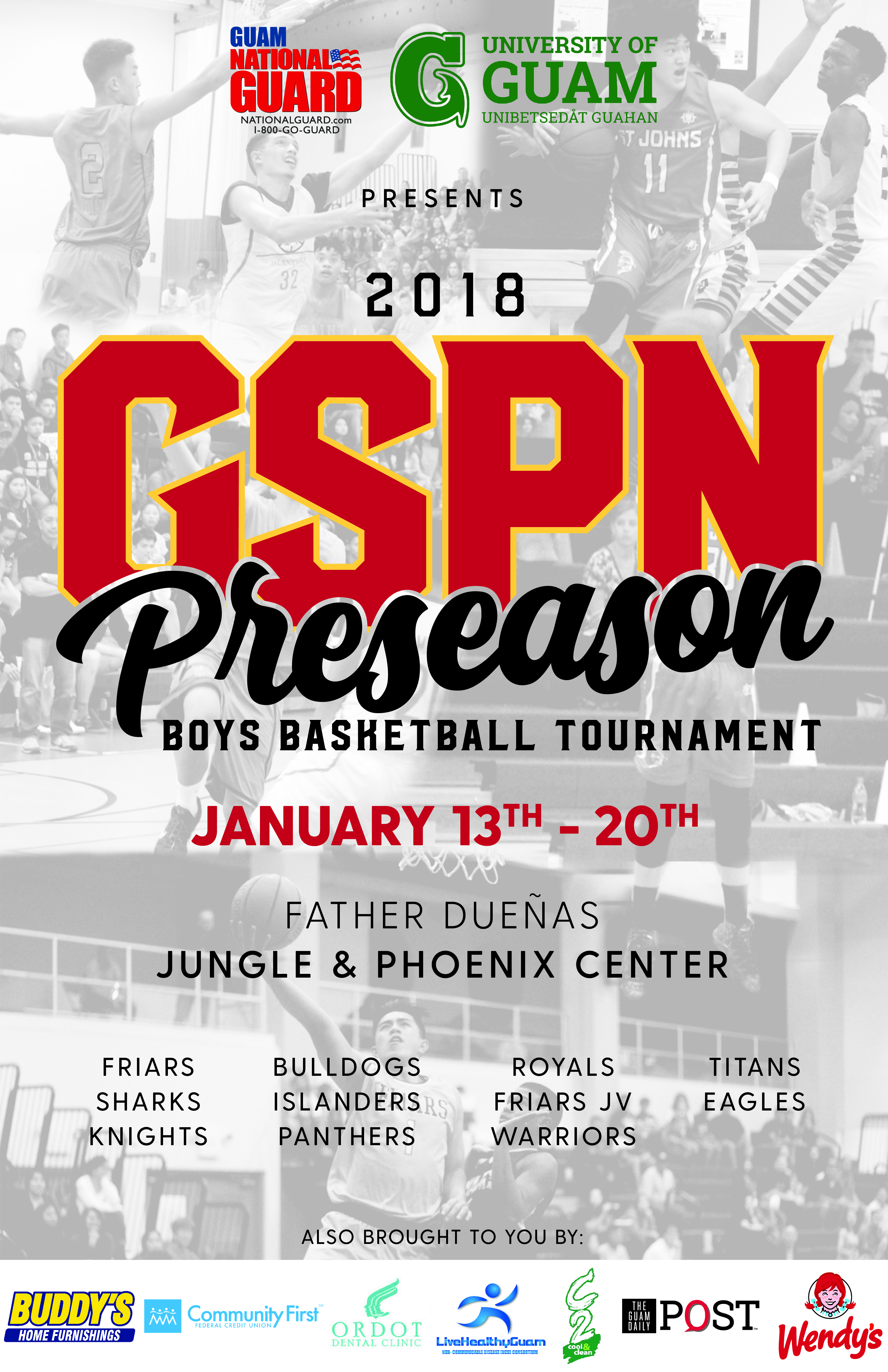 By Jay Leon Guerrero
It's that time of year again, high school basketball is almost upon us!
The GSPN Pre-season Basketball Tournament presented by the Guam National Guard and the University of Guam is scheduled to start on January 13th with 11 teams making an appearance.
The FD Friars, Guam High Panthers, Harvest Eagles, JFK Islanders, Notre Dame Royals, Okkodo Bulldogs, Simon Sanchez Sharks, St. John's Knights, St. Paul Warriors, Tiyan Titans and the FD JV team will take the court for the week long tournament with one common goal in mind: to get better.
The Southern Dolphins and GW Geckos have both elected not to participate in the 2018 Tournament.
The main objective, of course, is to improve and get better to be ready for the IIAAG season.
"This preseason tournament we're focused on meshing as a team. We have been working hard leading up to this debut, but we're focused on the long grind. We are looking to see which areas we'll be needing to improve for the regular season and making a possible push for post season play. We have high hopes and aspirations, this preseason tournament is our first outing and were excited to compete," said ND head coach Josh Torres.
Torres, a first time coach for boys high school basketball will enter his first pre-season tournament.
Last year, the St. John's Knights won the pre-season championship over the St. Paul Warriors at the FD Phoenix Center. However, it was the Warriors that had the last word after winning the IIAAG championship, going undefeated for the season.
Four years ago, the S.t John's 'fab five' freshman class had all the potential to win multiple championships under head coach Fred Peters, but has been upset multiple times in the playoffs. This year, they are all seniors and look for the defending pre-season champions to have another strong showing in the GSPN tournament. Michael Min, Gavin Moore, Isaac Sim, Tony Hsieh and Takumi Simon are hungry for the IIAAG title; could this be their year?
"Every time we step on the court, we are playing to win so that is our goal. But ultimately, I think we'll use the pre-season tournament games to pin point our strengths and what we need to work on and really gel together as a team," said Hsieh.
After winning the pre-season tournament, the Knights started the 2016-2017 season with a pair of early loses. But the Knights learned from last year and will come into the season with a stronger mentality.
"I think the most important thing after the pre-season tournament is to not get complacent, constantly work hard and to strengthen our weaknesses," said Hsieh.
Although the Knights are the defending pre-season champs, the Warriors will probably have the largest target on their back after winning the IIAAG championship last year. They have a majority of their key players back from last year and they will look to continue their dominance.
Reigning IIAAG MVP Jason Diaz will lead a stacked Warriors squad with a dominating back court of Jahmar White, D'Angelo Gallardo, Reo Aiken and Thelo Orichiro. The Warriors have the best team chemistry in the league and they will continue to pressure their opponents and force turnovers.
The FD Friars will have the luxury of playing on their home court. Good news for the Friars, they will have Mark Temerowski back after he missed the entire season last year with a knee injury. The Friars went to the championship game last year, falling to the Warriors in the final minute. Key seniors returnees will be DeAundre Cruz, Tomas Calvo and Kyle Gaitan.
Here is a look at last year's top scorers for the IIAAG season.
(*denotes graduated senior)
*Kobe Sotelo, Harvest – 21.09 ppg
Michael Min, St John's – 19.45 ppg
*Shannon Enriquez, Okkodo – 18.09 ppg
*Ken Brozo, GW – 17.36 ppg
Takumi Simon, St John's – 17.0 ppg
*Juan King Jr., Guam High – 16.54 ppg
*RJ Kranz, Guam High – 15.45 ppg
*Anthony Castro, Sanchez – 15.0 ppg
Kyle Gaitan, FD – 15.0 ppg
*Athan Arizanga, Okkodo – 13.9 ppg
Alschea Grape, JFK – 13.9 ppg
D'Angelo Gallardo, St Paul – 13.5 ppg
De'Aundre Cruz, FD – 13.3 ppg
Jahmar White, St Paul – 12.6 ppg
Fabrick Ramos, GW – 12.57 ppg
Tony Hsieh, St John's- 12.36 ppg
Jason Diaz, St Paul – 12.2 ppg
Tomas Calvo, FD – 12.09 ppg
GSPN pre-season champions:
2015 – GW Geckos
2016 – GW Geckos
2017 – St John's Knights

2022 GSPN I MÅS METGOT COMPETITION
2022 GSPN I MÅS METGOT COMPETITION
2022 GSPN I MÅS METGOT COMPETITION
2022 GSPN I MÅS METGOT COMPETITION
2022 GSPN I MÅS METGOT COMPETITION
2022 GSPN I MÅS METGOT COMPETITION
COMING SOON …
GNYFF Championship Saturday
2nd Annual Greg D. Perez Fishing Tournament on Saturday
GML Playoffs
1st Quarter Sports
QUICK HITS
Team Onslaught represented Guam at the National X-Ball League paintball tournament in Sacramento, CA. The squad finished in 3rd place out of 12 teams in the Division 5 category.
Front L-R: Frankie Borja, Robert Delos Reyes
Back L-R: Marvin Reyes, Ericka Camacho, Gavin Santos, Nick Rivera, Nikki Tan, Adrian Mora, Ralph Sgambelluri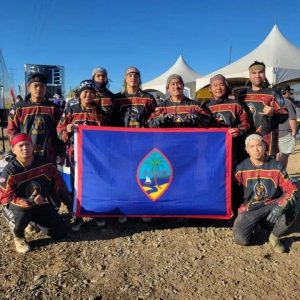 ———————————————–
Purebred Jiu-Jitsu Guam adds three more to their black belt stable. Daniel Cayanan, Cameron Mantanona and Peter Ungacta received their black belts on Saturday from Professor Stephen Roberto.