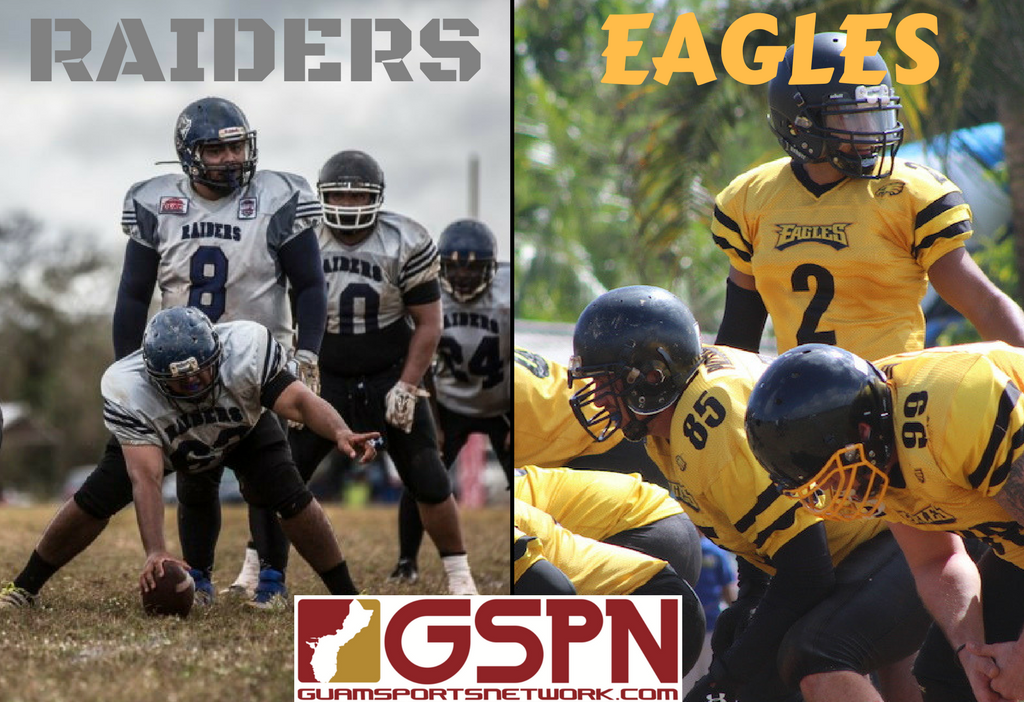 By Kai Akimoto
After 11 weeks, the Budweiser Guahan Varsity Football League is now coming to a close with the Championship game being played at the UOG football field on Saturday, April 14th at 2:00 pm. The defending champs, Island Eagles, will be taking on the undefeated Raiders in the title game that is sure to be one for the books.
Raiders ready to reclaim title
After losing the championship game to the Eagles last season, the Raiders have been playing with a vengeance that can be seen in their aggressive play style on offense.
One of the more obvious strengths that can be seen on the Raiders is their running game. With a rotation jam-packed with notable ball-carriers including Hank Sablan, Hosea Ware, and Dave Delgado, it'll be hard to eliminate the Raiders' ground game with such a stellar rotation in the backfield.
The Raiders' offense is not only limited to their stellar ground game. The former MVP in quarterback Danny Manibusan, allows the Raiders' the luxury to have the deep ball option with such a reliable receiving corps which includes receivers Jesse 'pumpy' Manglona and Storm Rosario.
"We're really looking forward to killing this championship and taking it back from the Eagles. We still got a lot to work on in terms of everything, but the main thing is that we want to minimize our mistakes and capitalize on the mistakes of others," said running back Hank Sablan on what they will be working on as they move into the championship game.
To supplement the athleticism from the skill players, the Raiders' have proven to be able to rely on their offensive line to get the job done in the trenches. This consistency is owed to the experience that can be seen on the line with veteran offensive linemen Mark Mesgnon and Fred Tupaz providing years upon years of experience to the Raiders' offense. Throw in veteran Alan Blend, and the Raiders are rich in Guam football experience. Linebacker Justin Andre has been a mainstay after the Raiders lost veteran Ryan Rios to an achilles injury.
Eagles clicking at the right time
The defending champs, Island Eagles, have been hot in the playoffs, putting big numbers on the board while shutting out their opponents on defense.
The Eagles have proven to be able to move the ball on offense with high efficiency being seen on their offensive drives. Their efficiency can be attributed to quarterback Justin Smith, who shows both strength in the air and on the ground. Smith is able to hit his receivers in spots that put them in good position to make an impact. Under pressure, Smith does extremely well in scrambling away from from the rush so that he is able to get a good ball off for his receivers down field.
The Eagles also are consistent on the receiving end as well. Although he is small in stature, Jon 'spicy' Mayo is a big target for Smith down field. With such elusive speed and aggressive hands, his athleticism not only makes up for his size, but allows him to rise above and beyond to make defenders look silly.
Quarterback, Justin Smith, was able to go off in the semi final game, accounting for all four of the touchdowns scored in the contest, however, to him, the championship game is no different.
"To us, it's just another defense. An opponent is an opponent and we're going to try and play to the best of our ability every game, so we're going to take what the defense is giving us and hopefully come out with a win."
The Eagles defense looks to make a big impact on Saturday, as well. The defensive secondary affectionately call themselves the 'no fly zone' for their aggressiveness in the air which causes great difficulty for receivers. Safety, Gavin 'Agent Zero' West and corner Jeff Warfield both play a big role in leading the Eagles' defensive backs in honing in their skills to create a 'no fly zone'.
"We predicate ourselves as the no fly zone and we take a lot of pride and honor in that. But we mainly focus on the basics, doing individual man drills and just honing in our skills so that on game day, we can take care of what we need to take care of," said West on what they will be doing to maintain the pressure in the defensive secondary.
In the regular season, the Raiders were able to come out with a win over the Eagles in both meetings, but with how close the games were in the regular season, it's difficult to say for sure who will come out on top.
Come watch the conclusion to the 2018 season at the UOG Field @ 2 pm Saturday!

Foody's 5 Fun Facts
Sanchez QB Jayton Penaflor
DID U KNOW?
Kein Artero has a list of who's who of Artero uncles who've starred in Guam's gridiron: Andre Artero UOG Tritons & Hals Angels OL, Bubba Artero UOG Tritons & Hals Angels OL, Kenny Artero SSHS DB/Baseball Pitcher, Jesse Sablan FD & Hals Angels FB, Roland San Nicolas FD & Hals Angels OL, Chuck Ada SSHS & Hals Angels DB,  Ed "Rock" Artero SSHS & Hals Angels MLB, "Wild" Bill Ada FD & Hals Angels ML, Jared Ada FD & Hals Angels WR/Utility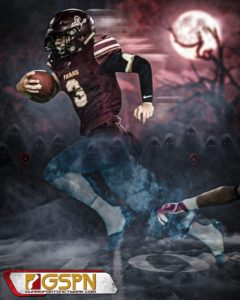 COMING SOON …
– 24th Marianas Fishing Derby
– NFL Week 3: Steelers at 49ers
– Jon Tuck's Bellator debut CANCELLED
QUICK HITS
Dana Holmes is the new UOG men's head basketball coach. In the last two years, he was a coach at FBLG Middle School and most recently a PE teacher at GW.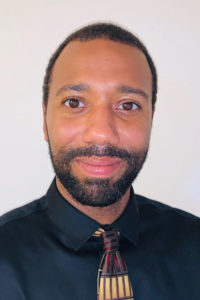 —————————————————-
Pro triathlete Mieko Carey finished third in XTERRA Japan on Sunday in a time of 3:43:02. Her career was on hiatus for a couple of years raising her twin children. It's safe to say the 40-year-old is back in top form. Congratulations Mieko san!