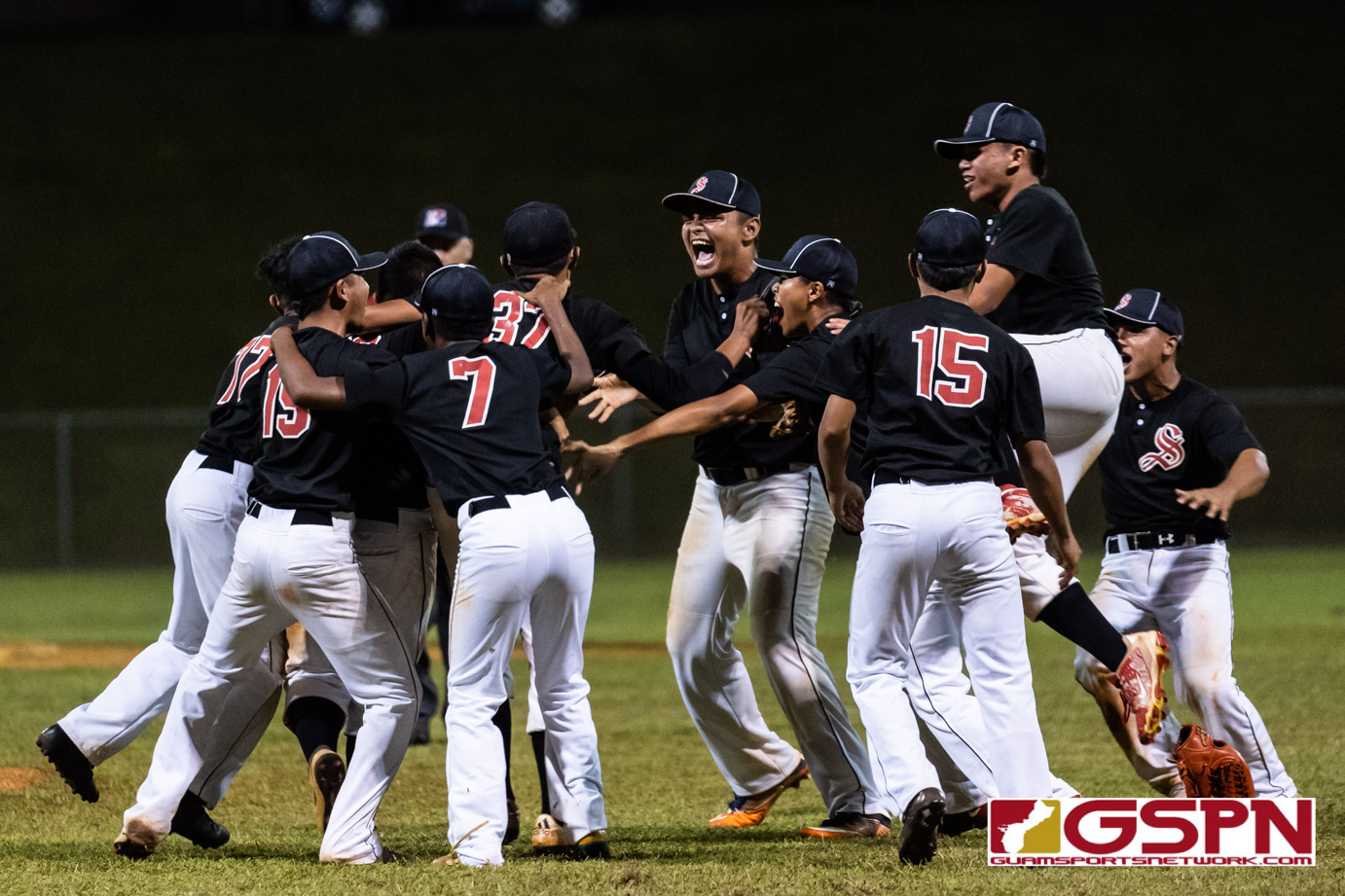 By Robert Balajadia
The Sanchez Sharks fell back on their defense during Wednesday evenings IIAAG Baseball playoff game against the FD Friars, knocking the defending champs out of title contention in a closely contested 6-5 game at the Okkodo Field. Wednesday's game was also the 3rd place game with the winner advancing to face the GW Geckos on Saturday while the loser is awarded 3rd place in the double-elimination format.
Trailing 5-3 in the 6th inning, the Sharks took full advantage of a pitching change for FD while getting three runs in the inning to take the 6-5 advantage. The pressure was on for freshman pitcher Jadein 'Cheeseburger' Evangelista as he had to keep FD off the scoreboard for two straight innings to secure the win.
"I was very nervous and my heart was pumping pretty good, but I just tried my best," said Evangelista.
FD retired starting pitcher Noah Pereda after two walks in the 6th to bring on Sean Balauro. Balauro would struggle to find his pitch, walking two Sharks to tie the game at five before making his exit for Ethan Lobaton. With the bases loaded, it would be Evangelista to deliver a lead changing hit, securing an RBI single that took a fortunate in-field bounce to go up 6-5.
The defense rallied behind Evangelista in the 6th with one out away as FD's Kobe Martinez connected to send his hit deep right, but Shark Rico Miner was sitting under it the whole way to grab the out. Friar Justin Leon Guerrero was held up at second and was advised to try and steal third after the out, but Miner's throw was well ahead of Leon Guerrero as the MVP Sigfrido Sanchez grabbed and tagged the sliding Leon Guerrero for the double play.
FD ended the top of the 7th inning on a double play as well giving their offense a chance to tie or win the game.
With one out away, big hitter Aidan McDonald would get on base followed by a single from Jake Carbullido to really put the pressure on Evangelista. Friar Rowen Brantley would face a full count before Evangelista would get a big strikeout for the second out of the inning. McDonald would end up stealing third with batter Daniel Akimoto at bat.
Akimoto was facing a full count as well as Evangelista caught him out swinging for the final out to force the Friars to settle for 3rd place.
The Sharks were knocked into the losers bracket by the Geckos earlier this week and now they are tasked with defeating GW twice in order to win the 2018 title.
"We're going to try our hardest and we're going to go back to practice and work harder, but we're going to the 'chip," stated Jadein.
PHOTO GALLERY BROUGHT TO YOU BY:

National Guard Athletes
Scott Eclavea
Scott Eclavea is a jiu-jitsu black belt and an accomplished MMA fighter. The Guard has given him an outlet in combatives to display his martial art skills, where he's become a head instructor for that program. Eclavea has served since coming out of high school and the Guard has only changed his life for the better.
COMING SOON …
LIVE FOOTBALL ON GSPN
Semifinals: #1 FD vs. #4 Southern (Friday 7 pm)
GSPN Preseason Basketball Tournament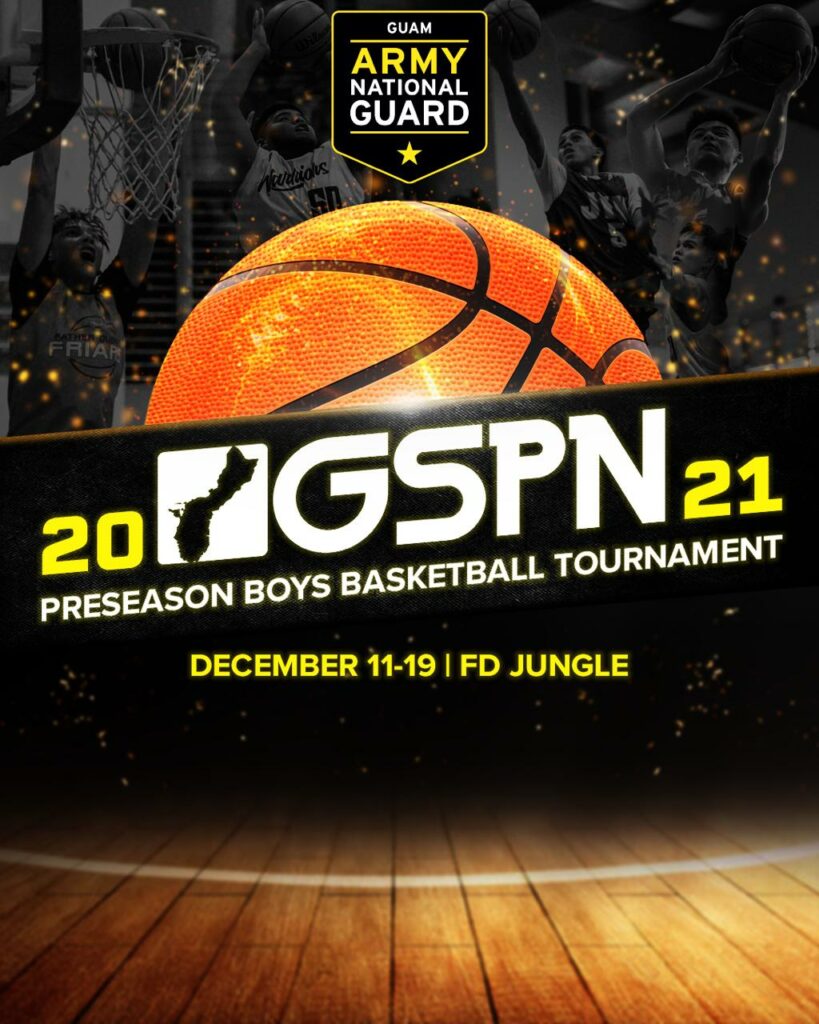 QUICK HITS
Robert Artero Maley recently captured the 182-lb. division of the Costa Mesa Classic, winning via pin in 4 out of 5 matches. Robert is a 4-year varsity wrestler at San Clemente HS (Tritons) and is currently ranked 15th in California's high school scene. He is the son of Jacque Artero Maley (AOLG 1991).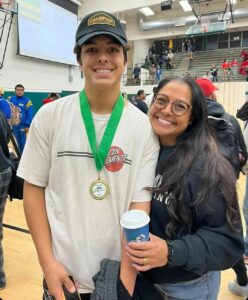 ——————————————–
Pat Taitano and Rich Abiador, teammates on the 1995 SPG volleyball team, have led their high school girls volleyball teams to the Washington State Championships in Yakima, Wa.
Taitano coaches Mt. Rainier High while Abiador leads North Creek High.
There for support is Dr. Mark Perez, a health professor at Central Washington University and a former UOG volleyball player.