By Robert Balajadia
It was a record setting night for the 2018 Finalists for the Shieh Su Ying Scholar Athlete of the Year Award as 18 total finalists filled the Dusit Thani ball room Sunday evening to celebrate the big event. Filled with family, coaches, school faculty and Dr. Shieh himself, the evening was highlighted by celebrating the accomplishments of all 18 scholar athletes.
St. John's Knight Takumi Simon was awarded the male Scholar Athlete of the Year, the first ever St. John's selectee, and the female award came down to a tie between two St. Paul Warriors in Chloe Miranda and Haley Senne, the first tie in 17 years.
Guam High Panther Emma Sheedy was awarded the Outstanding Community Service Award.
Simon, Senne and Miranda were awarded $2000 as well as new MacBook Air Laptops. All 18 finalists were awarded the latest versions of Apple iPad's.
Miranda and Senne stay twinning
From the court to the classroom, Chloe Miranda (who is her class valedictorian) and Haley Senne have always worked well together. The two helped usher in their first IIAAG basketball title in 2017 and Sunday evening the pair put a spotlight on their school accomplishments.
"When they called our names I was really surprised because I thought they would only ever give one. Chloe and I have known each other since birth and it was just an honor to win the award, but an even bigger honor to do it along side Chloe," said Haley Senne.
"We do everything together and we ended our high school journey on top. It's great to share the award with Haley," added Miranda.
The two have fully embraced the sacrifice that eventually led to their senior year accomplishments and they were quick to commend each other for that success.
"It all paid off after the long sleepless nights of work, community service, sweat and tears. It's really great that Haley and I get to share the award together," said Chloe.
"It shows that you reap what you sow. We both put a lot of work into it and there's no me without Chloe and no Chloe without me," added Senne.
Dads Darren Senne and Jun Miranda shared sentiments of their girls winning the award after watching their life-long friendship turn into a shared Scholar Athlete of the Year Award.
"I'm very proud of both of them. They've worked their butts off since freshman year and winning it together is very special," said Jun.
"It was a very special moment for them and I felt a huge sense of pride. I'm thankful that they've been surrounded by an extended family that has helped shape them and guide them. We're thankful that they've had that support system growing up," said Senne.
Both Miranda and Senne will be attending the University of Guam as Miranda hopes to take on nursing while Senne plans to become a vet.
Simon wraps up memorable 2018
St. John's Knight Takumi Simon showed out in the IIAAG title game to help bring the coveted basketball title back to St. John's. Sunday evening highlighted more of what Simon has accomplished in the classroom, netting a handful of AP classes. But like his three-point stroke, Simon put a lot of work in on both sides to be named the 2018 Scholar Athlete of the Year.
"This is a high honor because of what the award embodies, which is balance. My dad always taught me how to balance everything and this award means that I found a way to balance it all," said Simon.
Simon's father Gabriel was ecstatic to find out his son had won the award as he reflected back on his son's year.
"It's incredible. Every child is 50% heredity and 50% environment and the Lord has blessed us with an incredible son and I just gave a little guidance. There's such a sense of pride raising him and there was basically no problems, just reward. Hearing his name called out was a great feeling of satisfaction and we're all incredible proud of him," said Gabriel.
Simon will be attending college at Santa Clara where he will try out for their basketball team.

QUICK HITS
3rd place: Big ups to the Para Todu Rugby Club for finishing 3rd out of 16 teams in the Manila 10's Rugby Tournament today. Biba Guam Rugby!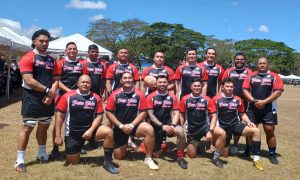 ——————————————
Guam MTB National Championship: Edward Oingerang and Jennifer Camacho are your 2023 MTB national champions. Oingerang finished the course in 1:13:24 while Camacho won her second straight title in 54:08.