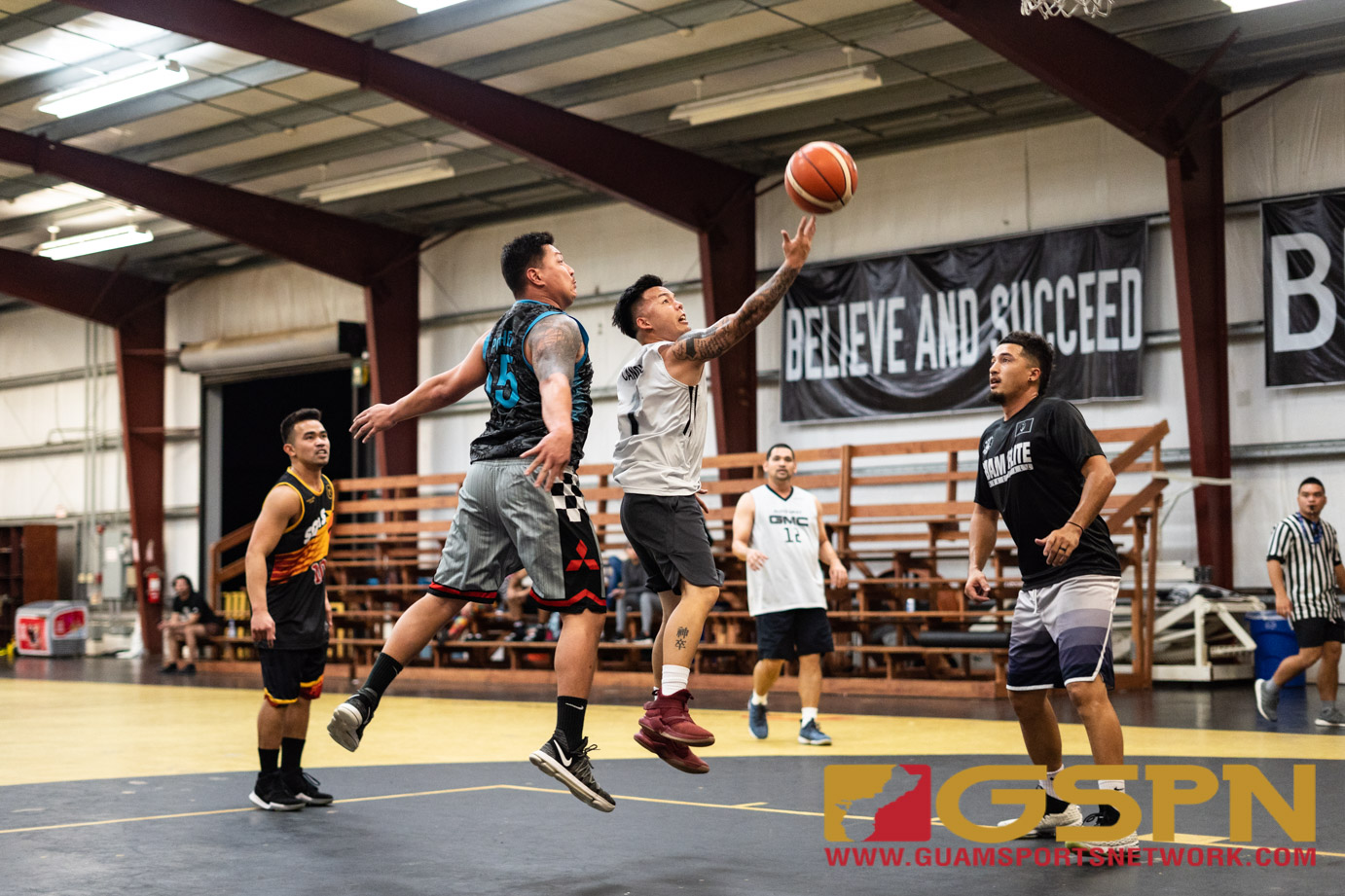 By Brandon Kinsella
St. Paul's 30+ defeated the Harmon Loop Dental Phoenix Sons (FD) 62-54, in the All Island Alumni League at the Guam Elite Center, on Sunday night. This was no ordinary game, and the intensity that was on display throughout the matchup proved that the FD/ St. Paul basketball rivalry is still alive and well, even in the Masters League.
It was anyone's ballgame in the final minutes of the game. With 3 minutes left to play, St. Paul led the game at 55-51. Each basket in these final minutes was earned, and both teams ramped up the intensity with a bragging rights victory on the line.
St. Paul's Tristan Tapia finished with 24 points, 7 rebounds, and 1 steal. Tapia was a presence in the paint all night as teammates looked for him to come up big in the post. His performance would earn him Player of the Game, alongside teammate Julian Canovas.
Canovas finished with 12 points and hit a crucial three pointer with one-minute left to go, which would put his team up by eight at 60-52.
Tapia elaborated on what lead to his key performance saying, "Ever since I was a kid I've been relied on as a big man. When I establish myself in the paint, I'm looking to score and get a rhythm going. When my shots are falling and the defense notices, it really opens up opportunities for the rest of the offense. So, every game I try and establish myself and dominate in the paint."
Tapia also acknowledged the FD/ St. Paul Rivalry, pointing out how both teams respect each other and know each other's capabilities.
"We've always gone hard whenever we play each other, and outside of the game we're all boys. But the rivalry is still there. I graduated St. Paul in 2005, and even in today's high school league the rivalry is no different… We always tell the younger generations 'never lose to FD.' It's like a UNC vs. Duke kind of rivalry, but at the end of the day it makes basketball more competitive and interesting to watch."
FD's William Stinnet would secure a double-double and finish the game with 11 pts, 10 rebounds and 3 assists. Stinnet shot 2/2 from the three point line, but struggled from the free throw line shooting 3/10 on the night.
FD's Julius Yu and Shaun Perez were the leading scorers for their team, each scoring 15 points. Perez also had 5 rebounds and 1 block, and hit three 3-pointers on the night, including an exciting buzzer beater to end the first half.
Free Throws
Free Throws proved to be a crucial difference maker in the game as FD struggled to get a rhythm going at the charity stripe. FD shot 48% from the line on 10/21 shooting.
St. Paul improved to 5-2, and Harmon Loop Phoenix Sons are also 5-2.
PHOTO GALLERY BROUGHT TO YOU BY:

COMING SOON …
High school girls volleyball playoffs
Brawl 3: Oct 13
Guam's Strongest Man and Woman Competition October 29
QUICK HITS
The Figo Islanders 40s women's softball team took gold in the Senior Softball World Championship in Las Vegas. Figo came out of the loser's bracket and beat the Arizona Belles 17-3 in the AA division championship game Sunday afternoon.
Other Guam teams that played in the 40s tournament were: Team SOTTA (women's) and Bud Light Guam, Friars 671 and Sindalun Guahan (men's).
Sindalu finished a respectable 4th out of 24 AAA division teams.