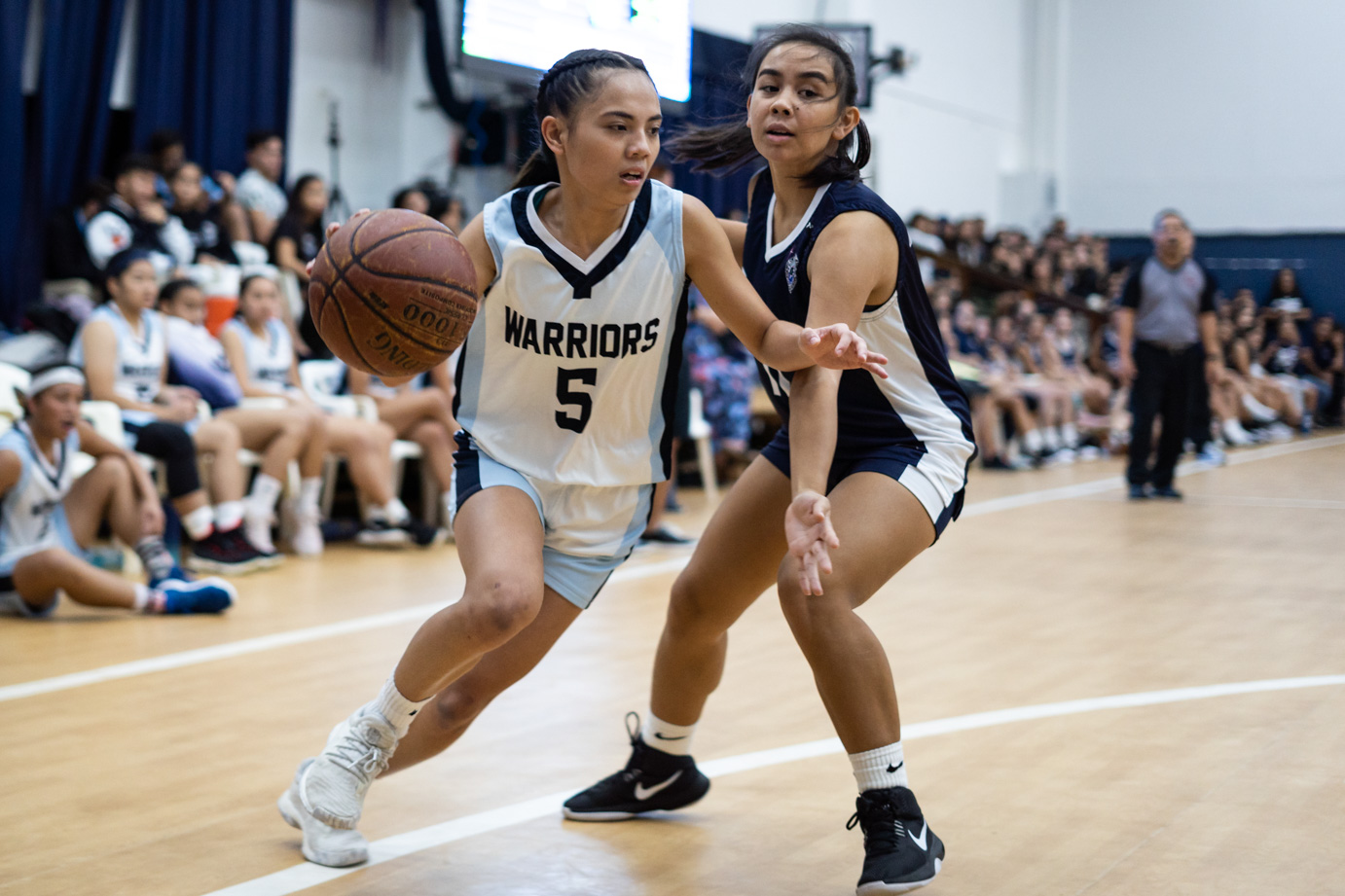 By Brandon Kinsella
In a championship rematch between the St. Paul Warriors and the Academy of Our Lady of Guam Cougars, the Warriors won 66-37 at home, solidifying another win to stay undefeated. The Warriors were led by Senior Niah Siguenza, who was one steal shy of a triple-double with 18 points, 11 rebounds, three blocks, and nine steals. Siguenza earned player of the game honors, alongside teammate Isla Quinata.
When asked about the rivalry matchup and what makes a game like this different from the rest, Niah responded saying, "These kinds of games are exciting. You can feel the adrenaline rush and it gives us more of a drive to work a lot harder."
The final score does not tell the whole story to this matchup. It was a close and competitive matchup, until the 3rd Quarter when the defending champion Warriors began to pull away by a large margin.
In the first quarter, it was a back and forth battle as both teams traded buckets. It looked like it was going to be a tight ballgame for the remainder of the matchup. Siguenza started the game off strong, grabbing two offensive rebounds on the first possession and scoring the game's first points inside. The Cougars, on the other hand, were finding open lanes to the basket and Mia San Nicolas was on track to have an impressive ballgame.
In the 2nd Quarter, the Warriors quick guard duo of Isla Quinata and Kirsten Silva brought the pressure, racking up the steals and jumping the passing lane telepathically. These steals led to easy transition buckets in the paint. Quinata finished the game with seven steals and 14 points, and also earned player of the game honors.
Despite turnover issues, the Cougars were still in the ballgame. San Nicolas was a force inside, converting on multiple shots despite heavy contact fouls, and draining free throws at the charity stripe afterwards. Contact on the low block didn't seem to faze Mia at all. The Cougars were only down by eight at the half.
San Nicolas found herself in foul trouble early in the 3rdQuarter which would make it difficult for the Cougars to stay within striking distance. She was having an impressive game prior to being pulled out, converting on shots that looked impossible and showing ability to break the press with her ball handling technique. Siguenza continued to fill the stat sheet in the 3rd quarter and played aggressively on defense by stealing the ball and blocking shots.
San Nicolas would finish the game with 16 points, seven rebounds, and two steals.
With the Cougars best player sidelined due to foul trouble, the Warriors amped up the pressure. The Cougars interior defense became exposed and they struggled to find an offensive rhythm with Mia on the bench. The full-court pressure, which has been the Warriors bread and butter all season, proved to be too much for the Cougars to overcome.
PHOTO GALLERY BROUGHT TO YOU BY: