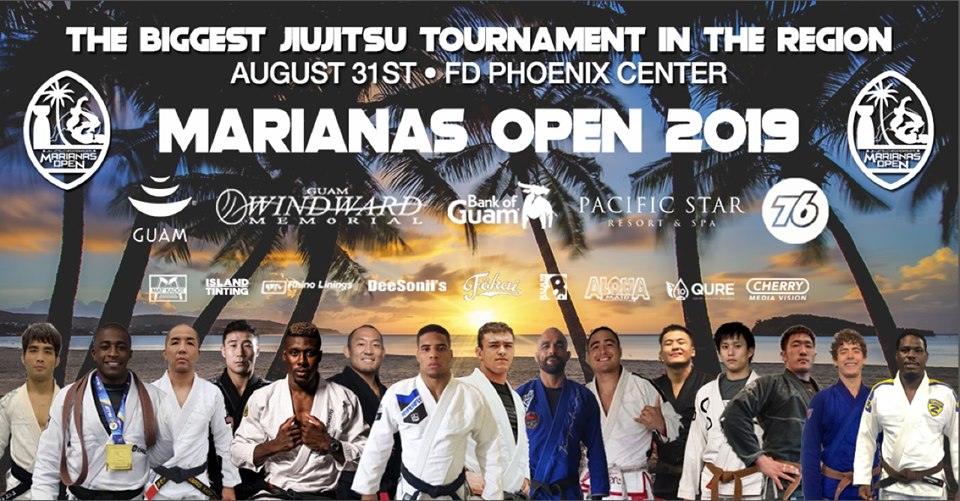 By Robert Balajadia
This coming Saturday, August 31st, the 2019 Marianas Open at the FD Phoenix Center will crown a new champion after the three-time winner Felipe Pena will not be able to compete due to contractual obligations.
The Marianas Open official social media accounts broke the news on Felipe being unable to compete last week, but that doesn't take away from the big names they have lined up for Saturday.
Black Belt Competitors
Ronaldo Junior (Atos)
Isaque Bahiense (Alliance)
Kaynan Duarte (Atos)
Nicke Greene (Ralph Gracie)
Rida Haisam (Carpe Diem)
Inseong Jang (Wire Jiu-jitsu)
Jose Souza (Alliance)
Javier Mirelez (Purebred)
Yong Won Choi (Wire BJJ)
Brown Belt Competitors
Anthony Cruz (Carlson Gracie)
Norberto Rosario (Figo/Bonsai BJJ)
Tyrone Jones (Vida BJJ/Zenith)
Isaac Balajadia (Figo/Bonsai BJJ)
Danny An Khoi Vu (Checkmat Corona)
Takafumi Sato (Axis Jiujitsu Academy)
Hee Seoung Kim (Kris Kim Brazilian Jiujitsu)
Hyungsuk Choi (Wire Jiujitsu)
Roberto Jimenez (Alliance Las Vegas)
Guam's local competitors will have a wealth of support as they take on some of the world's best in the black and brown belt divisions, most notably Guam's Javier Mirelez taking on a stacked black belt group.
"I'm truly honored to compete against some of the top Jiu Jitsu fighters in the world coming to our island. It's a dream come true, and competing at the highest level is what I've been working for since I started Jiu Jitsu in 2006. I'm eager to display my skills with these world champion black belts, and most importantly grow from this experience of a lifetime," said Mirelez on being one of the local black belts in the crop of world class fighters.
Guam's Anthony Cruz has had a really busy, and successful past year winning two gold medals in the JBJJF All Japan Jiu Jitsu Championship and winning gold in the Abu Dhabi Grand Slam Tokyo 85 KG Brown Belt Champion. He returns home to compete in a pair of big tournaments with the Marianas Open this weekend and the Submit event next weekend.
"I'm definitely looking forward to the influx of competition coming from abroad. I aspire to be the best I can possibly be, and the only way to do that in my opinion is test yourself against the highest level of competition so I'm looking forward to the challenge. I prepare for every competition by pushing myself in the training and having absolute belief in my ability to achieve my goals," said Cruz on his first local competition since his medal-heavy summer.
Some of the weekend's off-island competitors have also hit the training grounds with Guam's local talents in preparation for the big weekend. Cruz reflected on the week and not to forget the other competitors who aren't headlining the event.
"I'm thankful for the opportunity to train with the highest levels of athletes in jiu jitsu because it gives me the opportunity to test myself against some of the best in the game. More than anything however, I'm thankful for the guys are Carlson Gracie Guam that though may not be big names in the sport yet, they show up everyday to help me improve and grow in training.

QUICK HITS
The Figo Islanders 40s women's softball team took gold in the Senior Softball World Championship in Las Vegas. Figo came out of the loser's bracket and beat the Arizona Belles 17-3 in the AA division championship game Sunday afternoon.
Other Guam teams that played in the 40s tournament were: Team SOTTA (women's) and Bud Light Guam, Friars 671 and Sindalun Guahan (men's).
Sindalu finished a respectable 4th out of 24 AAA division teams.