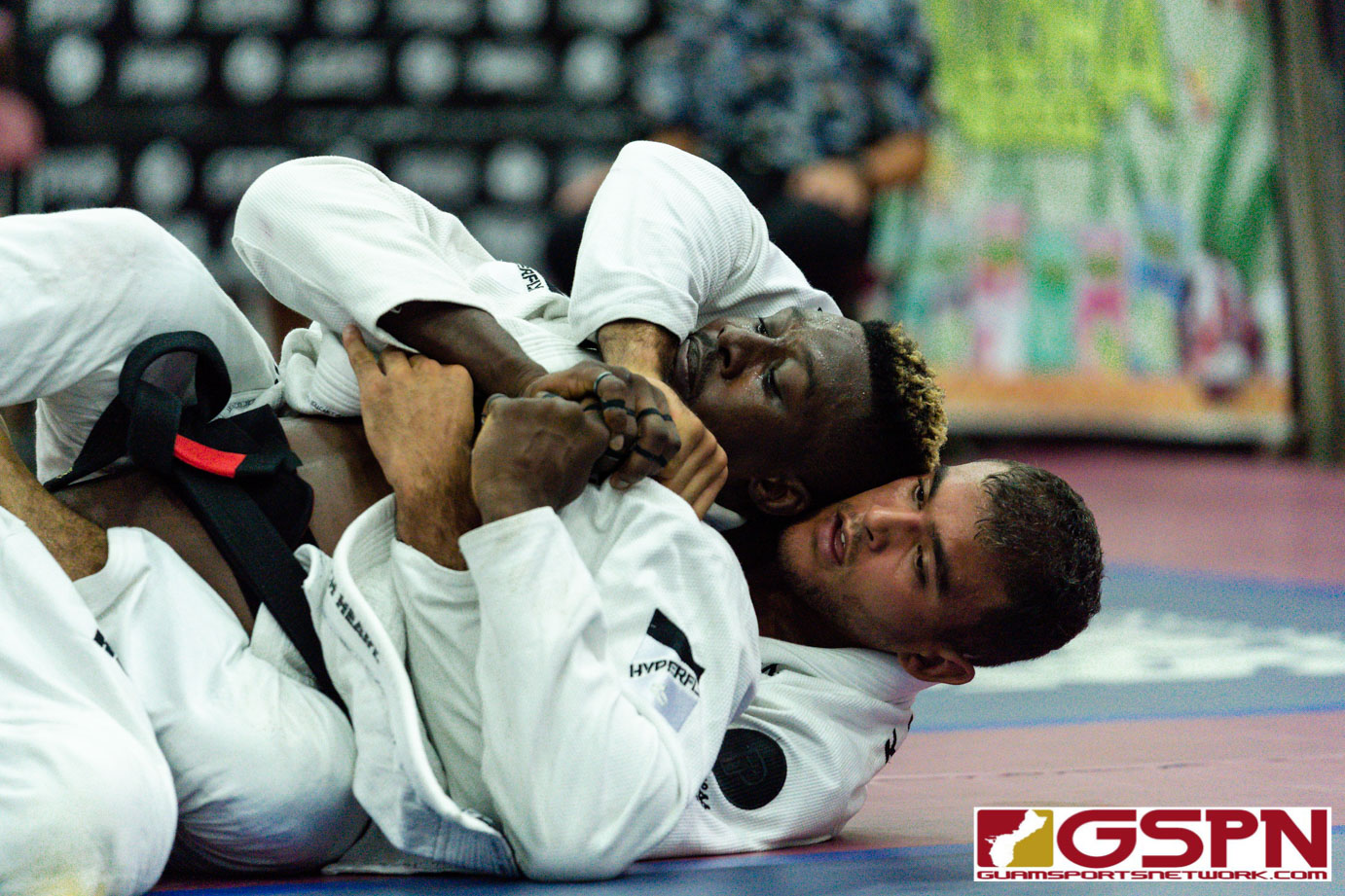 By Brandon Kinsella
The Guam Jiu-Jitsu Community came together for another successful Marianas Open Event. The FD Phoenix was fully occupied as both kids and adults competed, demonstrating their technique against opponents from around the world.
Guam hosted international athletes in the Brown and Black Belt Divisions. Among those athletes was IBJJF World Champion Black Belt Kaynan Duarte from Atos Jiu-Jitsu Academy in Brazil. While off-island athletes made the event exciting, our local athletes put on a show and competed well against competitors who flew in from all over the world. 
Black Belt Division Winners
The Black Belt Brackets comprised of two Divisions (Division 1 and Division 2). Winners of their respective divisions went on to win $3,000 with an opportunity for one more match and another $3,000 against the winner of the opposite Division.
Division 1
Brazilian athlete Ronaldo Junior, fighting out of Atos in Brazil, won Division 1 after a lapel choke in the final minutes of action forced opponent Itsu Jong to tap. 
Division 2 
IBJJF Champion Kaynan Duarte dominated his division and defeated local athlete Black Belt Javier Mirelez from Purebred, winning $3,000 with a chance to face Junior in the Championship. 
Overall Black Belt Winner
In the final matchup, Junior rolled against opponent Duarte. Both opponents train at the same gym (Atos) in Brazil; both are also world champions. Duarte would get the better of teammate Junior by decision, winning the overall Black Belt Gold Medal and flying home with six grand. 
Gold Medal Brown Belt Winners
Middleweight Division (176-190lbs) 
In the Middle Weight Division, local athlete Anthony Cruz, fighting out of Carlson Gracie in 
Anigua, defeated Tyrone Jones who flew in from Drysdale Gym in Las Vegas. Cruz won in the final minutes of action, securing a bow and arrow choke which won him a Gold Medal.
Medium Heavy (191-205lbs) 
Brazilian native, Roberto Jimenez, fighting out of Alliance Gym in San Diego defeated Korean Athlete Hee Seong Kim by way of rear naked choke to win the Medium Heavy Gold Medal. 
Heavyweight (205 and over)
Carlson Gracie's Derrick Calvo defeated opponent Hyungsuk Choi from South Korea, scoring 2-0 before the clock ended to secure a Gold Medal.
PHOTO GALLERY BROUGHT TO YOU BY: