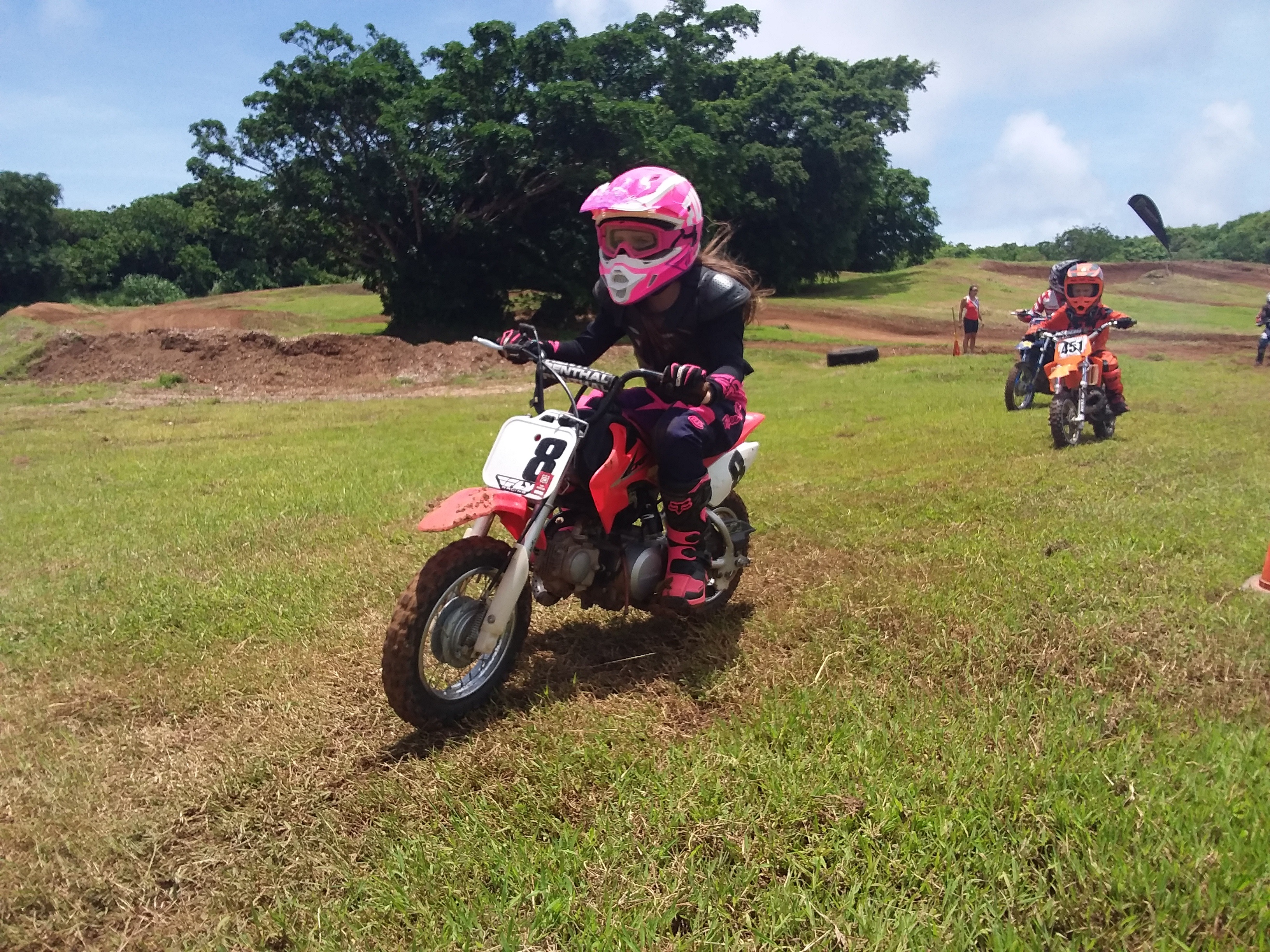 PRESS RELEASE – Guam International Raceway Motorcycle and Atv Corporation: 2019 Monster Energy Guam Motocross Championships Round 5
Round 5 of the 2019 Monster Energy Guam Motocross Championships continued this past Sunday at the Guam International Raceway in Yigo. With the course conditions made rough and technical from the rains that had fallen the days leading up to the event the course was a challenging factor for all the participants. Once more the course was loaded with jumps, bumps, and many switch back turns to challenge the participants and give the fans and family supporters that lined the course an incredible day of high flying action. The event was open to the public to come out with their coolers and folding chairs and watch as several different championship classes competed in a two heat per class motocross format. Classes included the 50cc kids minibike class where riders as young as four years of age competed on the very same course as the bigger machines. The mud slinging and bar banging racing kicked off at just before noon.
Highlights and results
In the Open Motorcycle division #1 Lil John Aguon aboard his RPM Yamaha supported 450 easily swept the round to take the win with #85 Cycles Plus Kawasaki rider Blaze Aiken freshly back from injury taking a solid second. #55 Carlo Pangelinan on his KTM 250 nursing a sore and beat up body he had obtained earlier that morning in a practice mishap took third followed by #23 Jordan Leon Guerrero in fourth and #90 Blaise Bonin rounding out the top five. Lil John Aguon has been dominating all season and with one round still remaining in the 2019 championship has numerically clinched the Monster Energy Guam Open Motorcycle class championship.
In the Open Atv class #64 George Santos jr. took his Yamaha to the overall win over second place finisher #75 George Santos and third place finisher Yamaha mounted #88 Camillo Lorenzo.
In the Open Minibike class #25 Lawrence Limtiaco who was aboard the team Cycles Plus Kawasaki edged out #31 Richard Wenden aboard a KTM. Taking third was #22 KTM mounted Wyett Santos.
In the 250cc class #85 Blaze Aiken on a Cycles Plus Kawasaki took the win over KTM mounted #55 Carlo Pangelinan and Yamaha rider #23 Jordan Leon Guerrero respectively.
The 85cc Kids Minibike class had team Cycles Plus rider #25 Lawrence Limtiaco take the win on a Cycles Plus Kawasaki with KTM mounted #22 Wyett Santos in second. Also clinching early Lawrence Limtiaco on the Cycles Plus Kawasaki has numerically taken the 85cc class championship.
The 65cc Kids Mini Bike class had #21 Kawasaki mounted Jessani Leon Guerrero taking first with second being taken by #20 Jace Calvo. Rounding out the top five were #33 Mariana Wenden in third with #75 Jay Whitman and #73 Eric Little placing fourth and fifth respectively. With one round still remaining #21 Jessani Leon Guerrero has clinched numerically the Monster Energy Guam Motocross 65cc class Championship.
In the 50cc Kids Minibike class saw another dominating win by #1 John boy Aguon aboard a KTM. Taking second was #11 Leo Limtiaco with #98 Caden Castin in third. Numerically taking the championship one round early was defending 50cc class champion John boy Aguon.
In the Open Kids Mini Atv class #75 Dylan Whitman took first place over #69 Greyson Overstreet and #451 Eric Little in third. #75 Dylan Whitman has also clinched that classes championship one round early.
Next on the Monster Energy Guam Championship Motocross race schedule will be round 6 of the six round 2019 Monster Energy Guam Motocross Championships and will be held on Sunday September 8thth at the Guam International Raceway home of the Jose and Hermenia Calvo Memorial Off road Park. Gates open at 8am and the racing kicks off at 11:30am. With several class championships still being contested everyone is invited to attend to watch free of charge what is sure to be another full day of non stop dirt flinging racing. Interested new or experienced riders are encouraged for more information to visit https://girmac.teamapp.com or contact public information officer Robert Bucek by call or text at 727-5381.
PHOTO GALLERY BROUGHT TO YOU BY:
Open Motorcycle class action at round five Sunday.

Clinching early #1 Lil John Aguon dominated Sunday in two classes and was crowned 2019 Monster Energy Guam 450cc and Open Motorcycle class champion.

#64 George Santos jr. took the Open Atv round five win Sunday

#31 Richard Wenden took an Open Minibike class second place nearly beating out eventual winner #25 Lawrence Limtiaco for the overall win

#21 Jessani Leon Guerrero clinched the 2019 Monster Energy Guam 65cc motocross championship Sunday

#8 Ailey Castin leads a pack of 50cc class championship hopefulls around a grassy corner.