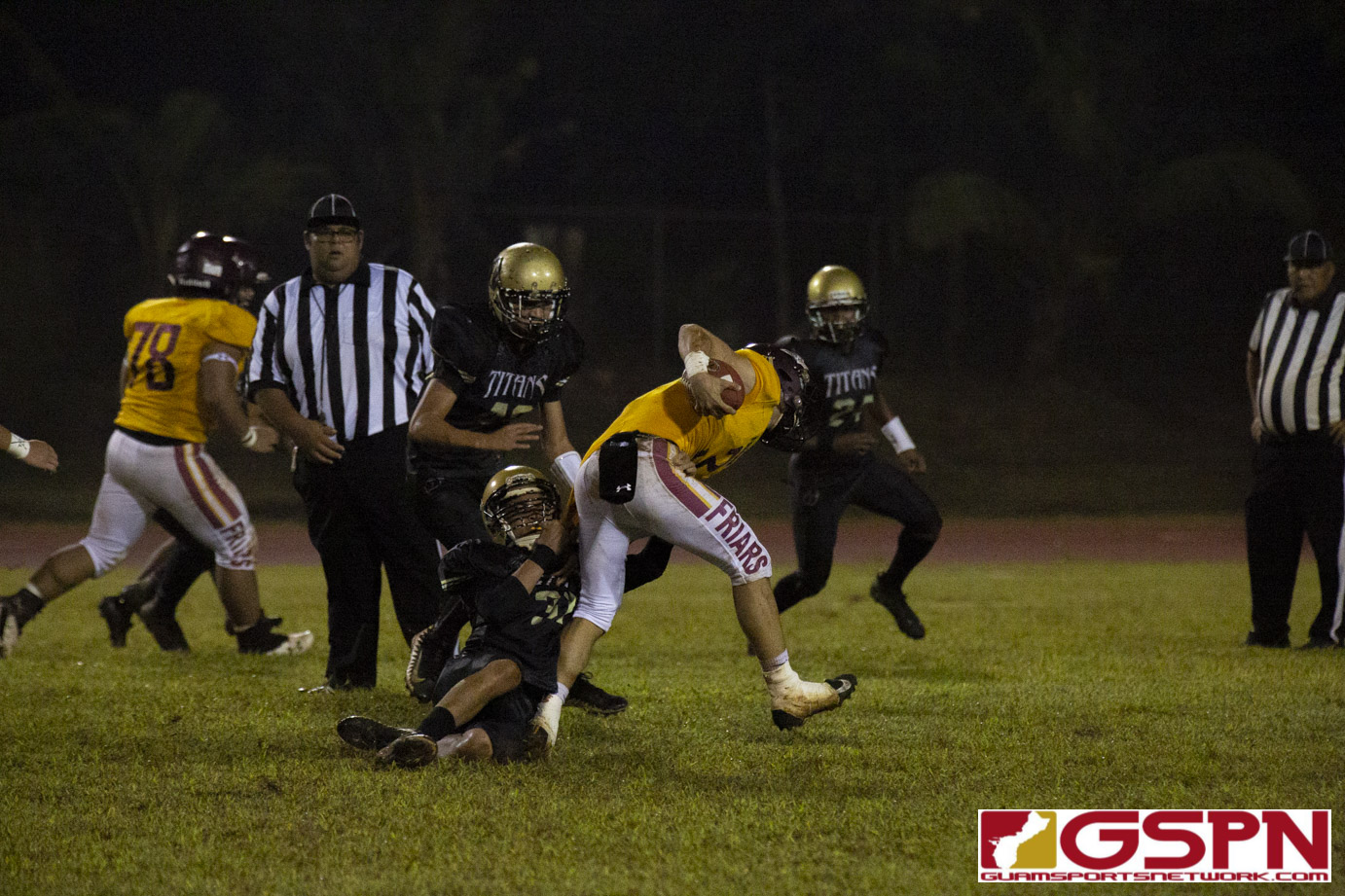 By GSPN
For the second straight season, FD Friar running back Kein 'Ghost' Artero has broken the 1000-yard rushing mark after breaking loose for 203 yards against the Tiyan Titans. FD finished the regular season unbeaten for the fourth year in a row with their 48-6 Friday evening victory at the Okkodo Field.
Artero came into the night with 817 yards with his evening totals bringing him to 1020 on the season. Kein has been on a tear, taking less than five total snaps in the second half in each of their six wins this season with his evening often ending by halftime, despite his pleading with his coaches to go back in.
The Friars got off to a fast start against the Titans with Artero nearly scoring on the opening kick off, but a penalty would bring the touchdown back. Kein would then take his first hand-off 64 yards, followed by his first score from two yards out for a quick 7-0 FD lead.
Artero would score on a 67-yard scamper moments later and a Nick Anderson to Matthew Santos touchdown through the air put the Friars up 20-0. Kein's scoring night would end after a two-yard touchdown, but it would be his 27-yard run before halftime that would crack him over 1k.
Anderson would connect with Donovan Lamb for a 12-yard score for a 34-0 halftime lead.
Running back Caiyle Gogue would take care of the running duties in the second half, scoring the teams only touchdown of the half on a one-yard run.
Tiyan avoided the shutout as Kaekoa Leon Guerrero would find Davin Mojica from 14 yards out despite being blanketed by Friar defensive back Kaleb Tennessen. A missed 2-point try by Tiyan would leave the score 41-6.
The playoffs begin next weekend and the FD Friars have gained a first round BYE. The Titans will find out who they play after the conclusion of the Guam High vs. Southern Dolphins game Saturday night.
PHOTO GALLERY BROUGHT TO YOU BY: