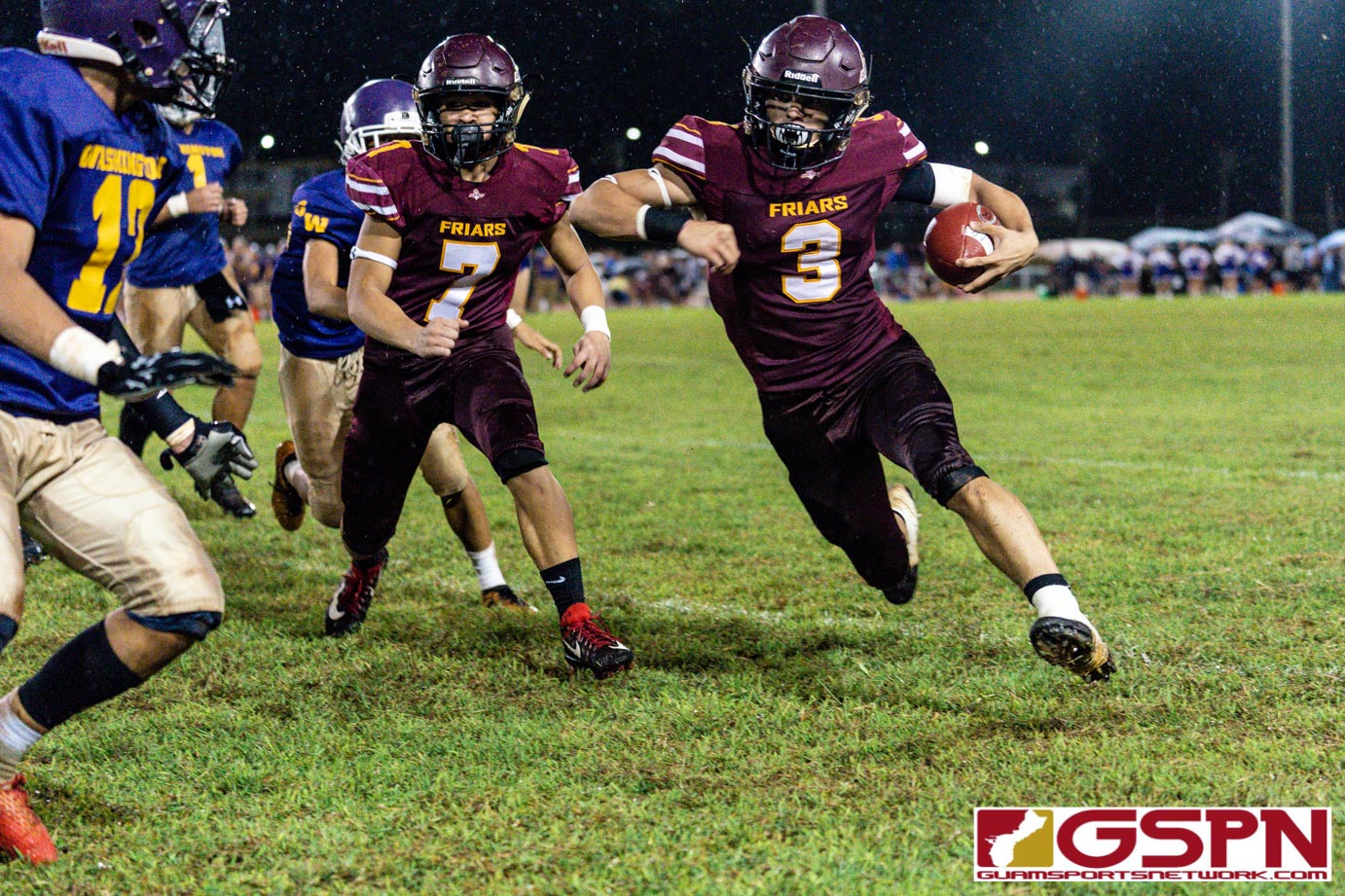 By Robert Balajadia
The last time the IIAAG saw FD Friar running back Kein "Ghost" Artero was in the football Championship Game last season where he punched in two crucial overtime touchdowns to secure FD's fourth straight football title and a 40-0 record through four seasons. Friday evening in the first game of the IIAAG season against the GW Geckos, Artero picked up right where he left off.
The now senior Artero amassed 182 all-purpose yards, 147 yards rushing on 10 total carries with four rushing touchdowns and one punt return touchdown in the teams 34-0 win over the Geckos despite a wet and rainy evening. Artero only took one carry in the second half to where he had already notched 146 yards and four touchdowns by halftime.
"I couldn't have played the way I played tonight without my O-line; they really gave me great blocks tonight," said Artero on the night. "We all go 100% at practice and we make each other better each day."
Artero was snacking on some Skittles during the game, which has been made famous by none other than the NFL's "Best Mode" Marshaun Lynch. The sugar rush appears to be something that has only benefitted Artero.
"It gives me energy, like a sugar high. It works!," said Kein.
GW got off to a shaky start after fumbling away the opening kick-off at their own 19-yard line as FD recovered. Artero hit the defense for two straight eight-yard runs before powering in a three-yard score to go up 6-0, but the Geckos would block the PAT.
The Geckos first offensive series went the opposite way as the shotgun snap on their opening drive flew over the head of quarterback Ricky Macias to be recovered at their own two-yard line. Facing 2nd-and-17, running back Eian Naputi tried to find room to run on the left side but Friar linebacker Eugene Arriola came barreling in for a takedown in the end zone for a safety to give FD an 8-0 lead.
FD would return the punt off the safety to their own 35-yard line. Artero needed just one handoff as he took the ball 65 yards for a score while dodging four different Gecko defenders in the process for a 15-0 lead.
Friar sophomore linebacker Evan Brown would set up the teams next score after blowing up a failed punt attempt at the 11-yard line from the Geckos. Artero would need just one carry for the 11-yard score giving him three touchdowns on three straight carries for a 21-0 lead.
Brown would have himself a night totaling nine tackles, two sacks and two tackles for loss. Brown earned an All-Island and All-Star selection his freshman year and he's been out to prove it wasn't a fluke.
"I set a big standard for myself last year so I had to come out and show that I had that same intensity and even more. We faced a good GW team tonight and we knew they were going to put up a fight. I know they're only going to get better as the season goes on so we have to make sure we're getting better too," said Brown.
Fellow Friar linebackers Eugene Arriola and Roy Chargualaf each totalled six tackles with Arriola also getting the early game safety.
Artero would score on a 28-yard touchdown late in the 2nd to give FD a 28-0 halftime lead. Kein would then get his final play in on a GW punt, going untouched on a 35-yard punt return to put the final spread of 34-0.
Gecko running back Jonahs Gumabon led the offense with 30 yards on the ground and Cason Jackson totaled 18 on five carries. GW's Noah Quichocho had five tackles and two sacks on the night and Jackson would get five tackles and one sack to round out a busy night.
Other Score
PHOTO GALLERY BROUGHT TO YOU BY:

QUICK HITS
The Figo Islanders 40s women's softball team took gold in the Senior Softball World Championship in Las Vegas. Figo came out of the loser's bracket and beat the Arizona Belles 17-3 in the AA division championship game Sunday afternoon.
Other Guam teams that played in the 40s tournament were: Team SOTTA (women's) and Bud Light Guam, Friars 671 and Sindalun Guahan (men's).
Sindalu finished a respectable 4th out of 24 AAA division teams.