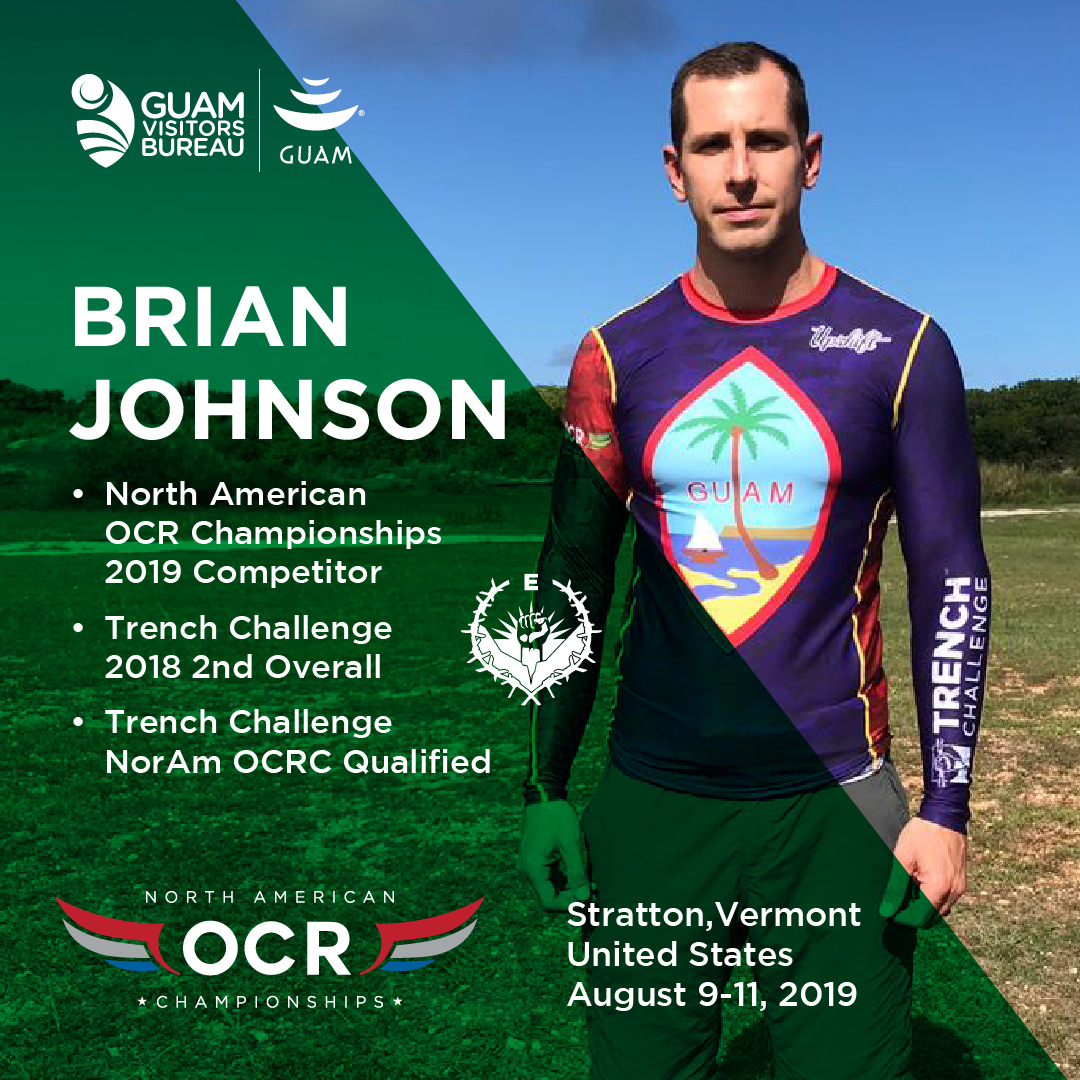 PRESS RELEASE – July 25, 2019 – Yigo, GU – Upshift Ent., the organizer for TRENCH CHALLENGE OCR, is proud to announce that 2nd overall top finisher of the 2018 Trench Challenge; Brian Johnson will be representing Guam at the North American Obstacle Course Race Championships this August 9-11 at Stratton Mountain, Vermont. 
Brian Johnson will be competing in the 15km 35-39 age group division and his goal is to finish in the top 20%in the division. 
"Racing in the NorAm OCR will provide an opportunity to compete against the "best of the best" for OCR in North America. Additionally, I will be representing Guam and will be easy to spot, as I will be wearing the Team Guam compression top. Since arriving to the island, we have had nothing but great stories to share to our friends and family back in the U.S. Representing Guam in the most challenging OCR will be an excellent opportunity to share stories and promote the Island."
His Accomplishments:
2019:
First place Do-the-Du Duathlon

Second Place Co-Ed Team, Guam Perimeter Run

Third place Sprint Triathlon

First place Aq-Du-Tri Duathlon
2018:
Second Place Elite Division, Trench Challenge
2017:
First place age division, US Ultra Distance National Championships

Finisher, Ironman Boulder

25/492 Military Heavy Division, Bataan Memorial Death March (26.2 mi)
According to Trench Challenge Race Director, Tom Akigami, "Brian will definitely represent the island well, and we'll be posting up his progress as we receive them. We're proud that many local athletes have the opportunity, are able to compete in the world level through our Trench Challenge qualifier program as well as attracting visiting athletes A huge thank you goes to the Guam Visitors Bureau for their assistance."
For more information, call 687-1800, email [email protected], follow @trenchchallenge on Instagram, https://www.facebook.com/trenchevents/ on Facebook and visit the Trench Challenge website on https://trenchevents.com/.
###
About Trench Challenge 
Trench Challenge is Guam's Obstacle Course Race and affiliate of the World OCR Organization through MOSF and the only official qualifier to the OCR World Championships and North American OCR Championships in the Western Pacific. 
Trench Challenge is more than just an event, it's a lifestyle encompassing mental toughness with it's motivational speaker Coach Pain, nutrition with professional nutritionist and licensed dietician Lenora Makela, and fitness with professional coaches and athletes offering free training camps to participants leading up to the big event.

QUICK HITS
The Figo Islanders 40s women's softball team took gold in the Senior Softball World Championship in Las Vegas. Figo came out of the loser's bracket and beat the Arizona Belles 17-3 in the AA division championship game Sunday afternoon.
Other Guam teams that played in the 40s tournament were: Team SOTTA (women's) and Bud Light Guam, Friars 671 and Sindalun Guahan (men's).
Sindalu finished a respectable 4th out of 24 AAA division teams.