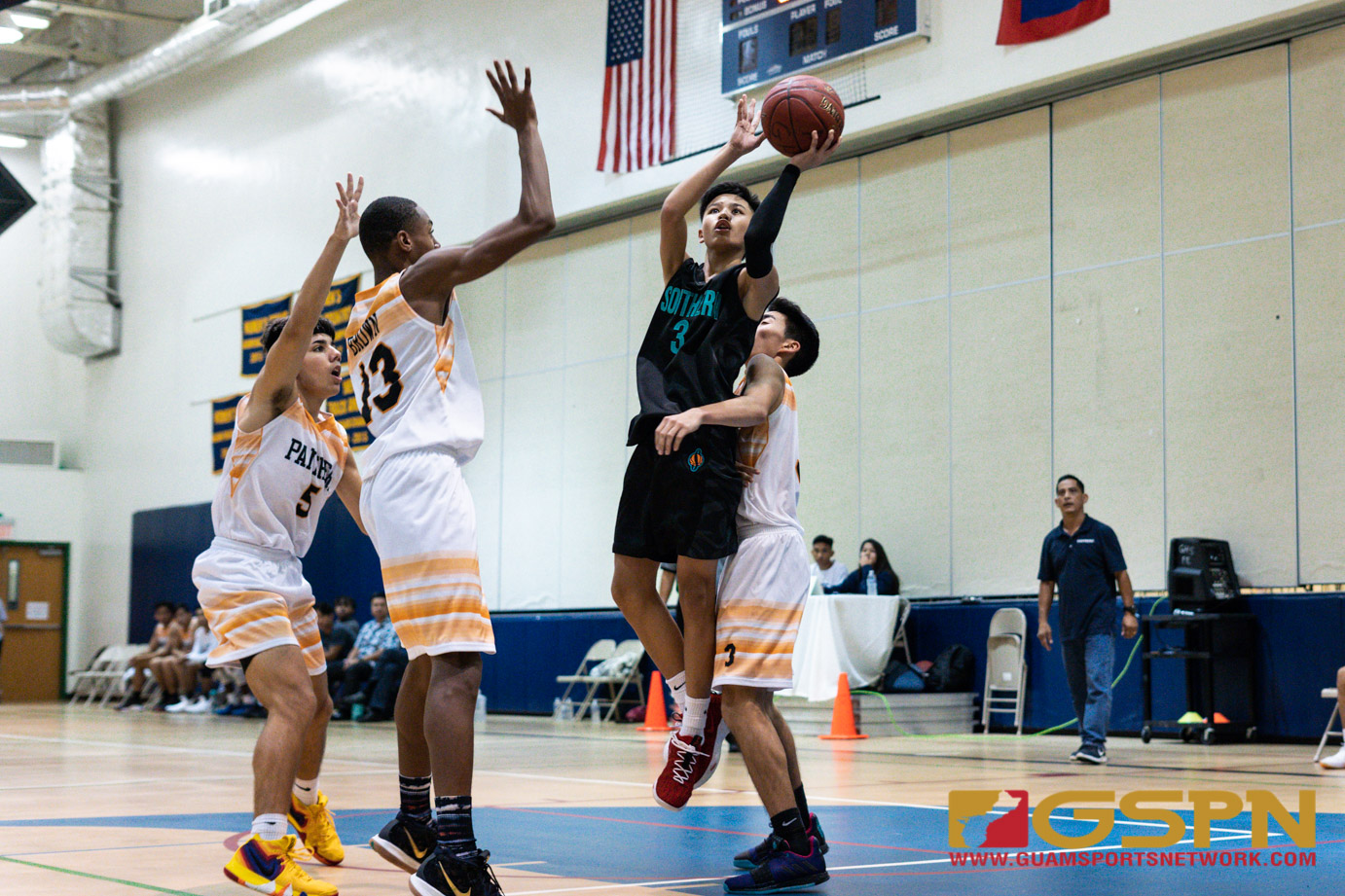 By Brandon Kinsella
The Southern Dolphins earned their first win of the IIAAG Boys Basketball season on Tuesday night in an away game against the Guam High Panthers. The Panthers led for the entire first half, but a strong performance by Dolphins Elijah Cruz helped put the Dolphins in front, securing a 58-54 win.
A plethora of jump shots were taken by both teams throughout the ballgame. Threes and mid-range shots were the focus for both offenses, and it would come down to who could make more of their jumpers in the end.
The Dolphins trailed for the entire first-half, but managed to keep the score tight throughout the game. All they needed was momentum to get in front and they found it when guard Javier Duenas nailed his second three-point buzzer beater to end the 3rd Quarter. The three cut the deficit to just one at 47-46 and would give the Dolphins confidence going into the final quarter.
The Dolphins were able to ride the momentum at the start of the 4th Quarter as Forward Kyler Afleje drained a three-pointer to give his team their first lead of the game at 49-47. Then a big defensive play by Elijah Cruz stopped Panthers Forward Nicholas Keefe from scoring in transition.
Down by five with a minute left to go, Panther Jayson Jackson forced a huge steal with an open lane to the basket but would miss on the layup opportunity.  
Cruz, who had been hot the entire game, put the nail in the coffin, after sizing up his defender and hitting a left-hand floater to put the game in hand with only 38 seconds left to play.
Cruz, who finished with 19 points, described what went through his mind as he made the shot that iced the game.
"I was just trying to do whatever I could to put our team in the best position to win. I'm glad the shot went in."
The Panthers played effectively throughout the first half. They knocked down their jump shots and their pressure defense caused a lot of turnovers. However, they accumulated 10 fouls in the first half alone. Southern's strategy in the first half was to wear out the Panthers defense through their ball movement at the top of the key, which forced Panthers guards to switch and stay moving. With time, their strategy paid off and the Dolphins would be too much for the Panthers to overcome.
Panthers Nicholas Keefe led his team in scoring, finishing with 17 points. Center Corey Brown made key contributions for the Panthers as well, finishing with eight points and 10 rebounds.
"Coach kept telling us keep playing, keep fighting. We've had a lot of seasons where we only won one game, so opening our season with a win means a lot to us and I'm glad we were able to come back." – Elijah Cruz
PHOTO GALLERY BROUGHT TO YOU BY:

2022 GSPN I MÅS METGOT COMPETITION
2022 GSPN I MÅS METGOT COMPETITION
2022 GSPN I MÅS METGOT COMPETITION
2022 GSPN I MÅS METGOT COMPETITION
2022 GSPN I MÅS METGOT COMPETITION
2022 GSPN I MÅS METGOT COMPETITION
COMING SOON …
GNYFF Championship Saturday
2nd Annual Greg D. Perez Fishing Tournament on Saturday
GML Playoffs
1st Quarter Sports
QUICK HITS
Team Onslaught represented Guam at the National X-Ball League paintball tournament in Sacramento, CA. The squad finished in 3rd place out of 12 teams in the Division 5 category.
Front L-R: Frankie Borja, Robert Delos Reyes
Back L-R: Marvin Reyes, Ericka Camacho, Gavin Santos, Nick Rivera, Nikki Tan, Adrian Mora, Ralph Sgambelluri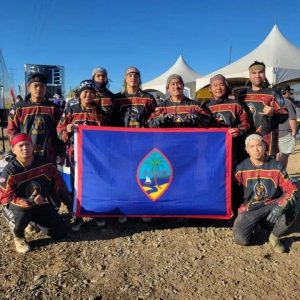 ———————————————–
Purebred Jiu-Jitsu Guam adds three more to their black belt stable. Daniel Cayanan, Cameron Mantanona and Peter Ungacta received their black belts on Saturday from Professor Stephen Roberto.