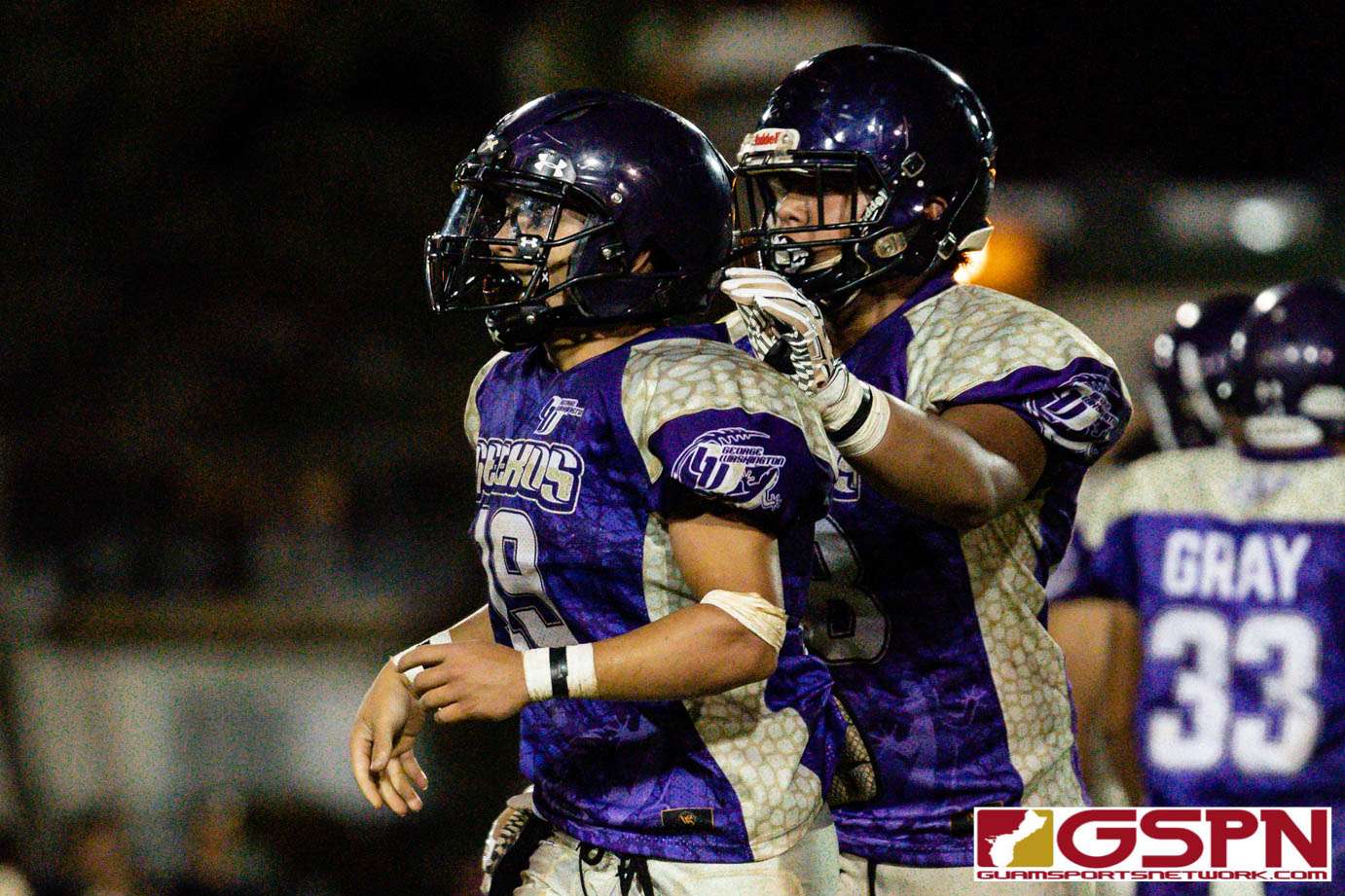 By Jay Leon Guerrero
The George Washington Geckos celebrated their homecoming with a 22-0 victory over the JFK Islanders in the IIAAG Football League. Defense was key for the Geckos, holding JFK to negative yardage in the first half.
The Geckos recorded four sacks and a safety to hold down the Islanders by halftime. Defensive end William Rios had two sacks in the first half. Noah Quichocho and Aziah Pangelinan also recorded first half sacks.
The JFK defense also made plays in the first half with Jacobe Quinata forcing a fumble on the initial GW drive in the first half. Nico Velez recovered the fumble but the JFK offense was forced to punt three plays later.
The Geckos moved the chains with running backs Eian Naputi and Keanu Gray scrambling for yardage to advance into the red zone. GW quarterback Ricky Macias found Brendyn Cruz for a 12-yard touchdown to end the first quarter up 6-0 after a missed PAT.
Rios sacked JFK quarterback Quiton Kakas in the end zone for a safety to start the second quarter. GW received the ensuing kickoff and Macias threw another touchdown, this time a 21-yard pass to Naputi to lead 15-0 at halftime.
Islanders show heart
JFK did not allow GW to walk all over them and played with a higher sense of urgency to start the second half. Kyler Aguon was a menace at the line of scrimmage for JFK and recorded a tackle for a loss and then forced a fumble to give possession to the JFK offense.
The JFK offense was unable to capitalize and was forced to punt. The Islander defenders step up again with Devan Pangelinan forcing another fumble to give possession back to JFK.
Rios returned the favor and recovered a fumble to give GW possession. The Geckos drive deep into JFK territory but Macias' pass gets intercepted by Velez and the Islanders are not out of it yet with six minutes left in the fourth quarter.
JFK quarterback Kakas found Velez twice and the Islanders marched into Gecko territory. The Islanders looked to go to wide receiver Juan Sarmiento for a touchdown, but the play was broken up by Gecko defensive back Cason Jackson as the Islanders gave up possession on downs.
Mykai Blas took over for GW on offense and punched in a three-yard score to end the game 22-0. Blas scored the touchdown which was set up by his own 52-yard gain on second down.
"Hat's off to JFK, they came out in the second half and played with a lot of heart," said Macias.
Macias said his team needs to learn from the game tonight and bring the same intensity in the second half of games despite the halftime homecoming activities.
"We have to learn from that, it seems we sat back and thought we were just going to win."
Naputi shared the backfield with Gray and Aiden Gumataotao. Naputi had 46 yards and a reception touchdown for 21 yards, Gray had 30 yards and Gumataotao rushed for 21 yards. Blas had three carries in the fourth quarter for 54 yards and a touchdown.
On defense, the Geckos were anchored by Quichocho and Rios. Quichocho had seven tackles, three of which were tackles behind the line of scrimmage. Rios had two sacks, a safety and recovered a fumble for the Geckos.
Rios had a big night individually on defense but he said the team was simply following orders from their coaches.
"We had a good size crowd tonight and we were feeding off of them. We didn't really plan for for it, we all just went out there and did our jobs on defense," said Rios.
The Geckos secured a second seed with a Shark loss to the Panthers, they will have home field advantage throughout the playoffs.
"Its good to have home field advantage but every team is capable of playing well on any game," said Macias.
The Geckos improve to 3-1 and own sole possession of second place with the FD Friars currently in first place.
"Our team is just going to focus on the next game (or opponent) and play every game like its our last," said Macias.
The Islanders did not get much offensive production but their defense managed to force four turnovers. Aguon led the Islanders with seven tackles, Quinata had five tackles and a forced fumble. Velez had the games lone interception.
The Islanders look to avoid GW in the first round and will look to move into the fifth or sixth seed depending on the remaining regular season games. The Islanders fall to 1-4.
PHOTO GALLERY BROUGHT TO YOU BY:

Foody's Fun Facts
Foody's Fun Facts with Makayla Atoigue
ND Royals Rugby Player Makayla Atoigue lays down her Foody's Fun Facts and shares her dream vacation spot
Foody's Fun Facts
Foody's Fun Facts with Makayla Atoigue
ND Royals Rugby Player Makayla Atoigue lays down her Foody's Fun Facts and shares her dream vacation spot
Foody's Fun Facts
Foody's Fun Facts with Makayla Atoigue
ND Royals Rugby Player Makayla Atoigue lays down her Foody's Fun Facts and shares her dream vacation spot
COMING SOON …
YOUTH FOOTBALL LEAGUE KICKOFF June 4
Todd Gurley Football Camp on Andersen
GSPN Boys Volleyball All-Star Game
Pacific Mini-Games in Saipan
QUICK HITS
Sisters CiMara-Lei (10th) and CiHara-Lei (9th) Wessling both made the Academic All-District Team playing for Veterans Memorial High softball team in Converse, TX.
They are the daughters of former star quarterback and pitcher Chris 'Cool Breeze' Wessling and wife Missy.
CiMara-Lei was also named the league's Newcomer of the Year after the family moved from Dallas to San Antonio.