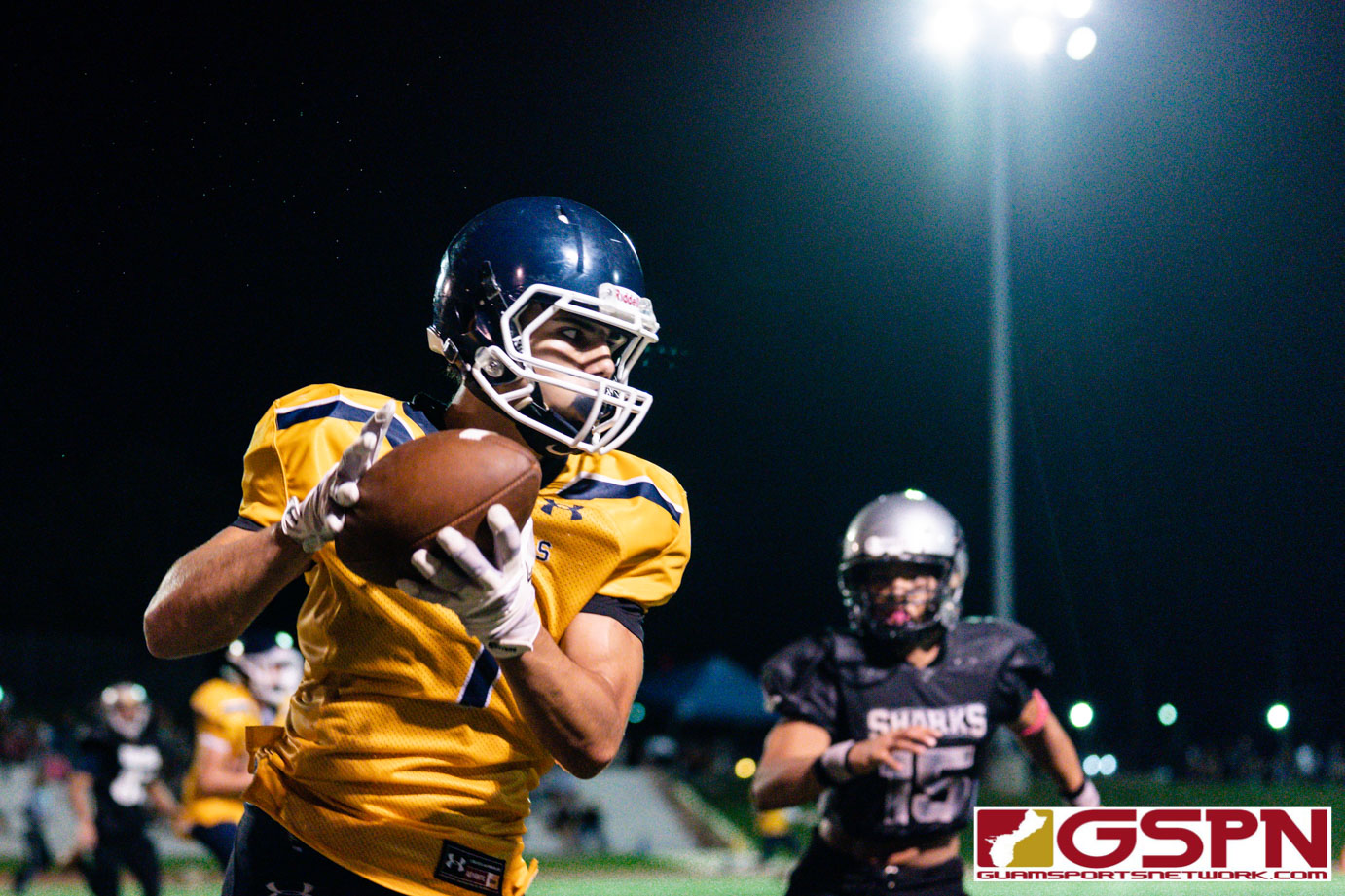 By Robert Balajadia
The Guam High Panthers didn't take their first lead of the game until a little over one-minute left in the 4th quarter. Their homecoming party was in danger of being washed out by the visiting Sanchez Sharks, but quarterback Travon Jacobs and receiver/linebacker Nick Keefe came up clutch in final moments to give the home team a 20-14 win.
Down 14-12 facing a 4th-and-goal from three yards out, the Panthers took a timeout to discuss the play. A field goal would give them a one point lead, but the team decided to put the ball in the hands of Jacobs to make a play. The snap in shotgun proved to be a designed run as Travon sprinted towards the left side of the field and dove in for what would be the game-winning touchdown.
"It was coach's decision to run that play. They called me back on the final play and told me to run a 'bootleg' and I just had to dive into the end zone to get that touchdown," said Jacobs.
Sanchez head coach Jimmy Naholowaa, and many Sharks fans on the sideline, didn't believe Jacobs had scored on the play after claiming his knee had hit the ground before the ball crossed the plane. Naholowaa and sideline referee Jeff Warfield had a heated discussion with the play ultimately standing to give the Panthers the 18-14 lead.
Guam High punched in the 2-point conversion on a draw play to up the score 20-14 with a little over a minute left in the game.
On the ensuing kick-off, Jacobs went for a high and short kick which was muffed by the Sharks with Keefe pouncing on the loose ball for his third fumble recovery in the quarter.
"We do such a good job at situational awareness in practice. Believe it or not, we go over all the little things, fumble recovery, jumping on the ball and attention to detail. It's a big thing for us here at Guam High. We aren't strength in numbers so we have to be smart," said Keefe.
The Panthers would kneel out the rest time remaining with Sanchez having only one timeout left, unable to stop the clock.
The Sharks were missing key players with brothers Jonathan and Matt Sablan both sidelined through injuries, but running back/linebacker Kam Toves suffered an in-game injury in the 1st quarter and would not return.
Breakdown
The Sharks would strike first after a 46-yard run from Kam Toves set up running back Adin Lumba for a two-yard touchdown. Sanchez would go up 6-0 after failed 2-point try.
Guam High answered back quickly in the 1st, striking on a 20-yard touchdown pass from Jacobs to AJ Johnson to tie the game at six, also failed on the PAT.
The Sharks would get big runs from Jeremiah Sablan to get in the red zone, finishing off a long drive with a five-yard touchdown run from Lumba up the right side in the 2nd quarter. A successful 2-point try put the Sharks up 14-6, a score that would hold until halftime.
The Panthers struck right off the halftime kick-off with Jason Jackson returning an 85-yard punt for a score. Jackson switched fields at his own 20 and outran the whole Sharks special teams for the big score up the right sideline. A failed PAT would still have the Sharks ahead 14-12.
After the Panthers fumbled the ball away at midfield, forced and recovered by Lumba, the Sharks were on the attack holding a 14-12 lead and half the quarter to go. Keefe, who had already recovered one fumble earlier in the quarter, made another big play after the defense held up Sharks quarterback Jayton Penaflor long enough to force a fumble. Keefe made the heads up play for his second fumble recovery to set up the eventual game-winning drive.
Things got messy in the 4th quarter as two holding penalties negated a 40-yard pass and a touchdown pass for the Panthers on the same drive.
"It's definitely frustrating," said Jacobs on the penalties in the 4th. "But I told my line all night that I trusted them and I forgive them for whatever mistakes they make. I'll build them up and never talk down to them. I let them know that if they got my back I got theirs too."
Facing 1st and goal at the 10 after a catch from Johnson, the Panthers ran three straight running plays which got them to 4th-and-goal from the three. They decided to keep their offense on the field which would end in a Jacobs touchdown for the win.
The kick-off was designed and Keefe made his final impact on the night.
"That was a beautiful kick from [Travon]. But transitioning from cross-country, I take a lot of pride in my endurance in being able to have my second wind throughout the 4th quarter. [Travon] gave me a great kick so it was mine for the taking," said Keefe.
PHOTO GALLERY BROUGHT TO YOU BY:

GPS Sports Calendar
SU

MO

TU

WE

TH

FR

SA
28

29

30

1

2

3

4
Events for July
1st
No Events
Events for July
2nd
No Events
Events for July
3rd
No Events
Events for July
4th
No Events
5

6

7

8

9

10

11
Events for July
5th
No Events
Events for July
6th
No Events
Events for July
7th
No Events
Events for July
8th
No Events
Events for July
9th
No Events
Events for July
10th
No Events
Events for July
11th
No Events
12

13

14

15

16

17

18
Events for July
12th
No Events
Events for July
13th
No Events
Events for July
14th
No Events
Events for July
15th
No Events
Events for July
16th
No Events
Events for July
17th
No Events
Events for July
18th
No Events
19

20

21

22

23

24

25
Events for July
19th
No Events
Events for July
20th
No Events
Events for July
21st
No Events
Events for July
22nd
No Events
Events for July
23rd
No Events
Events for July
24th
No Events
Events for July
25th
No Events
26

27

28

29

30

31

1
Events for July
26th
No Events
Events for July
27th
No Events
Events for July
28th
No Events
Events for July
29th
No Events
Events for July
30th
No Events
Events for July
31st
No Events
Foody's 5 Fun Facts
St. John's Knight Aarman Sachdev
DID U KNOW?
Since forming the GNYFF in 2009, the league has never gone without a season until 2020. The league announced their plans to cancel the 2020 season amidst the COVID-19 pandemic.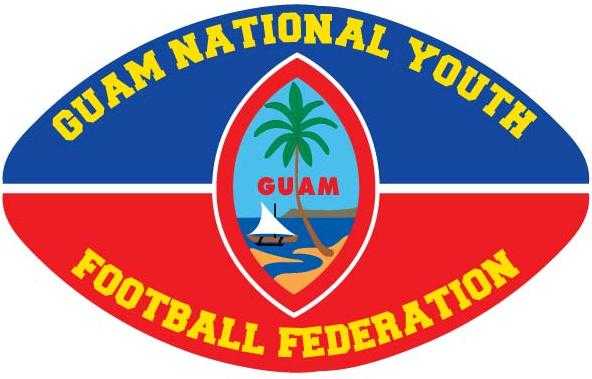 COMING SOON …
ALL SPORTING EVENTS HALTED DUE TO THE CORONAVIRUS ISSUE
QUICK HITS
RIP: Former Guam football player Phil Mendiola, shown here with son Tano, passed away in Las Vegas due to a heart attack. Mendiola played for numerous Guam teams from youth to varsity. He was 39.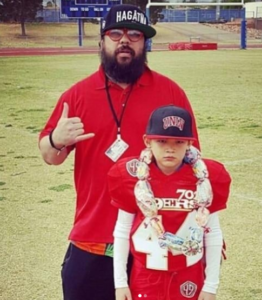 —————————————————-
Morgan McKenna (left with black face mask) poses for a photo with Guam Football Association Technical Director Sang Hoon Kim (seated, with blue face mask) and Guam Football Association Assistant Technical Director Ross Awa (standing) after signing his letter of commitment to play intercollegiate men's soccer for Muskingum University in Ohio. The Fighting Muskies compete in NCAA Division III's Ohio Athletic Conference.