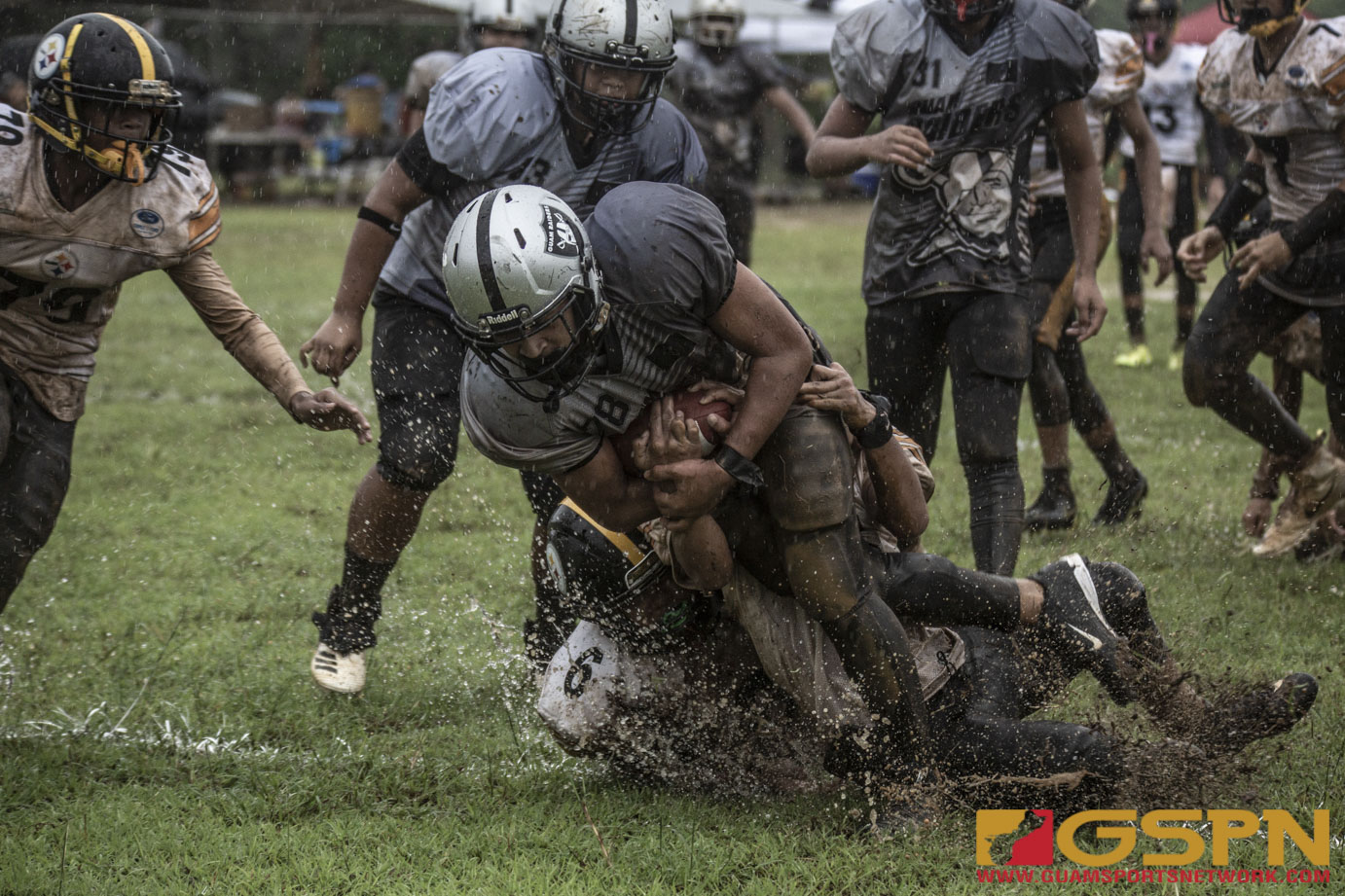 By Brandon Kinsella
Stormy weather and a flooded Tamuning football field did not prevent Sunday afternoon football action from happening. In the Matua Division, the Raiders defeated the Steelers 20-6 behind a dominant run game from Kin John San Nicolas. San Nicolas scored all three of his teams' touchdowns and amassed 136 yards to help the Raiders stay unbeaten.  
"I felt good out there, my teammates gave me good blocks and I was able to capitalize all day. I had a lot of fun playing in this weather, it's real football," said San Nicolas.  
At halftime, the Steelers only trailed the Raiders 8-0.
On the Raiders first offensive possession of the second half, good defense by the Steelers along with a slippery football would force a fumble. Defensive back Bryant Ignacio recovered the football, giving the Steelers possession at the 45 yard-line.
Then, a screen pass by Quarterback Lance Muna Aguon to receiver Isaiah Hesus would turn into a 45-yard touchdown. After catching the ball and reading a few blocks, Hesus found room on the outside and outran the Raider defense for a score.
The Steelers opted to tie the ballgame with a two-point field goal conversion but missed on the attempt and trailed 8-6 with some time to work with on the clock.
Following the score, the Raiders made some adjustments in order to pull away from their opponents. They looked to San Nicolas again and he would not disappoint, as a counter run to the right side would catch the defense off guard and open up room for San Nicolas to breakaway for a 60-yard touchdown. The Raiders went for two again but missed on the attempt. Nonetheless, they still led 14-6.
Later in the quarter, the Steelers tried to continue the momentum of their passing game, but a good read by Cornerback Henry Cruz would result in an interception. The interception would setup the Raiders for their last score.
The final touchdown would put the game out of reach as San Nicolas ran it in for a 35-yard touchdown.
"This means a lot for our team, we're one step closer to a championship. We're going to continue to work hard," said San Nicolas. 
PHOTO GALLERY BROUGHT TO YOU BY:

QUICK HITS
The Okkodo Bulldogs secured third place at the Far East Division I Girls' Basketball Tournament in Camp Humphreys, South Korea. Jasmine Samson and Haley Cabrera were named All-Tournament selections in recognition of their hard work on the court. Vaysia Blas won the 3-point shooting contest. The Bulldogs played nine games in three days with a squad of eight:
Erin Moldez
Jasmine Samson
Haley Cabrera
Sharm Tauiwei
Hanna Meinik
Jordyn Zacarias
Jordin Hernandez
Vaysia Blas