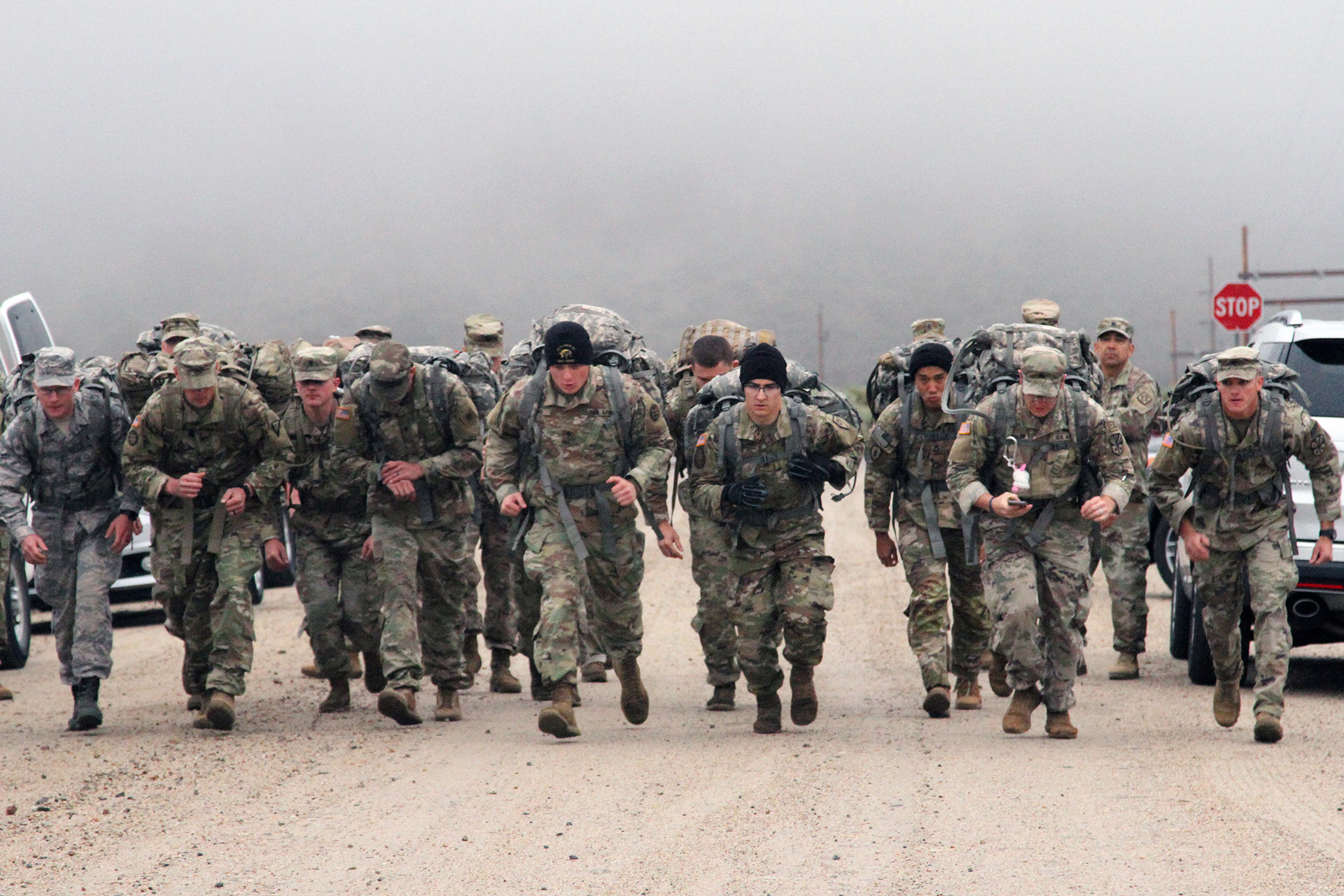 By STAFF SGT EDDIE SIGUENZA
California National Guard
HAWTHORNE, Nev. — Two Guam Army National Guardsmen faced their toughest military tests in their young careers after competing in the 2019 National Guard Region 7 Best Warrior Competition (BWC) May 21-24 in Hawthorne, Nevada.
Sgt. Jermain Mendiola and Spc. Andrew Quinata gutted out respectable efforts in an event that challenged competitors through a myriad of Army skills. But it wasn't just the physical aspects they had to overcome. Nevada's freakish weather welcomed the Guamanians — as well as other competitors and supporters — with icy rain and cold wind. The BWC was held in a Nevada mountaintop at an altitude of 4,000-plus feet, adding to Mendiola and Quinata's challenges.
"It's unusual. We don't get weather like this late in May," said Master Sgt. Cameron Anderson, Nevada Army National Guardsman and BWC noncommissioned officer in charge. "It's extremely hard on the competitors, but it's also challenging for the organizers. It's cold on everyone."
Guam's tandem contested with Soldiers and noncommissioned officers (NCOs) from California, New Mexico, Colorado, Arizona, Hawaii, Utah and the host state. One Soldier and one NCO earn the Best Warrior title. The winner advances to the All-National Guard BWC later this year, with that champion representing the entire National Guard at the All-Army BWC in October.
But the Nevada competition was as tough as any. The BWC began with an Army Combat Fitness Test (ACFT) that's still in the U.S. Army's infant stages. The ACFT becomes the Army's physical test of record October 2020, but various units are implementing this new format for familiarization.
Two days after the ACFT, the BWC ended with its toughest event — a 12-mile ruck march. Mendiola and Quinata hauled a 35-pound backpack up and down dirt-and-rock terrain, while being thrashed with rain and gusty wind.
"That was the toughest thing, the ruck march," said Mendiola, who draped a Guam flag over himself a few hundred yards before running to the finish line. "The elevation. With us islanders at sea level, coming to a 4,000-foot elevation level, it was really tough. Going through that whole change in the air, with it being cold and the rain falling."
"During that time I had to dig deep and remember who I was representing," Mendiola added. "I had to remember the people who are counting on me to cross that finish line. First or last, but to finish it to show that islander pride."
Every competitor was graded on performances in the ACFT, M-16 rifle and M-4 pistol marksmanship, land navigation, physical fitness test, grenade accuracy, and a slew of other military tasks and basic battle drills. Following the ruck march, participants were transported to Nevada National Guard command headquarters in Carson City, where written tests and oral boards were held.
"The biggest thing I took from this competition is refining my basic Soldiering skills, from learning how to shoot an AT4 (rocket launcher) disassembling a 50-cal (weapon) … and just really going back to the basics and bettering myself as a Soldier," Quinata said.
Staff Sgt. Dion Cruz, Guam Guard's BWC mentor, appreciated his team's efforts and lauded them for gutting through the harsh conditions.
"The one thing I wanted them to get out of this is, is for them to find out, as warriors, what they're made of," Cruz explained. "And in that process, finding out what they have to offer the Guam Army National Guard and the organization."
Cruz added, "Unlike training on drill, they're surrounded. Out here, they're alone. They have time to reflect, they have time to think. I hope what they can take from this is becoming better leaders, becoming better Soldiers and bringing that back to the Guam Army National Guard. Because in the end thats what its all about: Making our organization better."
When final scores were tabulated, Arizona's Sgt. Kurt Van De Graaff took top honors in the noncommissioned officer category while Utah's Spc. Brenden J. Allen earned the Best Soldier honor.
Guam will host Region 7 BWC next year. It will mark the first time ever the competition will be held on island.

QUICK HITS
The Figo Islanders 40s women's softball team took gold in the Senior Softball World Championship in Las Vegas. Figo came out of the loser's bracket and beat the Arizona Belles 17-3 in the AA division championship game Sunday afternoon.
Other Guam teams that played in the 40s tournament were: Team SOTTA (women's) and Bud Light Guam, Friars 671 and Sindalun Guahan (men's).
Sindalu finished a respectable 4th out of 24 AAA division teams.