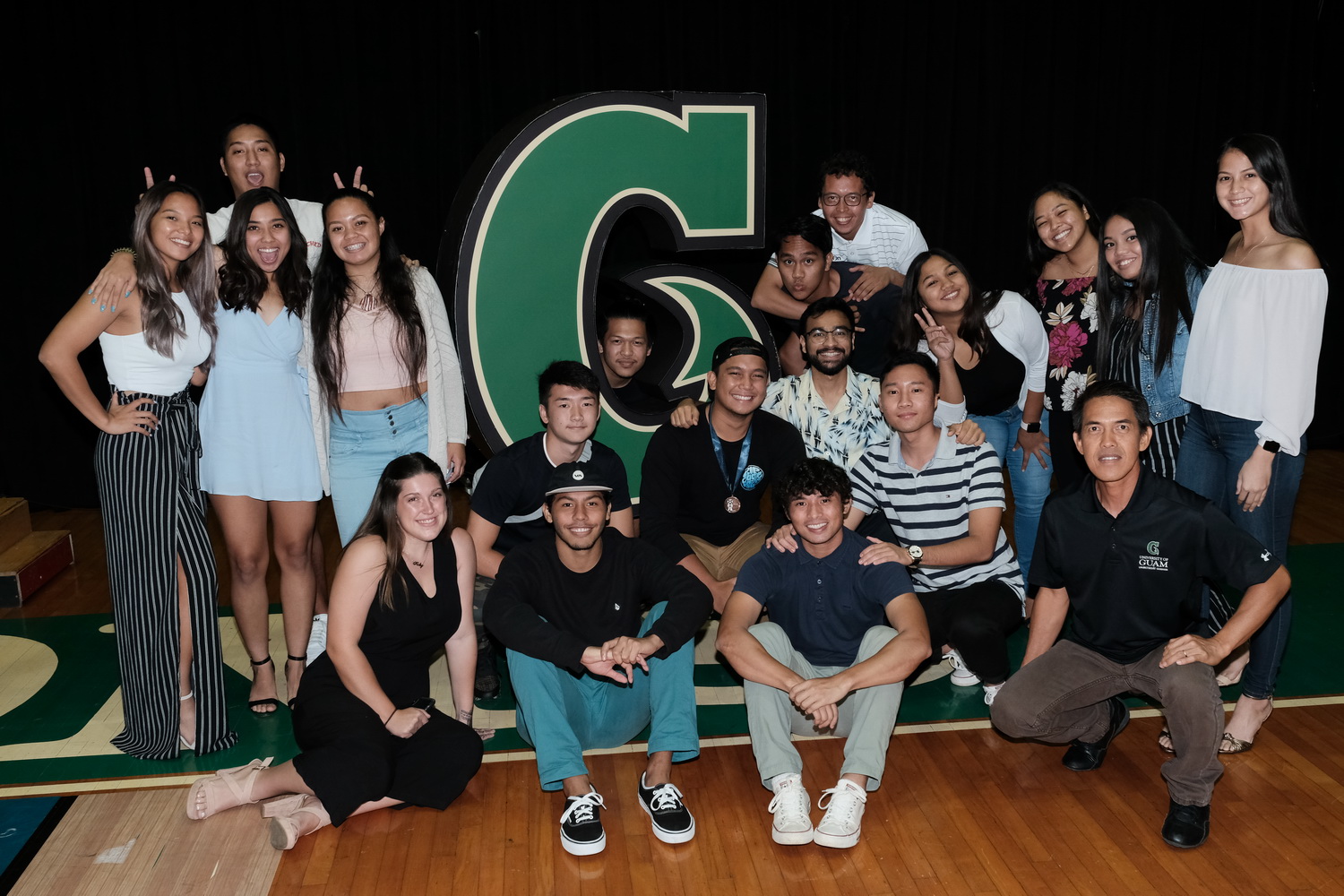 PRESS RELEASE – The University of Guam Triton Athletics had their Student-Athlete Reception on Tuesday night in the UOG Calvo Field House to honor the UOG student-athletes for their hard work and success in the 2018-19 academic year.
The UOG upper administration was present for the event, as Dr. Thomas W. Krise, UOG President, Anita B. Enriquez, Senior Vice-President and Randy Wiegand, Vice-President for Administration and Finance attended the event as well as the Dean of Students, Lawrence Camacho.
Jonas Macapinlac, the Director of Integrated Marketing, served as the MC for the event. Dr. Krise gave the welcome for the reception and then UOG Athletics Director, Doug Palmer, gave the "State of the Varsity Athletic Program" which highlighted the successful 2018-19 that Triton Athletics had.
Palmer also introduced the two new coaches for the 2019-20 academic year, Celcile Olandez, the new women's basketball coach, who will start the women's basketball program at UOG and Gary Larkin, the new women's soccer coach, who will take over the highly successful program next year as Triton Athletics split the men's and women's head coaching duties for 2019-20.
The UOG coaches then took over the program and gave out their awards:
Men's Basketball – Head Coach, Brent Tipton
Most Valuable Player – Logan Hopkins
Best Offense – Logan Hopkins
Best Defense – Aaron Castro
Sportsmanship – Victor Jones
Women's Soccer – Head Coach, Rod Hidalgo
Most Valuable Player – Ariya Cruz
Best Offense – Elisha Benavente
Best Defense – Koholali'i Maertens
Sportsmanship – Sopheary Soun
Men's Soccer – Head Coach, Rod Hidalgo
Most Valuable Player – Dylan Naputi
Best Offense – Ryoga Okada
Best Defense – Jordan Rosario, Kautong Omengkar
Sportsmanship – James Yang, Ichiyo Kawata
Doug Palmer then awarded the "Student-Athlete of the Year" award that went to Logan Hopkins of the Men's Basketball Team.
Said Palmer "Logan carried the men's basketball team on his shoulders, he averaged 34 points a game and scored both inside and out, he had a great year for the Tritons".

QUICK HITS
The Figo Islanders 40s women's softball team took gold in the Senior Softball World Championship in Las Vegas. Figo came out of the loser's bracket and beat the Arizona Belles 17-3 in the AA division championship game Sunday afternoon.
Other Guam teams that played in the 40s tournament were: Team SOTTA (women's) and Bud Light Guam, Friars 671 and Sindalun Guahan (men's).
Sindalu finished a respectable 4th out of 24 AAA division teams.