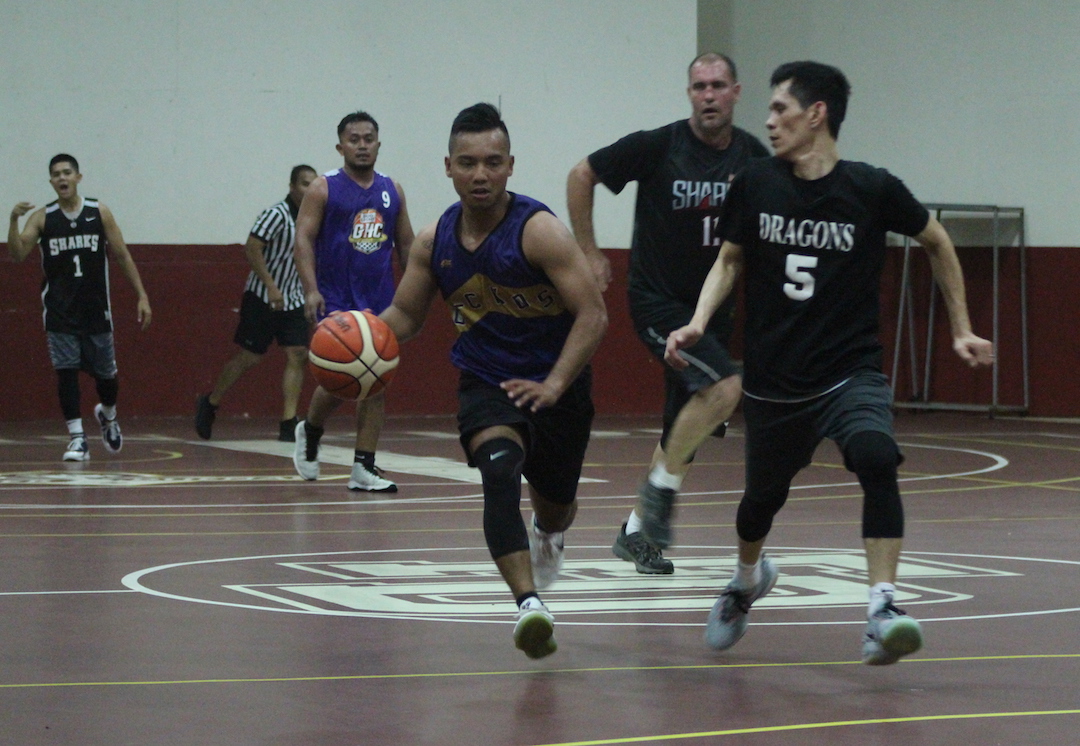 By Brandon Kinsella
In the Coors All-Island Alumni League, #2 seed GW advanced to the Championship game after a hard-fought 50-48 victory over #3 seed Sanchez on Sunday night. The final minutes of action would have fans on the edge of their seats as both teams were determined to pull off a victory.
Ernest Aquino had a clutch performance for GW, hitting big shots in the closing minutes to prevent Sanchez from pulling off a comeback.
With 40 seconds left to play, Sanchez was down by five at 47-42. A huge three-pointer by Sanchez shooting guard Jun Navarro would narrow the deficit to just two with some time to work with on the clock. GW's Aquino would immediately answer with a score in the paint, after catching a bullet pass from his teammate on the inbounds play. The shot gave GW a four-point lead with 22 seconds left to play. Aquino elaborated on his ability to come up big for his team when it mattered:
"I know my role on the team. It's to play hard, dig deep, and get the guys motivated. I mostly do all the dirty work and when I get an opportunity to score, I'll take it. It was nice to get some buckets, definitely some big ones down the stretch, but I enjoy sticking to my role."
Aquino finished the game with 10 points and seven rebounds.
Sanchez was not quite finished though. Guard AJ Carlos, who hit some big shots earlier in the ballgame, would hit another, after sizing up his defender from the top of the three-point key. His dribbling moves opened up some space between him and his defender and he was able pull off a difficult stepback three-pointer. The shot put Sanchez within two at 50-48 with ten seconds left to go.
Carlos led his team in scoring, finishing with 14 points on the night.
Then, as Sanchez's Jazz Ngiartumerang drove to the paint, GW's James Stake would be there to deliver a huge block, giving GW possession with just one second left to go. It seemed like the game was over following the play. But Sanchez would get one last chance to either tie or take the lead after GW turned the ball over on their inbounds attempt.
Sanchez managed to find an open man as Ben Whitaker received the pass for a mid-range attempt. The shot would not fall, however, and GW would walk away with a title shot.
Aquino gave some input on the Championship game next weekend, and how his team can pull off a victory over the #1 seed Elite Friars:
"We definitely have to play like a team and communicate. We can't give up on any play and need to give 110% on every single play. The team we're playing is definitely going to be a tough matchup, they beat us by good margin in the regular season. But this will be a good game."
Phoenix Paradise Sons vs Elite Friars
The battle between both of FD's Alumni teams would also result in a wild finish. Elite was able to pull off a 67-63 victory behind huge efforts from Will Stinnett. Stinnett led all scorers, finishing with 24 points. Elite advanced to the Finals following the win and will have the opportunity to defend their title against GW next Sunday.
PHOTO GALLERY BROUGHT TO YOU BY: