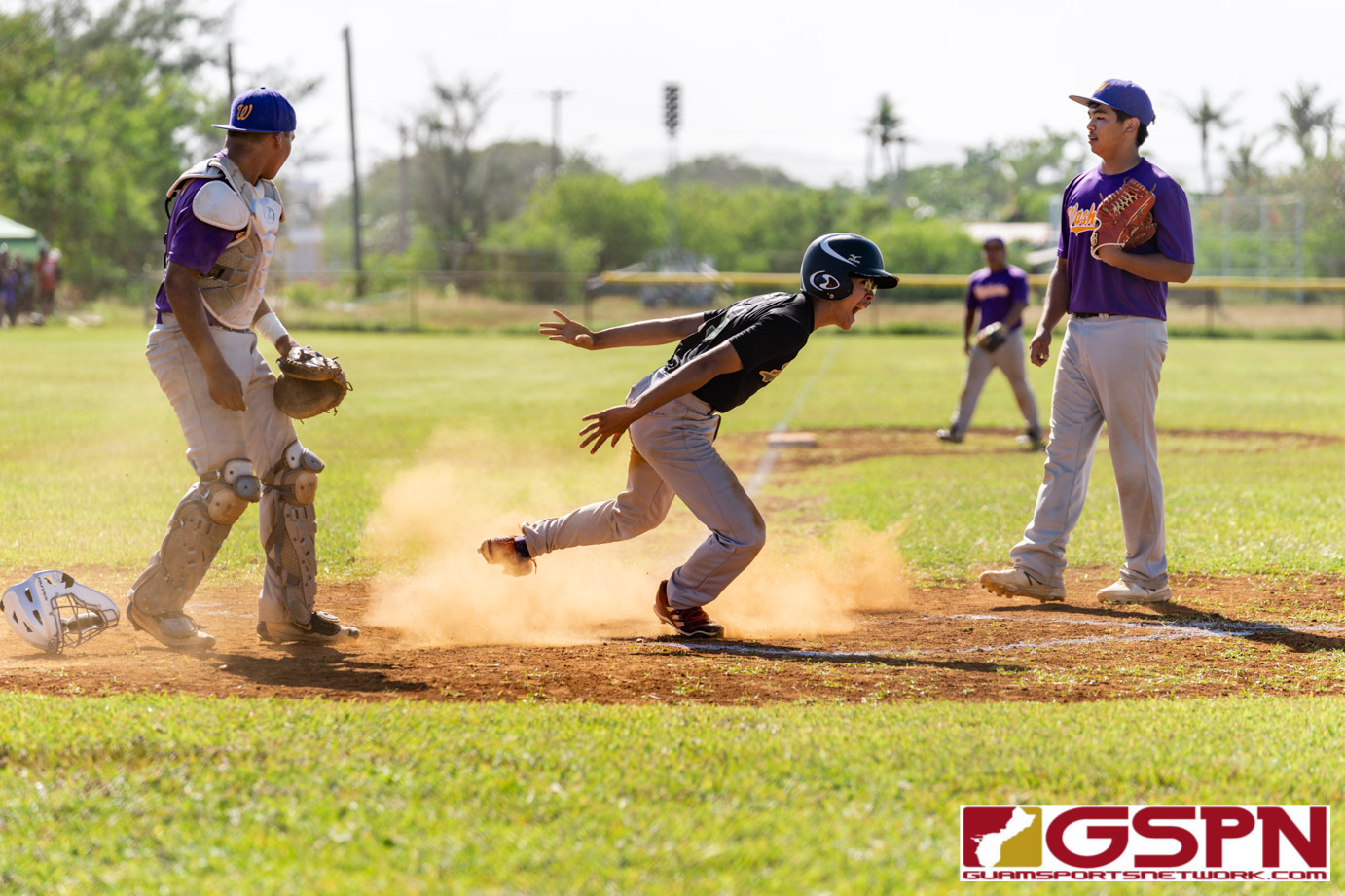 By Robert Balajadia
The GW Geckos had not lost a baseball game all season, until Saturday afternoon. The upstart JFK Islanders shocked the home team Geckos in a 5-3 upset, knocking GW into the elimination bracket of the double-elimination playoffs.
The Islanders trailed 3-1 through three innings, tied the game in the 5th, then took the lead in the 7th to stage their biggest victory of the season so far. Birthday boy Jobe Andrew came in as relief pitcher in the 5th inning, ran in the lead-changing run, and earned the final strikeout in the bottom of the 7th to lock in the win.
"I just tried to focus on my catcher and treat it like it was practice and throw strikes. It was a team effort and we focused on our defense," said Andrew.
Hustle and bench participation helped fuel the win and JFK had to commend their overall team effort in their post game huddle.
"All season long the bench has supported us through all seven innings, through our losses and our wins. It's hard to rotate the bench in when we are playing tough teams but they still give us their best," said Vince Camacho on how important their overall team attitude has been.
Breakdown
The Geckos struck first blood in the 1st inning as Jaren Gumataotao knocked an RBI single to bring in teammate Javen Pangelinan for a 1-0 lead.
JFK would answer in the 3rd, scoring their first run off a wild pitch. Catcher Gavin Lim stormed in to tie the game, lighting up the Islander dugout with an ecstatic cheer. GW answered in the same inning as Guamtaotao would bring in another run, this time teammate Ash Tedtaotao for a 2-1 lead. An RBI triple from Gecko Andrei Camacho put the home team up 3-1.
A fielders choice in the 4th allowed JFK's Camacho to make it home to get within 3-2 before a key run would be scored in the 5th. With two outs and runners on second third, GW tried to make a play to catch Islander John Cruz's attempt to steal third. That allowed Lim to safely trot home before the trapped Cruz would be tagged to even the score at three runs.
A key play from Camacho was made in the 5th as he tracked down a foul ball to only then make a rocket throw to third base to catch a Gecko for a big double-play.
"All I heard was my teammate [John Cruz] shout go to third so I just listened," laughed Camacho.
In the 7th, Andrew would bunt a ball in a dead zone for a lead single. Lim would then hit a low grounder that briefly got lost in the grass as the GW shortstop would attempt to turn and burn a throw to try and catch Lim out at first. The throw would fly over first, which prompted Andrew to race all the way home for a lead-changing run 4-3. GW's coaches didn't agree with that Andrew had beat the throw home as they pleaded with the home umpire.
A big hit RBI from Islander Malcolm Pangelinan added to the already wild inning as the JFK fans cheered their way to a 5-3 lead.
Defense would prevail for the Islanders in the 7th as Lim made a key throw to second to catch a sliding Pangelinan for the first out. Andrew would then get the final two strikeouts with both batters looking to secure the win.
"As a pitcher, I like it when the opponents taunt more and I use it as motivation to earn more strikes," added Andrew.
"This was very important. We gave it everything we had today and we wanted it bad and we came up on top," added Camacho.
Saturday playoff scores
JFK 5, GW 3
ND 5, Okkodo 4
Southern 12, Guam High 2
FD vs. Sanchez to be played Monday
PHOTO GALLERY BROUGHT TO YOU BY:

National Guard Athletes
Scott Eclavea
Scott Eclavea is a jiu-jitsu black belt and an accomplished MMA fighter. The Guard has given him an outlet in combatives to display his martial art skills, where he's become a head instructor for that program. Eclavea has served since coming out of high school and the Guard has only changed his life for the better.
COMING SOON …
LIVE FOOTBALL ON GSPN
Semifinals: #1 FD vs. #4 Southern (Friday 7 pm)
GSPN Preseason Basketball Tournament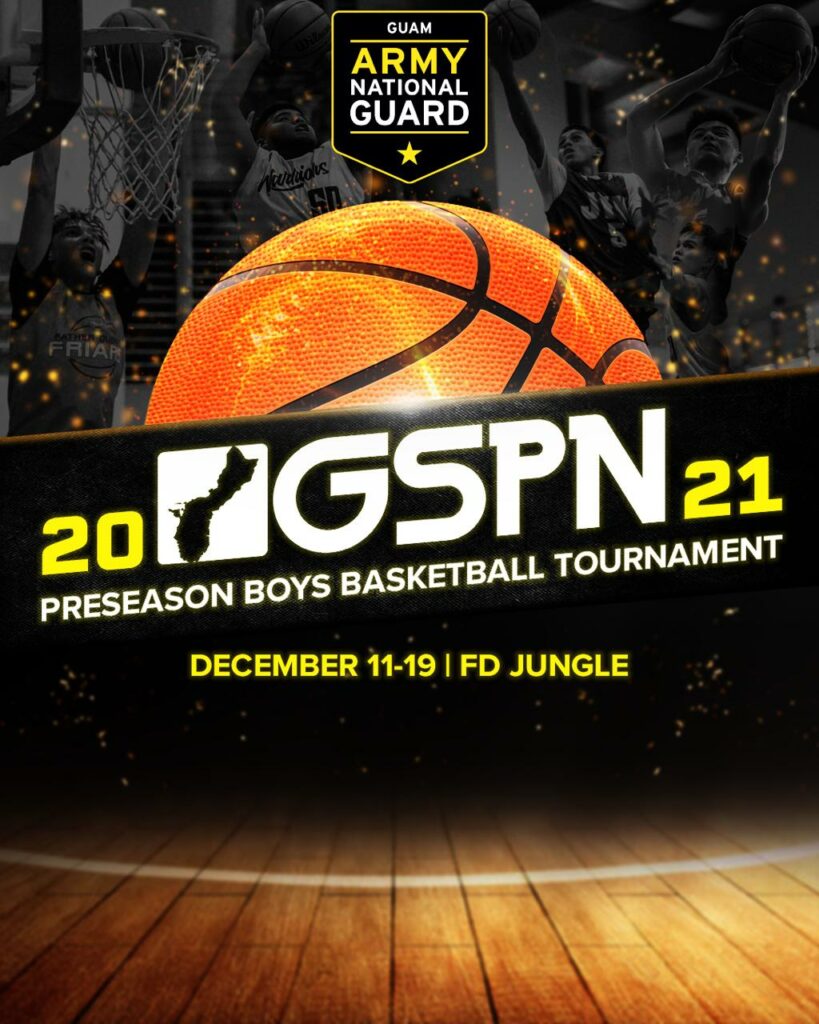 QUICK HITS
Robert Artero Maley recently captured the 182-lb. division of the Costa Mesa Classic, winning via pin in 4 out of 5 matches. Robert is a 4-year varsity wrestler at San Clemente HS (Tritons) and is currently ranked 15th in California's high school scene. He is the son of Jacque Artero Maley (AOLG 1991).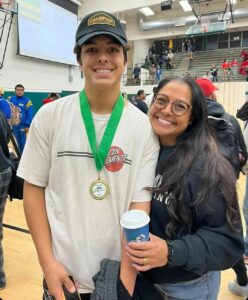 ——————————————–
Pat Taitano and Rich Abiador, teammates on the 1995 SPG volleyball team, have led their high school girls volleyball teams to the Washington State Championships in Yakima, Wa.
Taitano coaches Mt. Rainier High while Abiador leads North Creek High.
There for support is Dr. Mark Perez, a health professor at Central Washington University and a former UOG volleyball player.