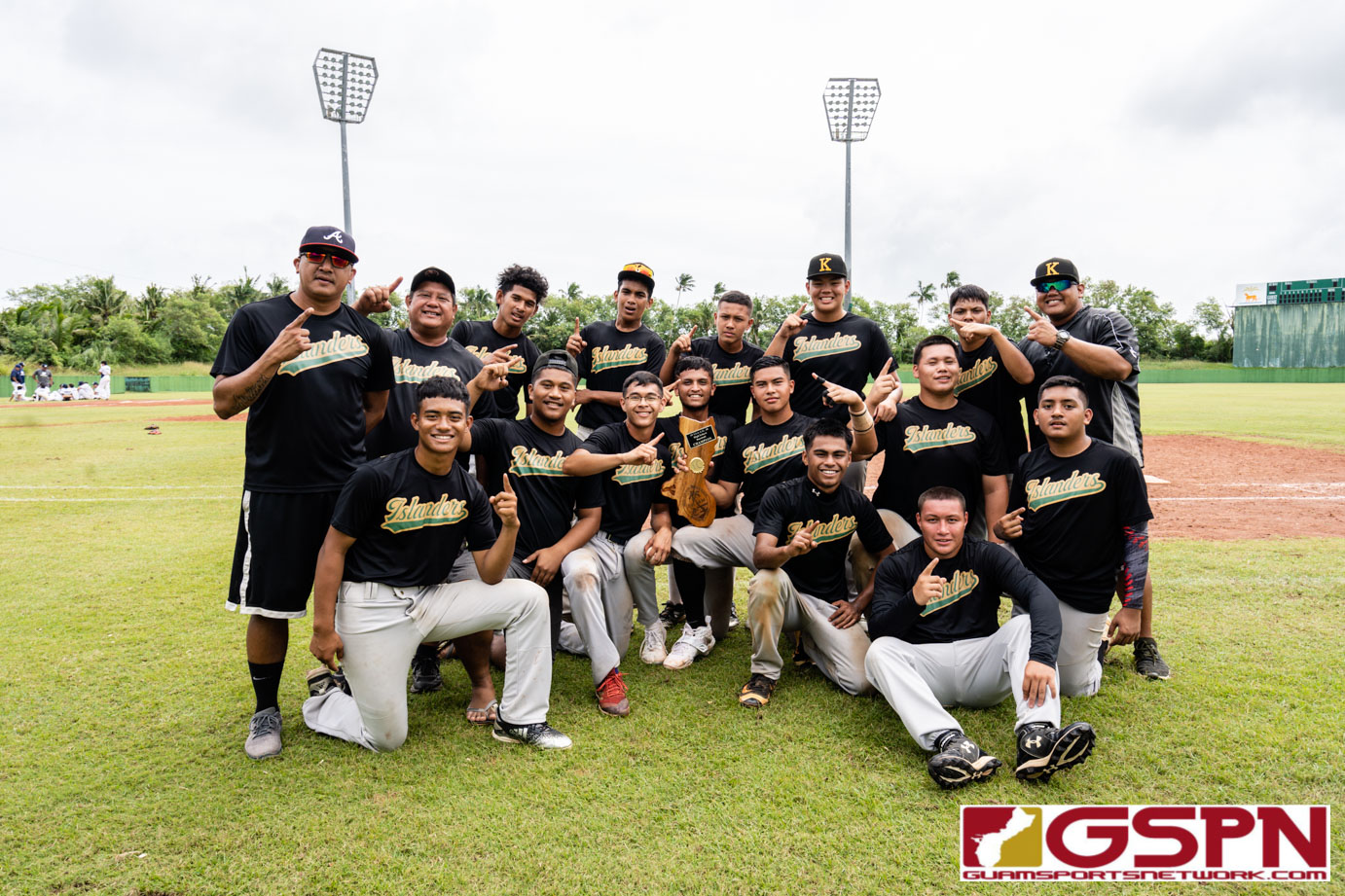 By Robert Balajadia
After missing out on bringing in the 2019 IIAAG Baseball title Wednesday evening, JFK completed their prolific playoff run Saturday morning by defeating the ND Royals 2-1 at the Leo Palace Baseball Field for the 2019 Championship.
Defenses dominated the day, but a key stolen run in the 4th inning by Johnny Cruz and a big RBI in the 7th from Zion Benavente proved to be all the runs the Islanders needed to squeeze out the victory. JFK's pitcher Gavin Lim pitched a complete game and was in charge of holding off the Royals in the 7th while nursing the 2-1 lead.
"I tried to calm down the nerves, but a Championship Game in the 7th inning in that situation, it's very hard to do. My defense picked me up by getting that big out at third base," said Lim.
The Islanders grabbed the first out after Cruz grabbed a grounder and rocketed the ball to catch ND's Kobe Martinez out at first base. JFK was able to beat James Artero to first to put ND in a two-out hole. ND's Jathan Alvarez would get on base with a single and teammate Dominic Cruz would get on base by balls.
ND had runners on first and second with Ethan Lizama at bat, but a base-stealing attempt from Alvarez and Cruz would leave both runners stranded. Lim would commit to third as the out was sitting on the sliding Alvarez to end the game.
JFK's game-winning run was brought in by one of the teams youngest members in sophomore Zion Benavente. Islander Vince Camacho was able to get on base after an error at third base allowed Camacho to sit safely at first. Benavente would then unload a ball deep down left field allowing Camacho to run in for the go-ahead score.
"I just stayed calm, remembered what the coaches told me and I just layed back and drove. I did try to drive it left field, but I wasn't expecting it to go so far down the line," said Benavente.
Cruz's home stealing run proves big
Ethan Lobaton pitched a complete game for the Royals and the All-Island short stop also gave his team their only run of the day in the bottom of the 3rd inning. After a single from Noah Pereda to advance Lizama to second, Lobaton smashed a ball deep right in no-man's land to give ND a 1-0 lead as part of a two out rally.
JFK responded with an uncanny run in the 4th after Cruz was able to get on base with a single. Cruz would steal second base and eventually steal third before preparing for his biggest theft on the day. With ND not in position after collecting an out on Malcom Pangelinan, Cruz darted home and beat the throw to tie the game at one run.
"I saw their catcher all the way in the back and I know [Lobaton] wasn't looking at him so I knew there was no communication. They took their heads out of the game for a moment and I just put my head in the game. I just wanted to even the score. My teammates had their heads down so I had to pick them up some how," said Cruz on his game-tying run.
Cruz would continue to play big on the defensive end, scooping up grounders in the later innings at short stop to keep ND off the board.
"This is what we live for, we live for pressure. We practice all year for this and we put what we practice on the field," added Cruz.
The Islanders had to go through the top seeded GW Geckos and ND Royals to compete this underdog story, but the team knew they had something special brewing well before making their strong post season run. A team dominated by seniors had brought the team close together, which was their theme all season long.
"We just played for each other. The brotherhood is probably the biggest thing on this team and that's what helped us get all these wins. We played for more than just ourselves, we played for the guy next to us. Wednesday was a rough game for us, but today we all came together and played as one," said Lim.
PHOTO GALLERY BROUGHT TO YOU BY:

COMING SOON …
High School Football starts Sept. 29
Brawl 3: Oct 13
Guam's Strongest Man and Woman Competition October 29
QUICK HITS
The Figo Islanders 40s women's softball team took gold in the Senior Softball World Championship in Las Vegas. Figo came out of the loser's bracket and beat the Arizona Belles 17-3 in the AA division championship game Sunday afternoon.
Other Guam teams that played in the 40s tournament were: Team SOTTA (women's) and Bud Light Guam, Friars 671 and Sindalun Guahan (men's).
Sindalu finished a respectable 4th out of 24 AAA division teams.