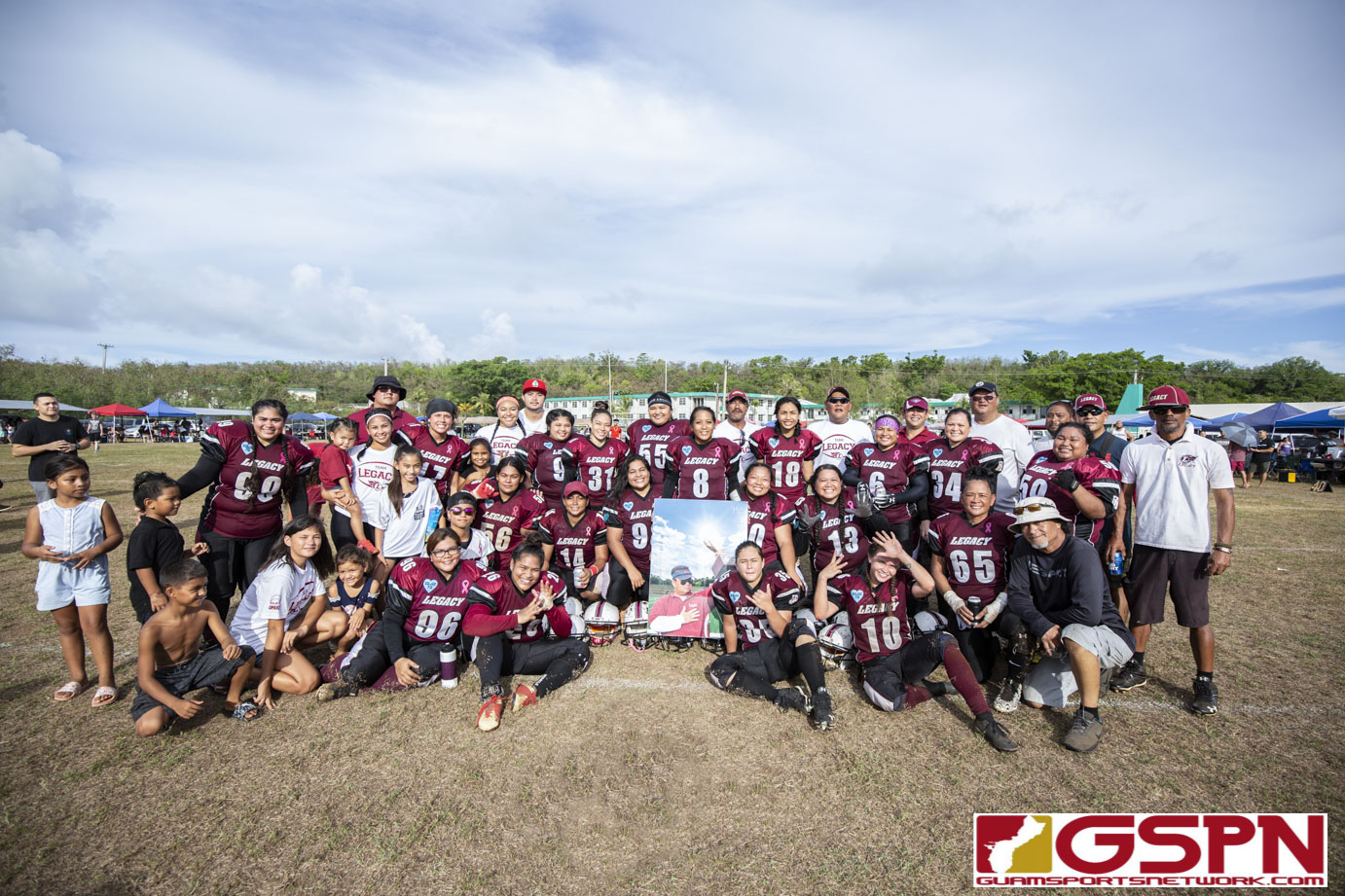 By Robert Balajadia
Their team name just about says it all, and after winning the GWTFL for the eighth straight time, Team Legacy has reached a height no other football team on Guam has been able to reach.
It took a lot of clutch plays from dynamic running back Jalana Garcia to make it happen, but in the end, the final chapter of yet another GWTFL season ended with Team Legacy hoisting a championship trophy by beating the Stunnerz 26-22 at the UOG Field.
Leading 18-14 late in the 4th, Legacy found themselves at the 26-yard line on 4th-and-10 with momentum swinging on the Stunnerz side after they had just punched in a touchdown early in the quarter. Everyone on the field knew where the ball was going with hand hand-off to Garcia in split back formation. Legacy needed 10 yards, but Garcia gave them 11 with a huge conversion that dampened the Stunnerz sideline.
"The defense was mostly stacked to our outside and they were giving us that go on the inside. I felt the left side was weaker so I told my team to put me at four and we'll hit them on the inside. The blocks were there and everything played out perfect," said Garcia.
With a little under two minutes left, Legacy was hit with a 4th-and-goal from 12 yards out and they gave it to their leading lady once more for a dagger. Garcia got a pitch wide right and had to dance around two defenders before shooting up the sideline for a touchdown run, followed by a successful 2-point conversion, to give Legacy the 26-14 lead.
"You just got to want it man," said Garcia on the big run. "It's all or nothing and we needed to keep pushing forward. The blocks were there and once I got on the outside, I knew that straight line was my line," said Garcia on the touchdown run.
The Stunnerz marched up the field as quarterback TJ Rodrigues found receiver Melanie Manglona for the second straight time for a 20-yard score through the air. Danni Vaughn scored on a toss to the left to get within 26-22 on the 2-point conversion.
The onside kick with less than 15 seconds to play proved unsuccessful as Legacy secured the kick, securing their eighth straight title as they entered victory formation to end the game.
Garcia scored the games first touchdown in a 55-yard run to get Legacy up 6-0, only to be answered moments later from Rodrigues to Vaughn to knot the game at six-all. Legacy's Paige Surger scored a touchdown right before the half after a muffed punt from the Stunnerz gave Legacy possession at the 10. Surber powered in the touchdown before the half to lead 12-6.
A brief retirement
Their eighth title was a bittersweet moment for Garcia as she likely turned in her last football game for at least the next few years. Garcia has committed to St. Mary's University where she will play DI rugby in the upcoming Spring semester. Garcia started in football and her last game before a brief retirement weighed heavy on her all day long.
"I've been playing football for almost nine years so playing three years in the women's league is something I will always be grateful for. I gave it my all in my last game," said Garcia.
PHOTO GALLERY BROUGHT TO YOU BY:

QUICK HITS
The Figo Islanders 40s women's softball team took gold in the Senior Softball World Championship in Las Vegas. Figo came out of the loser's bracket and beat the Arizona Belles 17-3 in the AA division championship game Sunday afternoon.
Other Guam teams that played in the 40s tournament were: Team SOTTA (women's) and Bud Light Guam, Friars 671 and Sindalun Guahan (men's).
Sindalu finished a respectable 4th out of 24 AAA division teams.