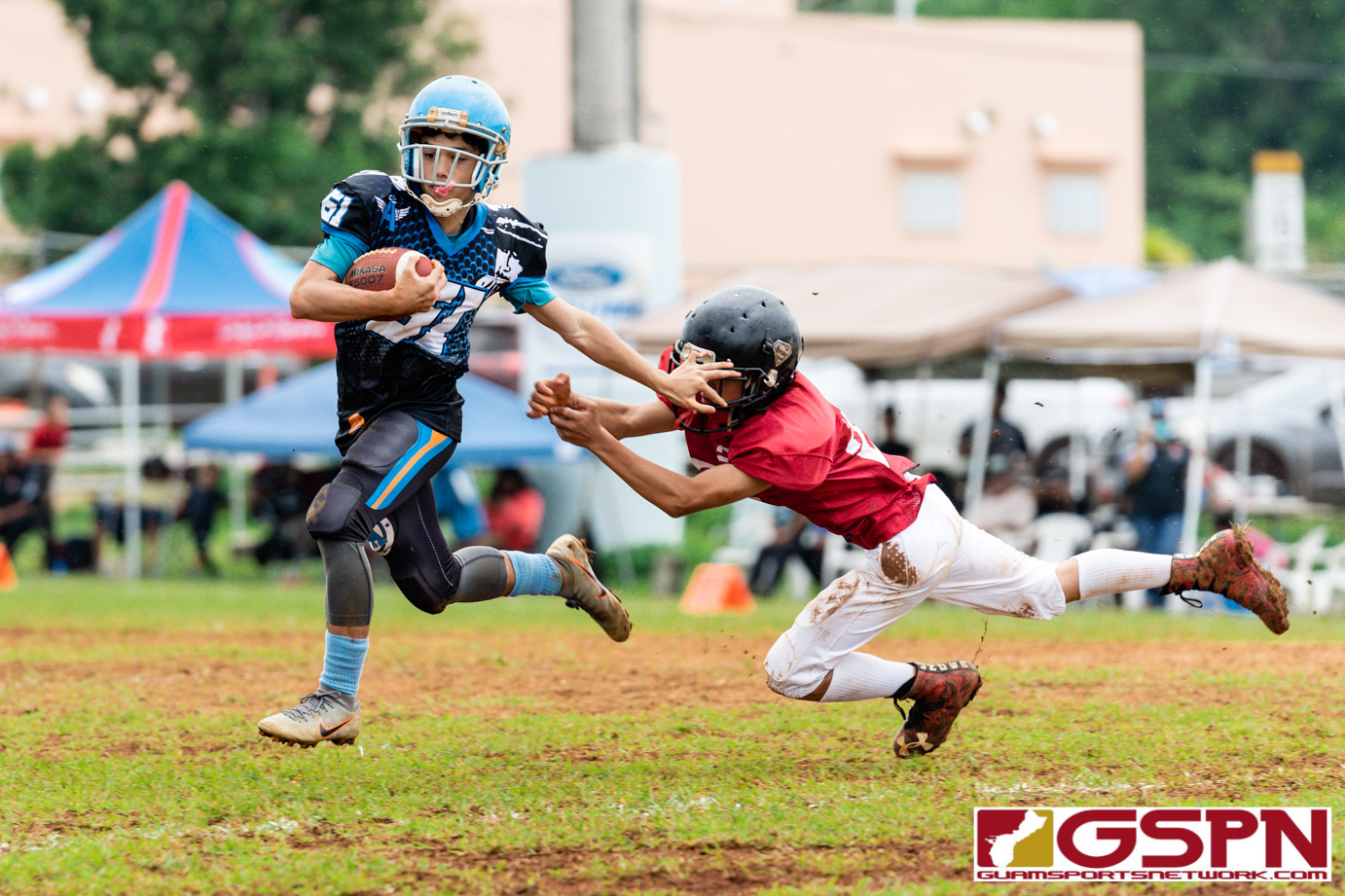 By Robert Balajadia
Coming off a big loss to the Raiders just last weekend, the Matua Angels were able to turn around their play against the Outlaws in a 19-6 victory at the Hal's Angels Field Saturday afternoon. Both teams had suffered just one loss heading into the contest with the Angels improving to (4-1) while the Outlaws fall to (2-2).
Two touchdowns from Noah Medler and a goal-line run from quarterback Alex Sojo supplied the points for the Angels as they posted a 19-0 lead by halftime. The Outlaws managed to score in the 4th on an 11-yard pass from quarterback Zavier Camacho to Josiah Quintanilla, but the comeback attempt fell short.
"We just had to push today because we knew that loss wasn't going to happen again to us. We did everything we needed to do today," said Sojo.
Medler's first score came teams first offensive series after his defense halted an opening drive from the Outlaws at the nine-yard line inside the red zone. Medler took his first handoff on a bounce to the outside, but he noticed the defense overcommitting which prompted him to switch fields. The speedy back successfully outran the defense on his way to an 81-yard score.
"I was just saw everyone shifting that way and decided to turn right," said Medler on his big run. "[bouncing outside] was working for me today and I just stuck to what was working."
The Outlaws struggled securing the ball on their next drives with two fumbles which paved the way for more Angel scores. A fumble at their own 39-yard line followed by a face mask on the next play put the Angels inside the five-yard line. It took two tries, but Sojo was able to sneak in for a 13-0 lead after converting the only successful PAT of the day.
Sojo would recover another Outlaws fumble late in the 2nd quarter at midfield and returned the ball to the 25-yard line. A wide reverse for 21 yards put the Angels on the four-yard line where Medler would finish the drive for the 19-0 lead.
The Outlaws went to the air three times before halftime from 30 yards out, but couldn't find the end zone on the passes.
The Outlaws spent the majority of the 3rd chewing up clock with runs before finally striking through the air with the Camacho-to-Quintanilla touchdown. The Angels played the clock giving the Outlaws one last shot after a turnover on downs inside the red zone.
Quintanilla broke loose on the sideline for a big gain to get to the 25, but the Outlaws couldn't finish off the drive as time expired.
Other Scores
Mandikiki: Angels 4, Outlaws 1
Manha: Angels 27, Outlaws 6
Metgot: Angels 28, Outlaws 0
PHOTO GALLERY BROUGHT TO YOU BY:

QUICK HITS
The Okkodo Bulldogs secured third place at the Far East Division I Girls' Basketball Tournament in Camp Humphreys, South Korea. Jasmine Samson and Haley Cabrera were named All-Tournament selections in recognition of their hard work on the court. Vaysia Blas won the 3-point shooting contest. The Bulldogs played nine games in three days with a squad of eight:
Erin Moldez
Jasmine Samson
Haley Cabrera
Sharm Tauiwei
Hanna Meinik
Jordyn Zacarias
Jordin Hernandez
Vaysia Blas