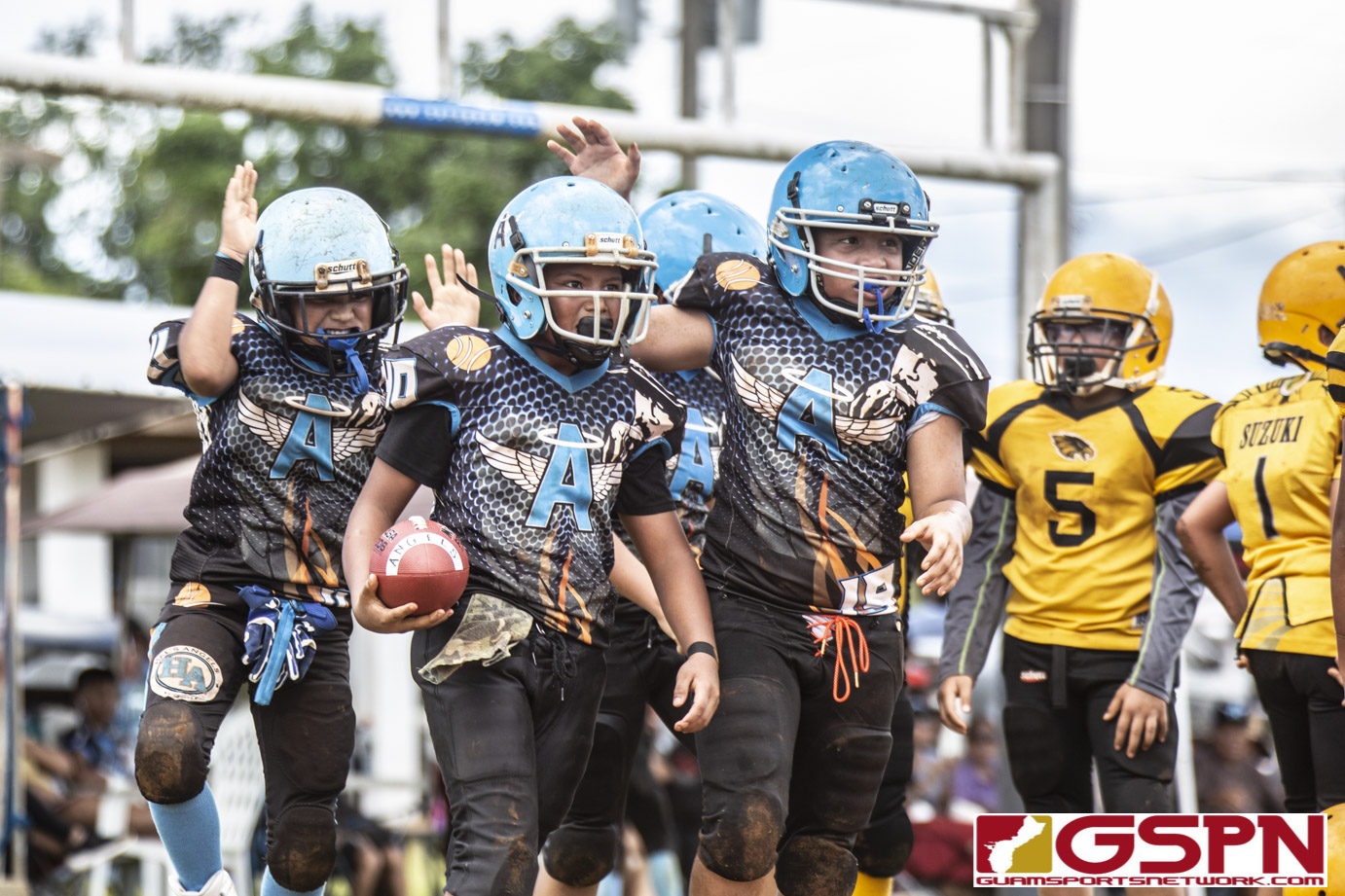 By Robert Balajadia
The three-time champs of the GNYFF Metgot Division took a little while to get going, but once they found their groove, it was business as usual for the Hal's Angels as they blanked the Guahan Eagles 26-0 at home Sunday afternoon on opening weekend of the league.
The Angels managed to strike first blood with a five-yard touchdown run from Noah Fejeran in the 2nd quarter off a big swing pass from Stussy Shiroma to Antoninah Wells to get them to the five. Fejeran powered his way up the middle and a successful PAT put the Angels up 7-0, a score that would remain until halftime.
After the intermission, the Angels shook the rust off their wings and flew into the end zone three more times.
A huge run from John Manibusan early in the 3rd was good for 69 yards as he out paced the entire Eagles secondary to get his team up 13-0. Wells would add on to the lead just before the end of the quarter with a 13-yard score from the gut to further the lead 20-0.
In the 4th, Wells would grab an interception on Eagles quarterback Colen-Ray Salas at the 50-yard line to set up the game's final touchdown a play later. Running back Zeke Santos went untouched up the middle for 12 yards for a 26-0 score.
Other Scores
Manha – Angels 26, Eagles 13
Metgot – Angels 26, Eagles 0
Matua – Angels 30, Eagles 13
Manha – Outlaws 28, Packers 23
Metgot – Outlaws 18, Packers 0
Matua – Packers 14, Outlaws 6
Manha – Cowboys 26, Broncos 12
Metgot – Cowboys 30, Broncos 12
Matua – Broncos 12, Cowboys 6
PHOTO GALLERY BROUGHT TO YOU BY: