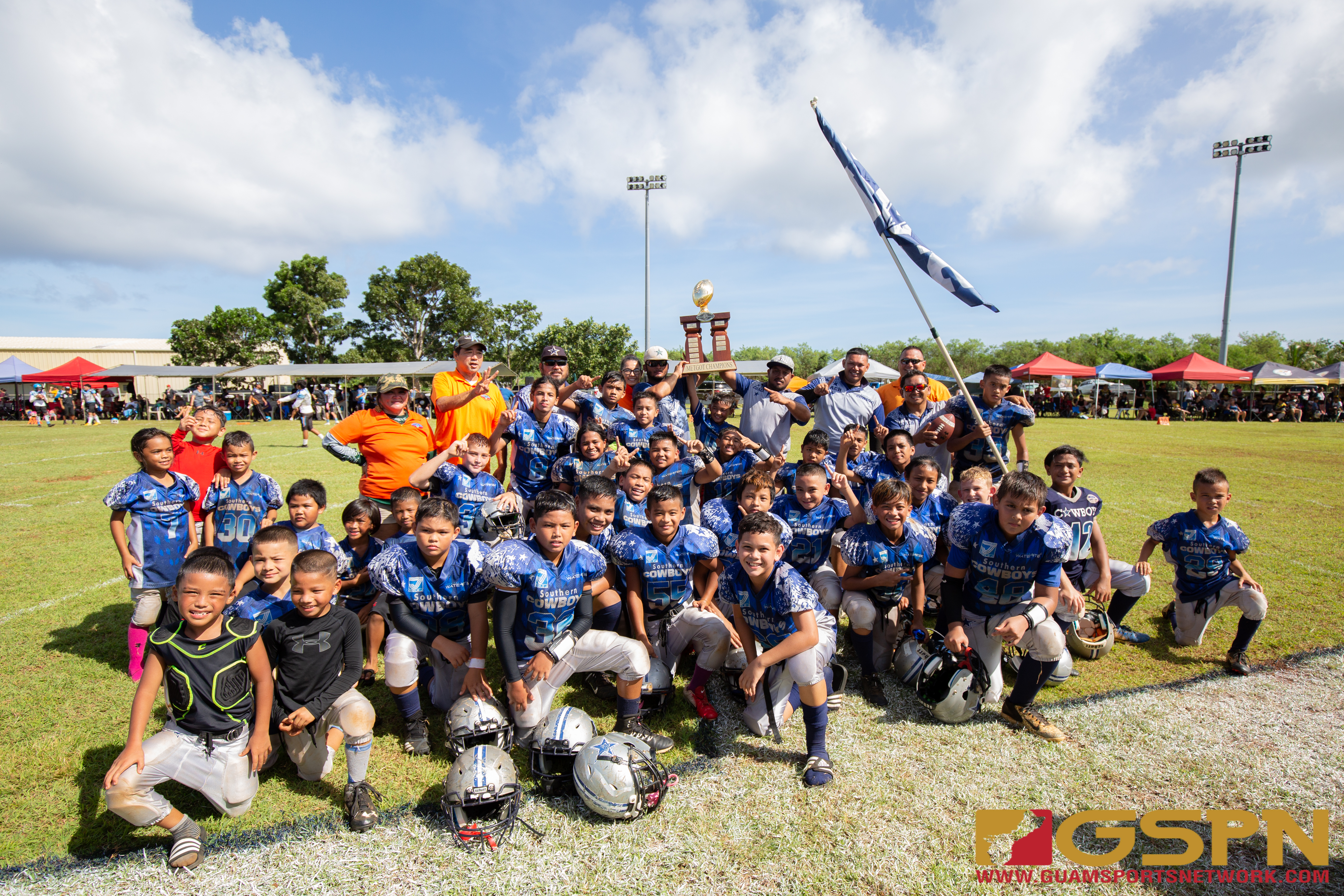 By Robert Balajadia
After losing a close battle in the Manha Division the Southern Cowboys were staring down a 12-0 deficit in the Metgot Division and their perfect season on the bubble. Instead of hanging their heads, the boys flipped the script and ran off 27 unanswered points to beat the Steelers 27-18.
A three-interception performance from safety Lavin Santos helped fuel the comeback as he and the Cowboys didn't want to leave their home field without a GNYFF title.
"We didn't want to give up or let up. We wanted our parents and family to be proud of us. Being at our home field, we knew we could to play harder than we would have if we played at another field," said Santos.
Midway through the 2nd quarter, the Cowboys were down 12-0, courtesy of two 1st quarter touchdowns from Steelers running back Jason Suda and Trey Blas. The team turned to their work-horse Jaron Meno, who used two big gains on the ground to set up a goal line punch in from Lavin Santos. Meno would convert the kick to bring the score 12-8, breathing life back into the Cowboys and their fans.
The 'boys then strip-sacked Blas at the 40 on the next series, recovering the ball with favorable field position.
Meno shot straight up the gut, stumbling forward for an 18-yard run to take their first lead 14-12, only to add on to it with another PAT, 16-12.
The Steelers were able to convert through the air as Blas hit receiver Jovian Manibusan Bamba twice on their final drive of the half, but penalties and poor clock management denied the Steelers from putting anymore points on the board right before halftime. The Blas-Bamba connection didn't sit well with Santos, who was defending on each of Bamba's four first half receptions.
The second half version of Santos wasn't about to let up as he picked off Blas twice in the 3rd quarter and once more in the 4th.
"I already knew where he was going because they always went to the strong side so I trailed until he threw the ball," said Santos on adjusting his play. "It was my coach and my teammates, they covered and led them to me and that's how I got those balls."
Santos' first interception led to a Bobby Taisipic touchdown to give the Cowboys a 24-12 lead before Meno would knock in a 30-yard field goal to complete the 27-0 turnaround.
Steelers cornerback Jaythan Trinidad did return an interception late in the 4th quarter for a big pick-six for a 27-18 score, but a miss kick to make it a single-score game had the window closing fast on a possibly Steelers rally. Meno and the running back community converted three first downs to shave the final ticks off the clock to lock down the Metgot Division title.
PHOTO GALLERY BROUGHT TO YOU BY: