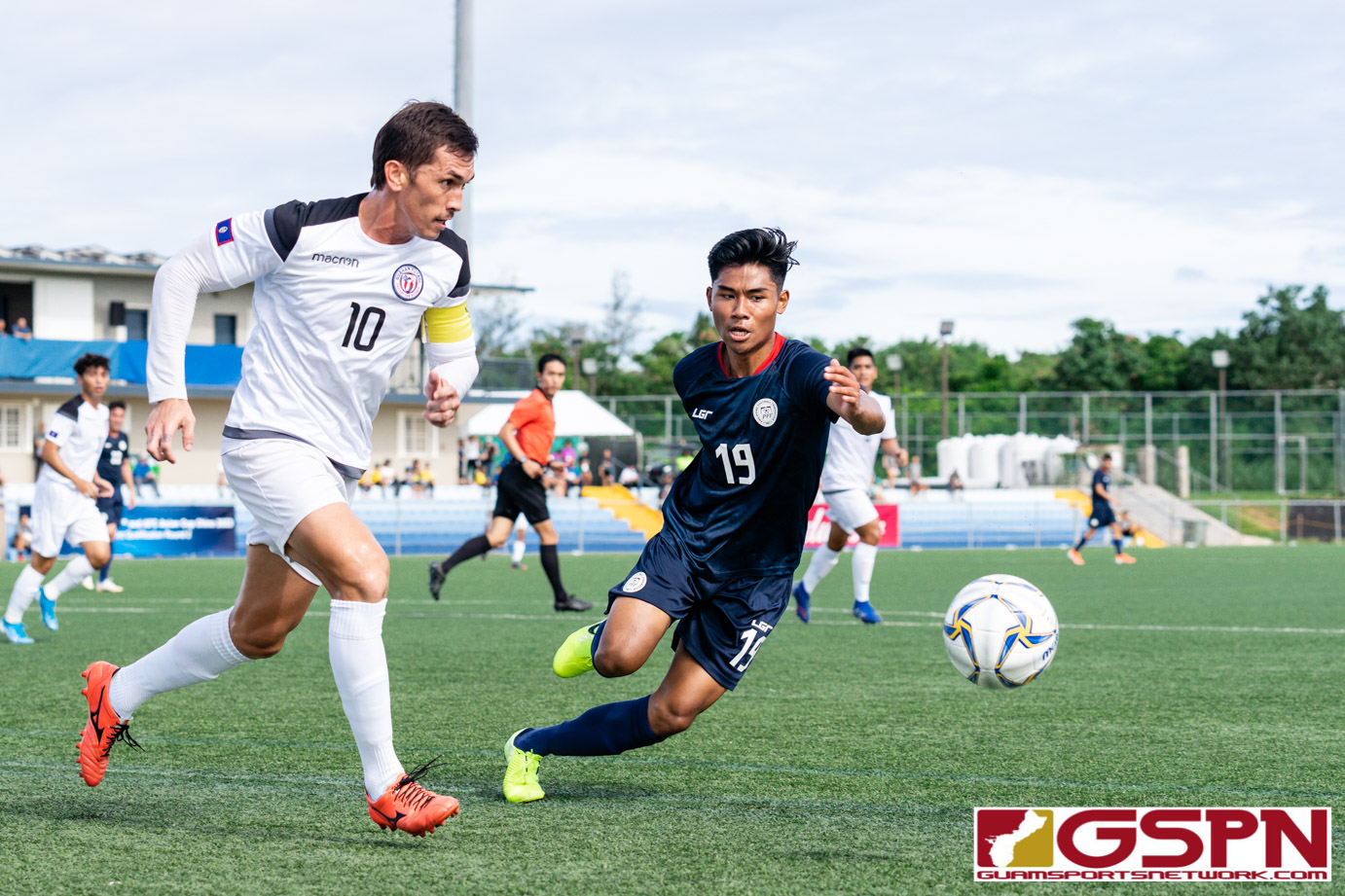 By Robert Balajadia
Guam's second game in Round 2 of the AFC Asian Cup China 2023 Preliminary Qualification and FIFA World Cup Qatar 2022 got off to a rough start as the visiting Philippines team quickly scored two goals in the opening 15 minutes of the game, ultimately taking the contest 4-1.
Just four days after losing a tough match to Maldives by one goal, Guam fell to (0-2) in Round 2 on home turf.
Philippines midfielder Stephan Schrock placed a perfect ball for a streaking Angel Guirado, who used a header to net the games first goal just seven minutes into the contest.
Not long after, forward Patrick Reichelt made good on a through ball to get a one-on-one with Guam's Dallas Jaye, and Reichelt used a light shot to put Philippines up 2-0 in the 15th minute of action.
It was a test to Guam's mettle, but the home team provided a much better response as the game went on. Guam ramped up their attempts and posted four more shots at goal in the later stages of the first half, but the Philippines still proved the aggressor with 12 shots at goal compared to Guam's six in the half.
Guam's offense moved more aggressive in the second half which set up the teams only goal after Travis Nicklaw was fouled inside the box that set up a penalty kick by forward Marcus Lopez. Lopez would fake right to get Philippines keeper Michael Falkesgaard to go diving before carefully shooting left to get the home team within 2-1 in the 55th minute.
The celebration was short lived as Schrock would steal poor pass from Guam's midfield before dribbling right down the center. Schrock would go 15 yards untouched before shooting right inside the goal box to net the Philippines third goal in the 59th minute for a 3-1 advantage.
The visiting team added their final goal in the 66th minute as midfielder John Patrick Strauss got loose inside the box for a seemingly easy goal to go up 4-1.
Guam put up 11 shots in the second half, their most in any half in Round 2 thus far. Keeper Dallas Jaye finished with 13 saves while Falkesgaard corralled eight.
Adjusting on the fly
Just two hours prior to the match, Guam was identified that two of their players who received yellow cards in their match against Maldives in Devan Mendiola and Nate Lee would be ineligible for the game against the Philippines. That forced captain Jason Cunliffe to play on defense instead of his usual midfielder position.
"We had to make a quick adjustment, but credit to the coaching staff and to the boys and to the guys that stepped in. We already know what each other's roles are supposed to be so minus a couple of hiccups, I think we played very well despite the adversity we had to face," said Cunliffe.
Guam looked like a different team when facing the 2-0 deficit and a more confident bunch in the second half. It wasn't as much of a result of coaching adjustments, but more just finding their rhythm.
"It was more of a case for us settling into the game. The boys cut out the silly mistakes that costed us those two goals, and then we got that composure to play that football that we're able to play. When you're talking about facing the opposition with a ranking of 65 higher in the world, at times we dominated and I think that gives the boys a lot of belief going forward. But this is a long process," said Matao head coach Daniel McBreen.
PHOTO GALLERY BROUGHT TO YOU BY:

QUICK HITS
The Figo Islanders 40s women's softball team took gold in the Senior Softball World Championship in Las Vegas. Figo came out of the loser's bracket and beat the Arizona Belles 17-3 in the AA division championship game Sunday afternoon.
Other Guam teams that played in the 40s tournament were: Team SOTTA (women's) and Bud Light Guam, Friars 671 and Sindalun Guahan (men's).
Sindalu finished a respectable 4th out of 24 AAA division teams.