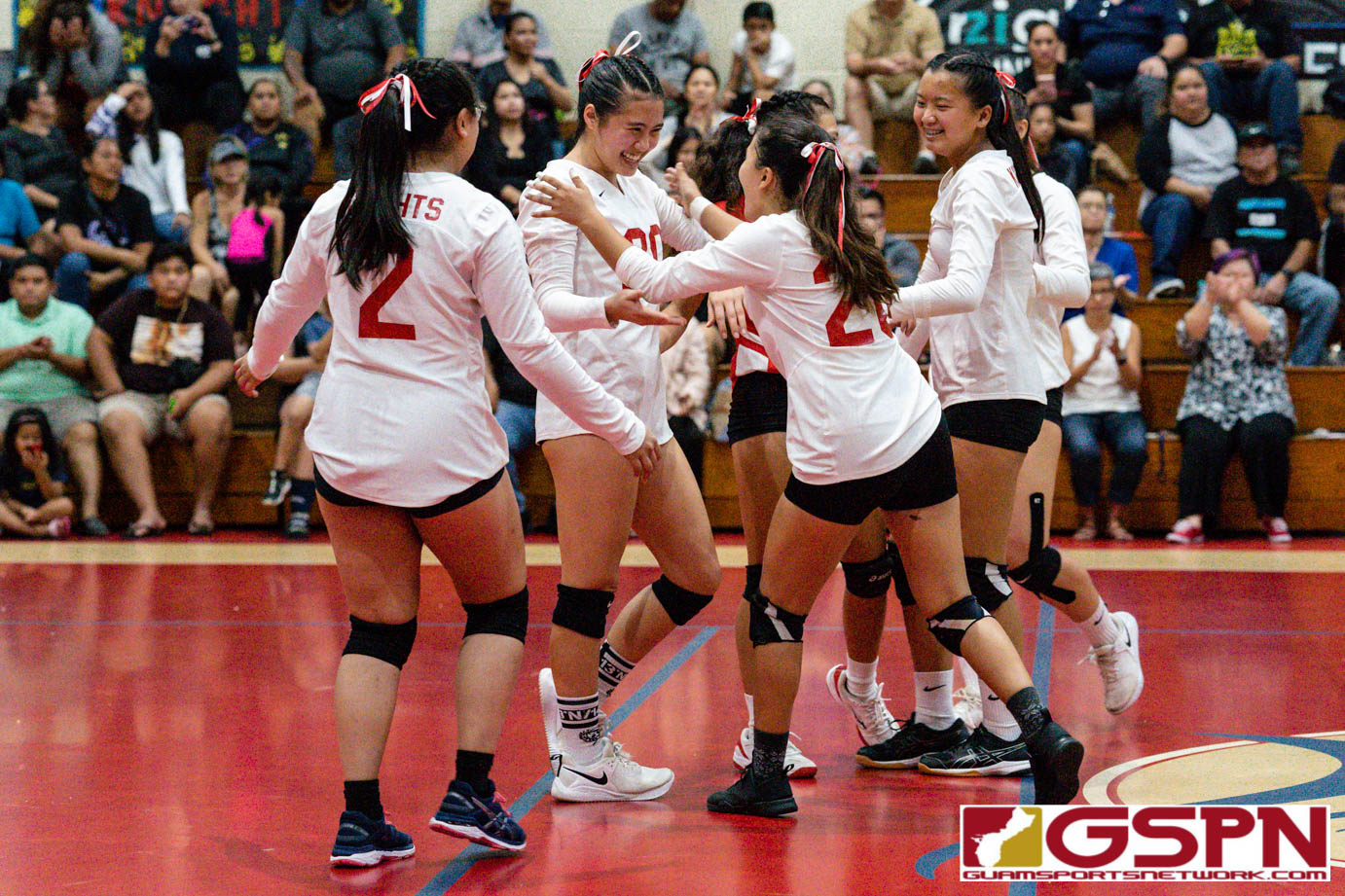 By Robert Balajadia
It didn't hit St. John's senior Hallie Wigsten until moments before the game that Tuesday evenings showdown between the GW Geckos on her Knights home floor would be her last official volleyball home game of her high school career. Wigsten went bananas in her send-off, scoring 21 total kills in a four set victory over the GW Geckos 25-6, 18-25, 25-21, 25-12.
"I didn't realize until coach [Shepherd] told me right before we started that tonight was my last home game ever and it really hit me. Knowing that this was the last time I'll ever play on my home court, I just wanted to go out there and give it everything that I can. I knew GW was going to come out fighting and I just had the mentality of wanting to get back to the championship game," said Wigsten on her performance.
The Knights victory earns them a spot in the semifinals where they will face the unbeaten JFK Islanders.
Wigsten was in a groove right from the opening serve, locking in seven kills in the opening set alone, only to top that performance with an eight-kill 3rd set to recapture momentum.
"We were loosening up in the 2nd set and got a little too comfortable. We won 25-6 and we were playing like we were done. But in the 3rd set we started to get back and finish business," said Aprile Kim.
GW had a nightmare start to the game falling into an early 12-1 hole, only to eventually lose the opening set 25-6. The Geckos rebounded nicely in the 2nd set as they never trailed, putting some pressure on the Knights, winning the set 25-18 with three aces from Ellisa Joseph and three kills from Abrienne Chargualaf to even the playing field.
The 3rd set provided seven lead changes before the Knights took the lead for good on a Kim block 20-19. Wigsten would climb over the top for a big kill on the final point of set to complete a 5-1 run.
"I think in those specific moments it's all about hustle. Continuously going back and forth gets tiring, but you just got to go!," said Wigsten on rising to the occasion.
Down 7-4 in the 4th, the Knights would pull off a 14-0 run to completely seize momentum behind serving from Kaia Malakooti for an 18-7 advantage. Wigsten and Kim would grab two kills during the run and the home team would seal their victory, winning the set 25-12.
"Our mindset was just to finish this. A big thing we tried to do was to to slam every ball and be aggressive, even if it was out of system, try and slam it as hard as we can," said Kim on what fueled the teams 4th set performance.
The Knights will travel down the road Friday to face the undefeated JFK Islanders for a spot in the finals.
Other Games
ND def. Guam High in three sets
Academy def. Harvest in five sets
JFK def. Southern in four sets
Semifinals – October 18th (Friday)
St. John's @ JFK – 6 pm
Academy @ ND – 6 pm
PHOTO GALLERY BROUGHT TO YOU BY: