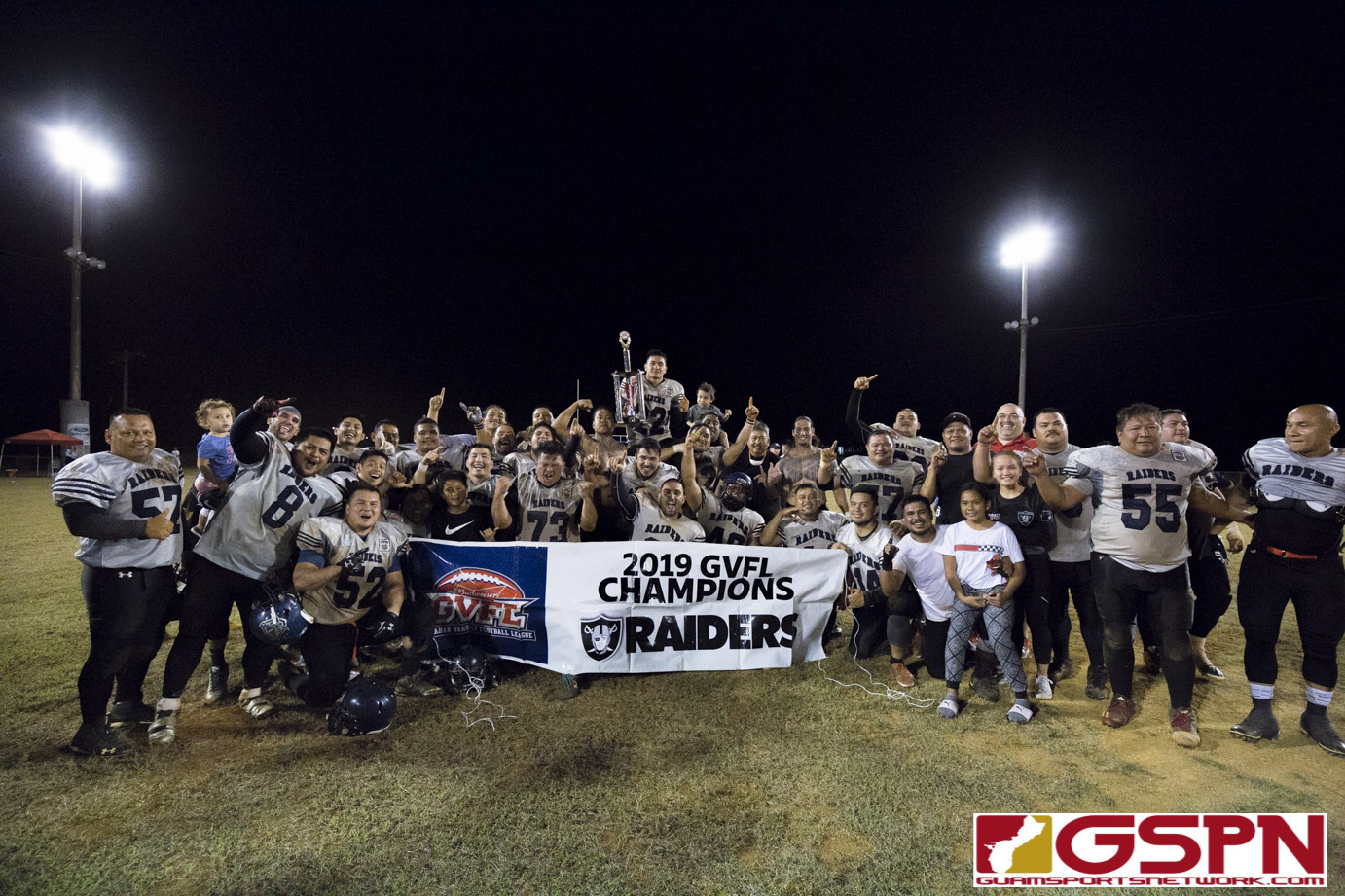 By Robert Balajadia
The Guam Raiders are back on top of the island's football world after reclaiming the Guam Varsity Football League title over the Guahan Eagles in the 2019 championship game Saturday evening. The Raiders didn't give an inch on defense with big plays turning into touchdowns on the offensive end as they shutout the Eagles 22-0 at the Hal's Angels Field.
The Raiders had ruled the Budweiser men's league before the Eagles had their brief reign as champs for the last two seasons and their rivalry became the biggest show for adult football fans on island in recent years. The teams split the regular season meeting setting the stage for Saturday's finale.
Running back and all-purpose offensive threat Jesse 'Pumpy' Manglona was named MVP with his two-touchdown performance on the night. Manglona caught one of two passing touchdowns from quarterback Danny Manibusan before putting the game firmly out of reach with a 33-yard punt return touchdown in the 4th quarter, the game's final touchdown to go up 22-0.
"We've played these [Eagles] for the championship every year so they know us, but my offense counted on me and I counted on them also, as well on my defense. This is the time, in the championship, where players show who they really are. It didn't look good in the first half, but I told the guys to keep feeding me after telling myself I needed to make something happen for our boys. Not everything we did scored touchdowns, but a lot of the plays we made gave us momentum and that was important," said Manglona.
And of all the awards and championships Manglona has under his wing, winning football MVP was a first for the talented multi-athlete.
"This is a very special one. It's my first MVP in this league aside from the multiple championships and I'm going to enjoy this one. I felt like this was my moment," added Pumpy.
The Eagles struggled offensively without key weapons in the receiving corps, missing quarterback Steve 'SP' Phillips main targets Reggie Baylor and John 'Spicy' Mayo. The Eagles vertical game struggled mightily which allowed the Raider linebackers to shutdown the run game.
"It feels great finishing the season first place and then winning it all at the end as champs. Give it up to the Eagles who came out today missing some key players, but it's football so we weren't going to come out and give them leniency and we were set to play hard football," said Manibusan.
Long time veterans on the Raiders like Ryan 'Chairman of the Board' Rios, Allen 'Seau' Blend and Freddy 'Too Fast' Tupaz can add another football title to their already lengthy football resumes and winning with the vets on board made Saturday's finale a whole lot more special for the Raider family.
"A lot of the older guys have been playing together for so long. Just being able to play along side them, we're really blessed. We're doing our best to bring Guam football back," added Manibusan.
Game Recap
The Raiders took the opening kick off as the Eagles deferred after winning the coin toss. Both teams would go three-and-out on their first offensive series before Blend recovered a fumble by Eagles running back Danon Mojica on the second drive. The turnover set up the game's first score as Manibusan fired off a lead pass to receiver Storm Rosario, who got past the secondary while hauling in the 35-yard 1st quarter score.
The failed 2-point conversion left the score 6-0. Eagle Mitch Charfauros would then get ejected on the next series with the rivalry already forcing a lot of jawing between both sides.
The Raiders opened up the 2nd quarter with a big play from Manibusan to Sandy Fejeran for 36 yards to get in the red zone for the first time, setting up a first-and-goal at the five-yard line. The Eagles defense would stuff two running attempts from the left side from Hank Sablan and two overthrows on the right side resulted in a turnover on downs.
Offensive struggles would force the Eagles to punt following the red zone stand, but a block on the kick forced punter Frankie Johnson into a scramble inside his own end zone where Johnson would end up kicking the ball out the back for a safety. A penalty for an illegal kick would force the Eagles to kick from their own 10 while giving up two points on the safety with the Raiders leading 8-0, a lead they would hold into the half.
Raiders linebacker Justin Andre would ball out in the second half with a big sack forcing a punt on the Eagles opening series in the 3rd. Sablan would get free on a run up the left sideline which appeared to be a big touchdown, but his toes would tap at the 13-yard line setting up another Raider red zone appearance. The Eagles didn't let up, forcing a turnover on downs to stay within a single possession.
Manibusan would open the 4th quarter strong by hitting Manglona for a 25-yard score up the middle to go up 14-0 after a series of tough running from Sablan. Andre would grab a big interception at the 23 on the Eagles ensuing drive after a big kick-off return from Tegan Brown. Phillips was aiming for his tight end, but Andre leaped in front of the pass to pull in the games first and only interception.
The running game would carry the Raiders to the final four minutes. Phillips couldn't find any room to throw forcing a Johnson punt nearing the two minute mark. The punt would turn into a game sealing Raiders touchdown as Manglona raced untouched down the left field for the 33-yard score.
"Our offense is balanced so if a team studies our passing then they forget how good our ground game is. And vice versa, if they pay too much attention to the ground game then we'll hurt them through the air," said Manibusan on the balanced Raider attack.
PHOTO GALLERY BROUGHT TO YOU BY:

GPS Sports Calendar
SU

MO

TU

WE

TH

FR

SA
28

29

30

1

2

3

4
Events for July
1st
No Events
Events for July
2nd
No Events
Events for July
3rd
No Events
Events for July
4th
No Events
5

6

7

8

9

10

11
Events for July
5th
No Events
Events for July
6th
No Events
Events for July
7th
No Events
Events for July
8th
No Events
Events for July
9th
No Events
Events for July
10th
No Events
Events for July
11th
No Events
12

13

14

15

16

17

18
Events for July
12th
No Events
Events for July
13th
No Events
Events for July
14th
No Events
Events for July
15th
No Events
Events for July
16th
No Events
Events for July
17th
No Events
Events for July
18th
No Events
19

20

21

22

23

24

25
Events for July
19th
No Events
Events for July
20th
No Events
Events for July
21st
No Events
Events for July
22nd
No Events
Events for July
23rd
No Events
Events for July
24th
No Events
Events for July
25th
No Events
26

27

28

29

30

31

1
Events for July
26th
No Events
Events for July
27th
No Events
Events for July
28th
No Events
Events for July
29th
No Events
Events for July
30th
No Events
Events for July
31st
No Events
Foody's 5 Fun Facts
JFK Islander Jada Han
DID U KNOW?
Since forming the GNYFF in 2009, the league has never gone without a season until 2020. The league announced their plans to cancel the 2020 season amidst the COVID-19 pandemic.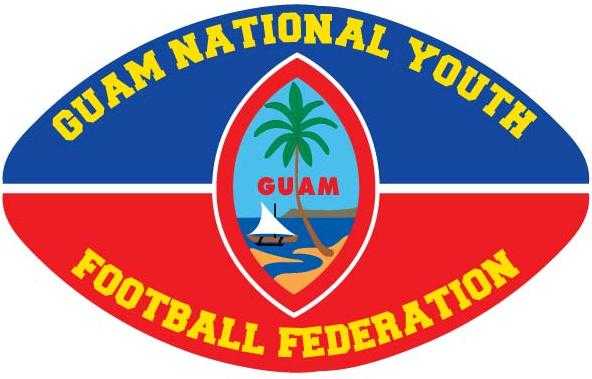 COMING SOON …
ALL SPORTING EVENTS HALTED DUE TO THE CORONAVIRUS ISSUE
QUICK HITS
RIP: Former Guam football player Phil Mendiola, shown here with son Tano, passed away in Las Vegas due to a heart attack. Mendiola played for numerous Guam teams from youth to varsity. He was 39.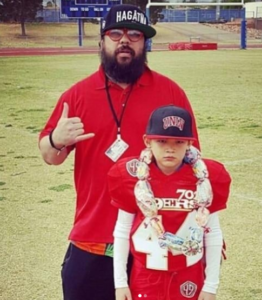 —————————————————-
Morgan McKenna (left with black face mask) poses for a photo with Guam Football Association Technical Director Sang Hoon Kim (seated, with blue face mask) and Guam Football Association Assistant Technical Director Ross Awa (standing) after signing his letter of commitment to play intercollegiate men's soccer for Muskingum University in Ohio. The Fighting Muskies compete in NCAA Division III's Ohio Athletic Conference.