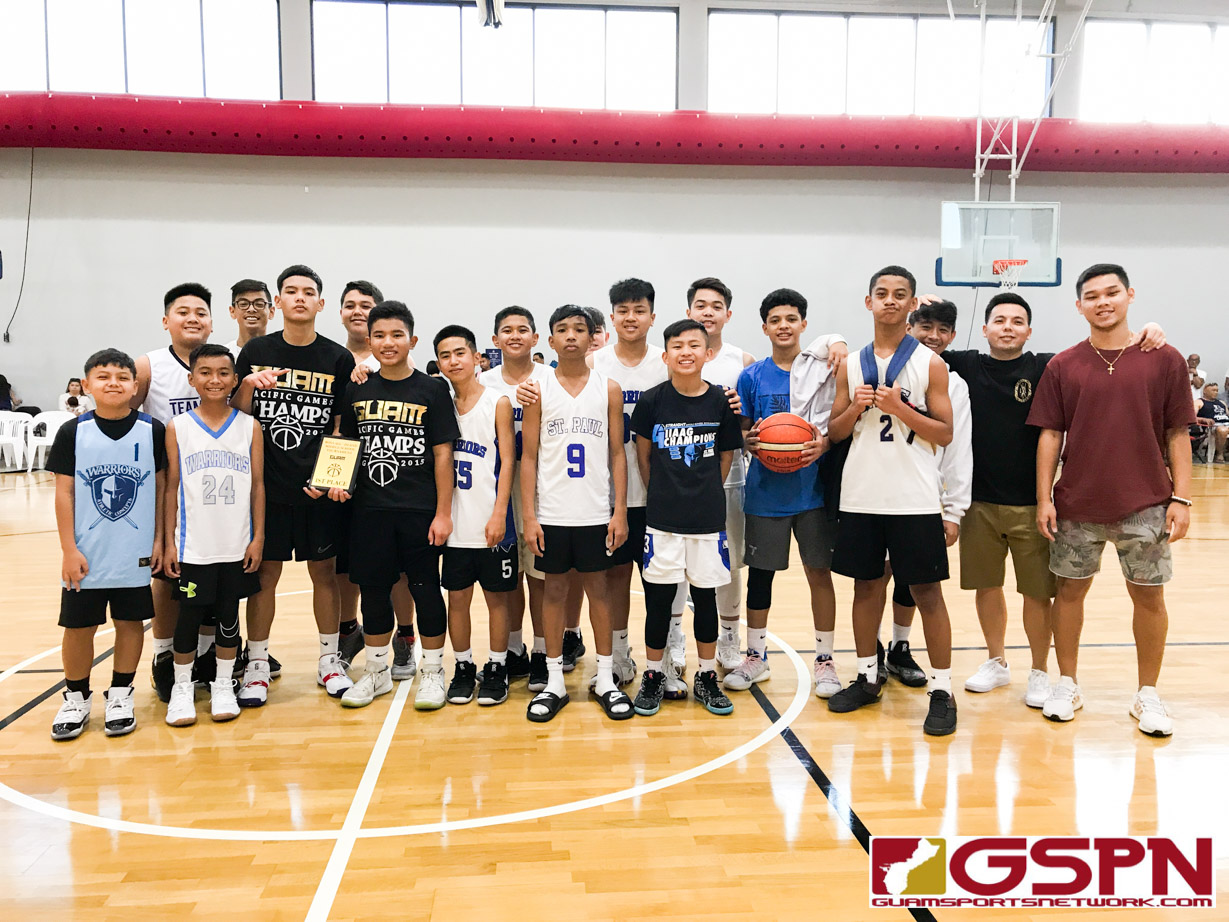 By Brandon Kinsella
In the All-Island Middle School Basketball Tournament Championship matchup between St. Paul and FBLG, St. Paul would come out victorious 19-15 in a low scoring, defensive centered matchup at the National Training Center in Tiyan.
It was a slow afternoon for both teams offensively, but in the game's final moments, neither team would disappoint with bragging rights of being the best middle school on island on the line.
St. Paul held the lead for the duration of the matchup and their largest lead came after utility forward Xander Sanchez converted on a layup in transition after picking the pocket of FBLG's Calen Bongabong. The bucket would give St. Paul an 11-point lead at 17-6 with four minutes left in regulation.
A neutral home court would work in FBLG's favor as they attempted to claw back into the game with more than enough time on the clock to cut the deficit.
Following a free throw conversion by FBLG's Ashle Arbolida, teammate Bongabong would nail a floater after a drive down the middle lane, which would cut FBLG's deficit to just 8. Then, a steal by Ashle would lead to a transition layup, which cut the deficit to six at 17-11 with 1:43 left to play. The play was a momentum booster and FBLG's crowd would ramp up the intensity from there on out in an attempt to regain the lead and win their last game of the season.
St. Paul called a timeout after the momentous play, attempting to regroup and maintain composure. Head Coach Julian Canovas described his huddle during the moments when FBLG began to gain momentum.
"Brandon, Xander, Jayden, Noah, and Gavin really held it down. I called that timeout to settle them down and they understood that the momentum was starting to shift, and we needed a score. More importantly, we needed a stop on defense and the boys were able to deliver. They weren't worried, I looked at them and I didn't see any ounce of fear in their eyes."
Following the timeout, the Warriors were able to get a stop on defense. But an FBLG possession later, Bongabong would sink a mid-range jumpshot which cut the deficit to four at 17-13 with 56 seconds left.
A play later, St. Paul's Xander Sanchez would come up huge for his team on a drive down the middle lane, where he hit a clutch floater to put his team up by six at 19-13. Sanchez was already having a dominant performance prior to the dagger, stuffing the stat sheet on both ends of the floor. Sanchez described his mentality in those final moments down the stretch,
"Coming into this game I came ready to do whatever was necessary to win. And we were able to get the job done. We could have done a lot better, but we'll work on those things throughout the season."
Sanchez finished the game with 11 points, five rebounds, and five steals, earning Wendy's Player of the Game.
St. Paul's Gavin Stinnet would also give his team key contributions, finishing with four points two rebounds, and two steals.
FBLG would score one more time before the game ended after a layup by guard Kay Jay Martin with 17 seconds left to play, but St. Paul was able to hold off the rally and stay composed, winning by four at 19-15.
First Half
The first half of action was low scoring as both teams struggled to generate offense. After one half of action, St. Paul lead 8-2.
Throughout the game, FBLG had plenty of second chance opportunities but failed to convert which would hurt their chances of winning.
FBLG's Gedfft Gozum grabbed 11 rebounds to go along with three points for the Hawks. Bongabong led his team in scoring, finishing with six points.
Canovas gave some closing remarks and described the challenge of this tournament as well as how it helps his team moving forward into their regular season:
"Whenever you play public schools like FBLG, it's always a good matchup. The physicality that they bring to the table is so much different than the private schools. Our boys only had a week to practice and prepare for this tournament, and they really stepped up and played well. We got a lot of work to do for our upcoming season, and this tournament was good preparation for what's to come."
Third Place Game
In the third place matchup, BMS would defeat Andersen 42-16. Ashley Manipon lead the charge for BMS, scoring 11 points.
First Team
Guard: Jayden Santos – St. Paul
Guard: Ashley Arbolida – FBLG
Forward: Ashley Manipon – BMS
Forward: Xander Sanchez – St. Paul
Forward: KayJay Martin – FBLG
PHOTO GALLERY BROUGHT TO YOU BY: