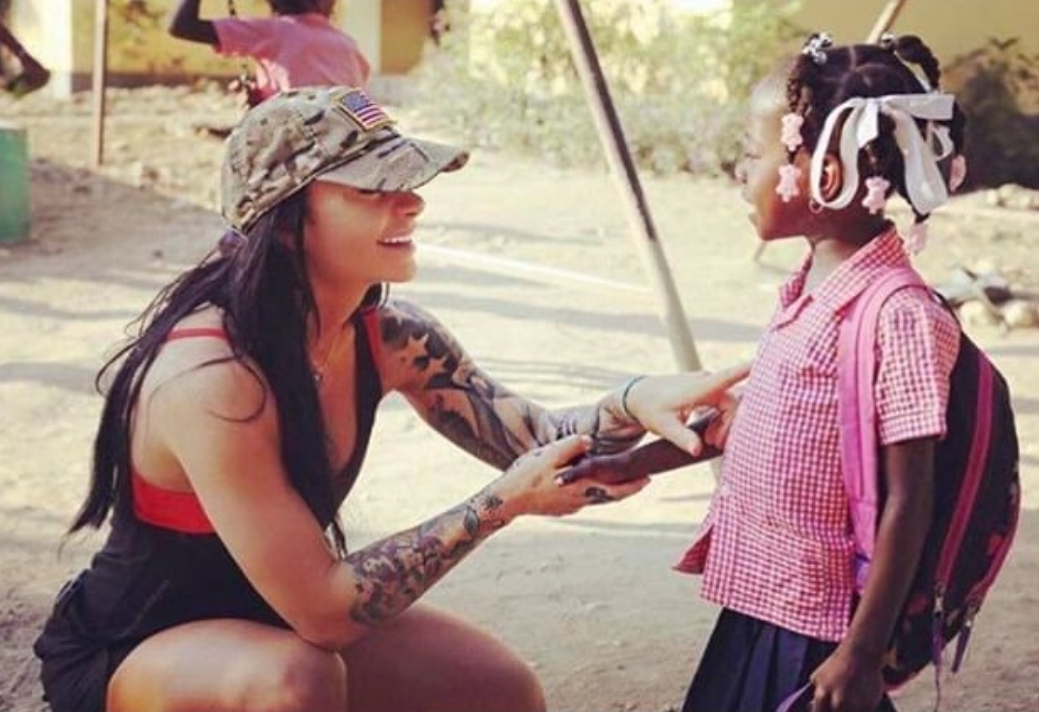 Name: Ashley Horner (Guam resident 2011-2014)
Sport: Hybrid – Strength & Endurance but also played soccer as my 'sport' growing up.
Accomplishments: Being able to give back using my social media platform to reach people in need.
I'm a mother of three boys, I own a restaurant and a gym as well as a non-profit called the Unbroken Foundation. The businesses and being a young entrepreneur has challenged me to grow in so many ways, outside of my fitness.
August 14, 2015, I did 2,800 burpees around a track for 12 hours through the night and raised $5,000 for the victims' families of a Chattanooga shooting (money raised and donated silently to the families).
April 2016, I ran from Virginia Beach to North Carolina 280 miles to kick off the Unbroken Foundation after visiting a shelter in North Carolina, a women's emergency shelter, raising $10,000. My foundation aids in helping women and children of domestic violence or in need.
September 2016, I rowed 300 miles on a Concept2 Rower that took a week to complete. I raised over $10,000 for Spike's K9 a non-profit that helps working K9s to provide ballistic vests for working Dogs.
April 2017, I ran the perimeter of the Western border of Haiti (230 miles) raising $84,493 to pay for school and the children's education at Maison Fortune Orphanage for two years.
November 2017, I did a 200 mile swim in a pool – raising $6,490 to the orphanage in Haiti, Maison Fortune Orphanage for their Christmas. They got a special Christmas dinner and a new outfit.
June 2018, I embarked on a 1300-mile bike ride going from Virginia Beach to Tulsa, Oklahoma to raise money for the children battling cancer at St. Jude Children's Hospital. The amount raised was $6,439.
August 2018, I embarked on a consecutive triathlon event for the children of Maison Fortune Orphanage Foundation, raising $17,622.
My personal contributions to the orphanage in Haiti (not charitable events) to date has been $89,051 to support these children in Hinche, Haiti. I will continue my efforts being involved physically as well as being a monthly supporter for these children I love.
This is what I have found that has truly fulfilled my heart, and to me, defines success and hope to leave a lasting impression and legacy for my boys to always, in whatever way possible, to have humility, grace and give back.
Current residence: Virginia Beach, Virginia
GSPN: What are some of the fondest memories of Guam?
AH: I love the people in Guam, how the culture placed so much importance on family and family time. The terrain is so incredibly beautiful there, the exploring in unending. Although the island is small, there is so much to do and to experience. I say every year that I want to go back, and I know one of these years I will.
GSPN: You have a crazy following on social media – over 646 million – just kidding, over 646,000. How in the world does that happen?
AH: Haha, well that was never my intention to have a huge social media following….It has just kinda gradually happened over time.  I think it's important to share your stories as well as your experiences throughout life.
GSPN: Explain Woman of Iron.
AH: I define Woman of Iron as being a woman of strength – physically and mentally. I want to have the capability to be an endurance athlete but to also be strong. Woman of Iron encompasses everything: through hardships, hitting walls or falling to your knees… but still you overcome, knock the barriers down or wipe the dirt off your knees and rise.
GSPN: You're very inspirational for women's health and fitness. How fulfilling is that?
AH: It's a huge honor and still very surreal when I'm approached and people say I've influenced their lives. Although I hear how I inspire women, they too inspire me. I'm no different from them, I struggle and still persevere just like they do. They are the ones who inspire me. But it is a responsibility I have. And honestly, there have been times that I've wanted to quit because the social media world can be exhausting, but I'm reminded about how many depend on me to keep going. And I truly love it.
GSPN: You are a mother of three young boys. How does that fit into your fitness life and what life lessons do you teach your boys?
AH: I really hope that my boys can see the bigger picture in everything that I do. This is ultimately why I wanted to segway out of being just a fitness model, but I wanted to do more for others. I didn't want to be remembered by just a photo, but by my actions and how I made people feel.
GSPN: You recently were a victim of a stalker. How important is it for women to be aware of such possibilities and how have you reached out to champion awareness?
AH: This is so incredibly important. It's easy for us to think that it will never happen to us, but we are all victims until we become aware and armed with skills to be able to get us out of any God forbidden situation. I've really learned to be aware, I also realized how many things surrounding my day-to-day that were not as secure as they should be. I also think it's important with social media that we are aware on how much information we put out there. The locations, the times and especially when we post in 'real time' on stories or LIVE.
GSPN: You mentioned you'd like to one day come back to Guam. What do you miss the most and why?
AH: Life in Guam was simple. I truly found myself there. I loved all the people in Guam and still think back to the lessons I learned there, about life; simplicity and just slowing down. The exploring is something else I really miss, you have the beautiful ocean at your fingertips. The mountains and caves are never too far away.
GSPN: Favorite CHamoru food.
AH: My favorite thing was being able to pull over to the side of the road and pick up fresh fish from a local fisherman. But my favorite prepared food was the chicken kelaguen!!
GSPN: Favorite Guam beach.
AH: I love Gun Beach but also love Ritidian Beach I would go out to both of these beaches and have quiet time, or play with my boys.

COMING SOON …
High School Football starts Sept. 29
Brawl 3: Oct 13
Guam's Strongest Man and Woman Competition October 29
QUICK HITS
The Figo Islanders 40s women's softball team took gold in the Senior Softball World Championship in Las Vegas. Figo came out of the loser's bracket and beat the Arizona Belles 17-3 in the AA division championship game Sunday afternoon.
Other Guam teams that played in the 40s tournament were: Team SOTTA (women's) and Bud Light Guam, Friars 671 and Sindalun Guahan (men's).
Sindalu finished a respectable 4th out of 24 AAA division teams.