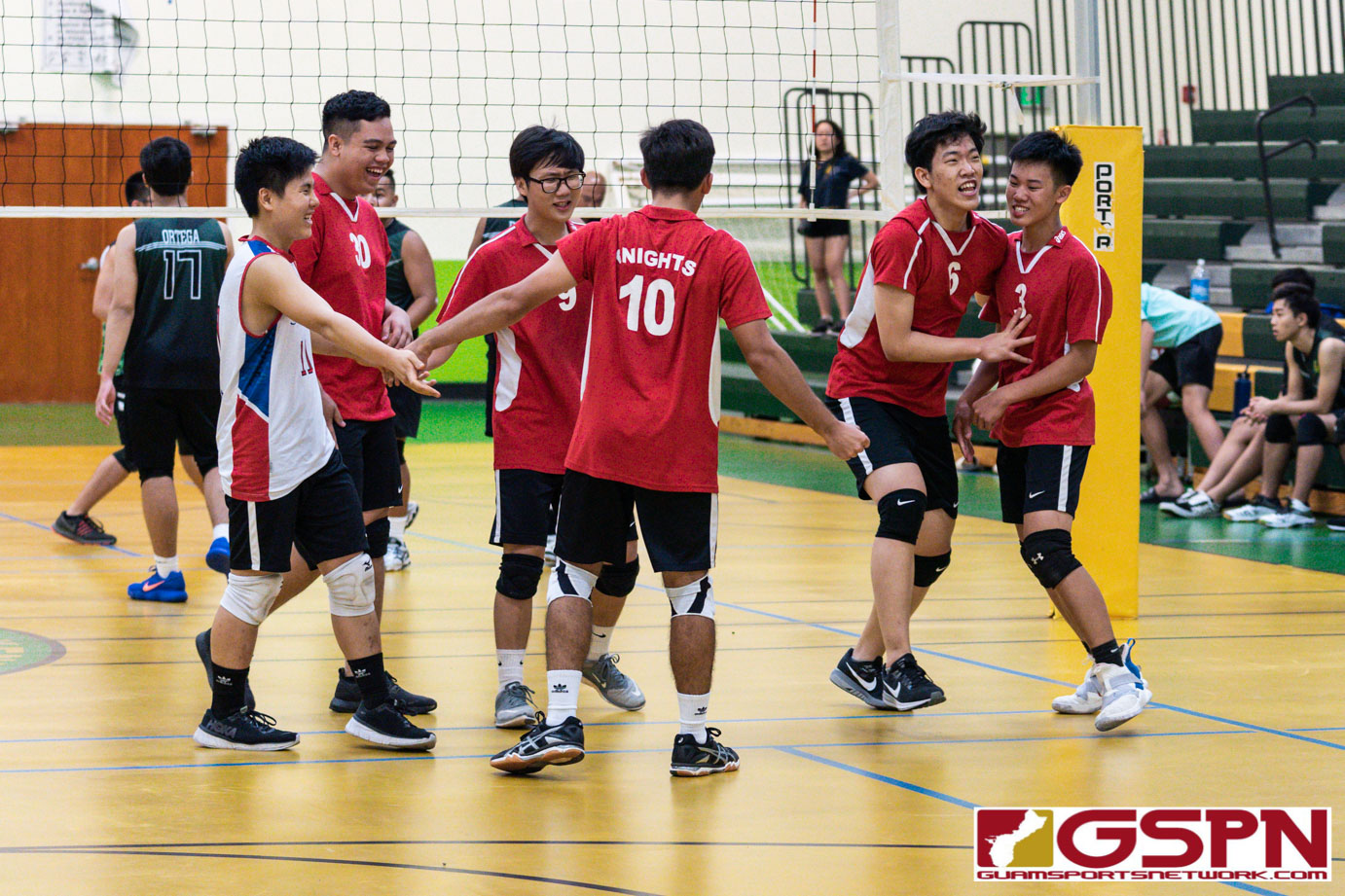 By Brandon Kinsella
In a Tuesday night showdown in the IIAAG Boys Volleyball League, the St. John's Knights defeated the home team JFK Islanders in four sets 25-20, 25-16, 24-26, 25-23 with JFK getting good rallies in the closing moments to nearly force a fifth set.
It seemed as if both teams would be going home early as the Knights dominated the first two sets, but with the new best-of-5-sets rule, the Islanders were able to maintain a competitive drive and were close to pulling off a comeback after a strong 3rd set.
In the 3rd set, the Islanders rallied behind strong play from outside hitter Allen Blend. As the score was tied at 17-17, a powerful kill by Blend would spur a 4-0 run. Momentum was on the home team's side and they needed another big play to prevent the game from ending early.
Blend would pull through for his team again after a tip gave the Islander a 24-22 lead. On the following play, a rally would end with Knight Warren Chen hitting error to the net, giving a point to JFK, which solidified a 4th set for the Islanders.
The momentum would carry over to the 4th set for the Islanders as they pulled off a 4-1 run at the start of the set which greatly upset St. John's head coach Chris Shepherd.  His team had dominated earlier throughout the matchup and Shepherd called a timeout to try and get his team composed and to make some adjustments.
Following the timeout, the Knights were able to follow suit. A great kill by outside hitter Haram Kim which was set up perfectly by teammate Luke Kim would slow down JFK's momentum. On the following play, a missed kill by JFK's Jaron Ceria would give St. John's a point and possession, down one at 3-4. But Blend would answer with yet another powerful kill to put his team up by two at 5-3.
Blend finished with a game-high 14 kills, four aces and two blocks.
Both teams traded points in the final moments of the 4th Set, but defense would be the deciding factor to who won the set, and ultimately who would win the game. Kim would come up big for his team, accumulating five blocks in the 4th Set alone. He was also able to slow down Blend's performance, blocking three of his kills. The outside hitter elaborated on his all-around performance.
"At the beginning of the game I was struggling to be efficient. So, coach suggested that I play opposite and that is something that I've been practicing. I was able to improve my performance and gained confidence from there to make some big plays."
Kim finished the game with seven blocks, six aces, and eight kills, earning Wendy's Player of the Game.
Down 23-15, JFK was able to pull off a 7-0 run, behind good focus on rallies and crisp serving from Blend. But on Blend's eighth serve, he would overshoot, and the ball would go out of bounds, putting the Knights up 24-22 and giving them possession as well.
But a play later, a kill by Blend would nip outside hitter Patrick Wang, putting the Islanders within one at 24-23. But the Islanders attempt at a comeback would fall short, and the game winning kill would come from Knight Warren Chen as the Knights picked up their first win of the season.  
Kim closed the interview talking about what went through the huddle and how his team was able to maintain composure despite JFK's attempt at a comeback.
"During the third set, we thought we were going to go home early. But then we started losing momentum and getting complacent. So, in that fourth set we got in the huddle and we said 'let's finish this right here, right now.'"
PHOTO GALLERY BROUGHT TO YOU BY:

QUICK HITS
The Figo Islanders 40s women's softball team took gold in the Senior Softball World Championship in Las Vegas. Figo came out of the loser's bracket and beat the Arizona Belles 17-3 in the AA division championship game Sunday afternoon.
Other Guam teams that played in the 40s tournament were: Team SOTTA (women's) and Bud Light Guam, Friars 671 and Sindalun Guahan (men's).
Sindalu finished a respectable 4th out of 24 AAA division teams.