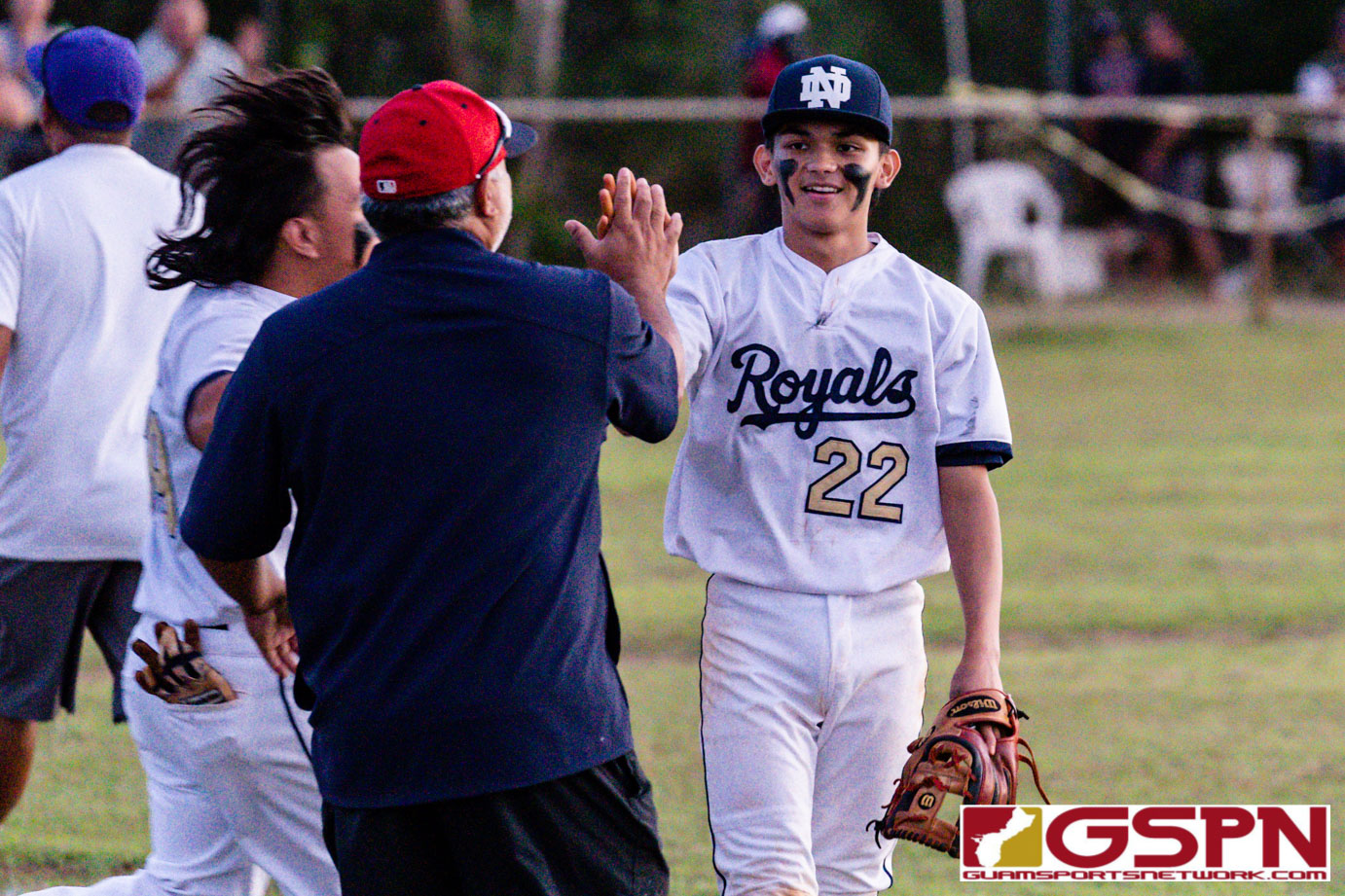 By Robert Balajadia
The ND Royals are headed to the IIAAG Boys Baseball Championship game after defeating the GW Geckos 5-3 Monday evening at the GW Field through six complete innings. The Royals were knocked into the elimination bracket after losing to JFK on Saturday and they responded by defeating the Geckos to set up a rematch with the Islanders.
The Geckos will settle for 3rd place after suffering the loss. ND will take on the Islanders at 4 pm Wednesday at Leo Palace and if the Islanders win, they will be named Champions after going unbeaten in the post season. A win from ND will force an 'IF' game where winner will take all.
All the offensive action for ND came in the opening inning where they scored all five of their runs. The Geckos responded by scoring all three of their runs in the third inning which set up the exciting finish.
ND Royal pitcher Ethan Lobaton was staring down a pressure situation trying to close out a riled up Gecko squad with his team holding a 5-3 lead. After getting a strikeout on Gecko Nolan Babauta and Andrei Camacho, Lobaton relied on his defense to help close out the game.
A single from Franklin Ninete Jr. gave the Geckos a brief moment of life, but a fly out right from Guaitan Terlaje was caught in the outfield by ND's Nico Velez to end the game.
"I just wanted to throw strikes and let my defense work. I have a lot of trust in them and they've proven that they can back me up at any time of any game," said Lobaton on facing the pressure filled 6th inning.
Lobaton was able to shake off the runs given up in the 3rd, picking up the win while pitching a complete game.
"I was getting a little mad at first, but I calmed down and tried to just throw strikes," said Ethan on the 3rd inning. "GW is a great team, hats off to them. They are one of the best teams this season and it just went our way today."
GW's starting pitcher Jarren Gumataotao was retired in the opening inning after ND scored their fifth run and Javen Pangelinan came in for relief. Gumataotao takes the loss for the Geckos.
Hot start
ND's hot start was a product of their tough loss over the weekend to JFK.
"Our last game was a devastating loss but we came out with a lot of heart today. We had a good practice yesterday and we just wanted to bring in this win" said sophomore Jathan Alvarez.
Royal Dominic Cruz would score the games first run off an error and Lobaton would add to it off an RBI single. Bases were loaded for Kobe Martinez, who brought in Lobaton off another RBI single. A sac fly from Artero followed by a big single from Alvarez put the visitors up 5-0.
GW's Terlaje opened up the 3rd inning with a triple that sparked a rally. Terlaje would make it home on an error to put GW on the board. MJ Babauta would bring in Jaren Gumataotao to get within 5-2 and an RBI single from Ashton Tedtaotao a batter later had the score 5-3.
ND's defense would hold tight in the later innings to preserve the win.
PHOTO GALLERY BROUGHT TO YOU BY:

QUICK HITS
The Figo Islanders 40s women's softball team took gold in the Senior Softball World Championship in Las Vegas. Figo came out of the loser's bracket and beat the Arizona Belles 17-3 in the AA division championship game Sunday afternoon.
Other Guam teams that played in the 40s tournament were: Team SOTTA (women's) and Bud Light Guam, Friars 671 and Sindalun Guahan (men's).
Sindalu finished a respectable 4th out of 24 AAA division teams.